Bi-fold Windows: Cost, Styles, Materials and More
Bifold windows are an up-and-coming trend. They offer a great compromise between standard windows and bifold doors, which you shouldn't confuse them with. Bifold doors have been around a while but their window counterparts are pretty new and are fast becoming very popular among renovators and self-builders.
What are bifold windows?
You might hear these windows being referred to as refectory-style or servery windows. You can often find them in restaurants, cafes and bistros. This is because they are a practical way to open up a space while maintaining a separation from the street or pavement.
Fill in the form in just 1 minute
This advantage has now been seen by homeowners and manufacturers who are looking for a different style of window.
As its name suggests, a bifold window frame opens just like a bifold door – it just has a smaller opening. It is a concertina-style window that folds and slides open with it stacking neatly to one wall so that the opening is clear.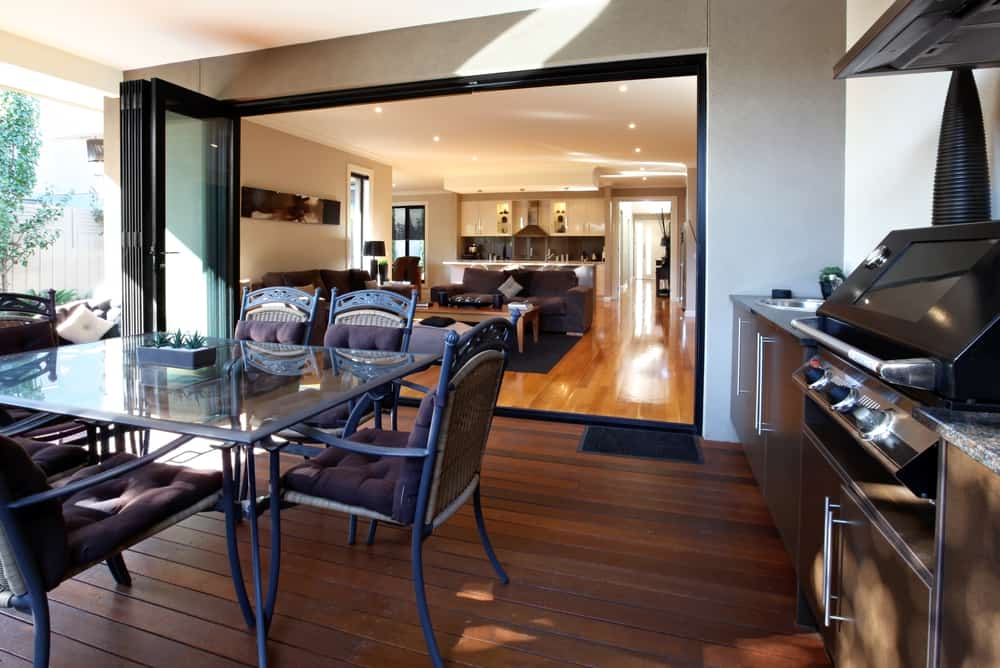 What do bifold windows look like and how do they work?
A bifold window will work just like a bifold door. Where bifold doors use glazed door panels, bifold windows use casement windows. When they are folded to one side, they either stack to the inner or outer side of the frame.
The objective of bifold windows is that there is a large open space and the vast majority of the aperture is unobstructed when the windows are opened fully.
When the windows are closed, they look just like regular casement windows. It is only the opening configurations that are different from other styles.
Bifold indoor windows
Usually, bifolding windows have an outer frame where the panels are housed. The panels are fixed to guide tracks at the top or bottom of the frame. These guide tracks take the panel's weight.
Either the lower track or upper track can be the load bearer. When the upper is used, these are called top-hung bifold windows. When the bottom is used, these are called bottom-hung bifold windows.
With top-hung windows, there needs to be an overhead frame that's fixed securely. This will ensure that the track is able to support the load. If there is uncertainty surrounding the lintel of the aperture head, bottom-hung windows are the better choice. This will mean that the top track is non-loadbearing and for guidance only.
With bifold windows, there are two frame types – an outer and a sub. The subframe is comprised of the actual window panels. These can be made of uPVC, aluminium or timber.
Timber frames and subframes
If you choose timber, you have three general options: engineered wood, hardwood veneer, or hardwood.
Hardwood is a great choice as it is a naturally-insulating and hardwearing material that looks and feels natural.
A hardwood veneer frame combines softwood with a thin layer of bonded hardwood on the surface. These aren't that common for external windows and doors.
Using engineered wood is ideal for bifold windows as they are slim. Engineered wood is made up of different wood layers with no particular grain. Due to the lamination of timber in cross-grained strands, engineered wood will not warp or shrink like natural wood will.
Aluminium bifold windows
Aluminium frames have two different options for frames and sub frames. They can be entirely aluminium or aluminium composite, which is clad.
With full aluminium frames, you'll have chambered profiles, which makes them lighter and increases their strength. Inside this chambering, there are thermal breaks, which increases the thermal efficiency of the windows.
Since aluminium is a good heat conductor, they are made to be thermally broken. This means there is a physical barrier inside the aluminium windows to ensure there is no heat transfer.
In aluminium clad windows, the thermal break isn't needed because the subframe is usually made of engineered wood with aluminium bonded to it. This means the heat can't transfer in or out of the property as the aluminium doesn't go all of the way through the window.
uPVC bifold windows
Like aluminium windows, uPVC bifold windows are usually chambered to increase their strength and decrease their weight. Unlike aluminium, however, uPVC does not conduct heat well and thus, no thermal break is required.
As uPVC isn't as strong as aluminium, the frames often incorporate galvanised steel reinforcements to improve the structural integrity.
How are bifold windows and doors different?
Of course, we've said that bifold windows are similar to bifold doors, but how are they different? Let's take a look.
Apart from purpose and size, the operation and function of a bifold window is exactly the same as a bifold door.
There are minor differences: bifold doors need a threshold, for example.
Both designs have a track on the bottom, but the height (or not) of a threshold on a bifold door will determine how easy it is to live with.
With a high threshold, you might find it an inconvenience and a safety hazard, particularly if you have young children, wheelchair users or elderly and infirm relatives.
Thankfully, you get get rebated or low options that mean the threshold is much lower. You can even get flush ones. Though this isn't advised if your home is susceptible to standing water.
Reasons why uPVC bifold windows are popular
Aluminium bifold doors and windows and timber are good, but the most popular type is uPVC. Let's look at the features and advantages of uPVC bi fold doors and windows.
Cost
uPVC bifold windows often have competitive prices as many people make and supply them, which keeps their price down.
Availability
Due to a large number of suppliers, it is quite easy to find bifold windows to your exact specifications in the UK. There are lots of national companies as well as local ones who can provide these for your next project.
Longevity
uPVC lasts a very long time and will retain its function and appearance for decades with little to no maintenance – just a clean.
Even with long spells of dry, hot weather or times of wet weather, uPVC windows don't swell or shrink.
Maintenance
Compared to timber and other materials, uPVC windows don't need any effort maintenance-wise. They remain as per their manufacture to an impressive degree. All you need to do is keep them clean. You might need to lubricate parts that move but you'll never have to repaint them like you would wood.
Energy efficiency
As far as energy efficiency goes, uPVC is one of the best materials to use for bi fold windows. It doesn't need thermal breaks like in aluminium profiles to separate the inside from the outside. Because things are simple, there is less that can break or go wrong.
Strength
uPVC bifold windows are enforced internally with galvanized steel. This meant the frames are square throughout their lifetime and won't sag, twist or distort in any other way.
Choice of colour
Although aluminium bifold doors and windows have much more colours, you can still get as many as twenty different colour options with uPVC.
Guarantees
Bifold windows come with guarantees that are just as good as those on aluminium and timber products.
Glazing
Typically, these windows will come with double glazing as standard. It is often possible to enhance them with triple glazing, laminated glass, or solar glass. If you also get bifold doors at the same time, these will be toughened glass.
Manufacture
Bifold windows are made by many suppliers around the country and it's unlikely that you'll have to wait a long time for your installation.
uPVC bifold windows prices
In this section, we'll try to give you as much information as we can about the prices of bifold windows but it is really difficult to put a figure on something so unique to your project.
It is hard to find average window prices online and you should always get a comprehensive written quotation that includes supply and installation.
As a guide, here are some prices:
2000 x 1900 white uPVC window £2,230 – £2,675 – supply only
3800 x 2300 white uPVC window £2,530 – £3,035 + VAT – fitted
To compare to other types of window, a uPVC bifold window will be more expensive than a casement window but both of these are still cheaper than sash windows.
The advantages of bifold windows
Bifold windows have lots of advantages. These include:
slim sightlines
huge openings
smooth operation
lots of configuration options
enhanced views when fully open
modern design
increased natural light
they suit a range of property styles
energy efficiency – a continuous seal and insulated window design means less energy needed on central heating and an overall warmer home, even in the colder winter months.
They retain valuable wall space (for your furniture) while opening up the side of a room almost fully.
The disadvantages of bifold windows
Like anything, it's always good to know what the potential downsides are of bifold windows before you buy them.
They won't fit everywhere – especially in kitchens with limited kitchen unit space.
You might need to think about how your furniture is positioned in the room to allow the windows to open.
Bifold window sizes
uPVC bifold windows work like any other windows when it comes to ordering them. Essentially, you decide their size, the glazing options, the hardware, and they're made to fit. You can get windows made for standard apertures too.
To give you an idea of sizes, some aluminium products can be made ranging from 400 mm wide up to 1200 mm wides. They can also either open outwards or inwards and fold from the right or the left. You can even get them to split down the centre.
Timber bifold windows often have a maximum width of 1000 mm but you can often get integrated fly screens and blinds too.
The design of bi-fold windows
Bifold windows combine form and function. They are a high-performance window that allow you to be comfortable and warmer year round.
They suit all property styles whether heritage, period, traditional, modern or new build.
For a sophisticated, contemporary aesthetic, you can get them fitted with chamfered rebates. And they're made from recyclable material, which means you're replacing your windowsSAVE hundreds per year on your energy bills by installing New Windows! while considering the wider effects on the environment.
Where classic windows had problems, uPVC bifold windows have been designed better with technological advances in home improvements.
The window design of these modern bifold windows means they are secure from would be intruders and have excellent thermal efficiency despite how far they can open.
Thermal efficiency is achieved through internal chambers in the structure that traps warm air and prevents heat transferring between materials.
Bifold windows – final thoughts
To summarise all points, bifold windows offer high performance combined with high security. You can find companies who will make your windows exactly to your specification in terms of size, style, and glazing. You can choose a sculptured option, which is a more decorative finish for a traditional property, or a chamfered option, which complements more contemporary styles.
They also have slim sightlines (or ultra slim sightlines), which mean your room will have more natural light let in. The windows will blend in seamlessly within the wall space and won't look out of place.
As well as being hugely customisable, we can't forget the huge advantages of these windows. Bifold windows open fully, without restriction. There will be nothing in your way to spoil your view. This makes them ideal for orangeries, conservatories, and kitchens as well as commercial sector properties like cafes and restaurants.
Being fully open means these windows let in lots of natural light. With lots of light, you get a much more attractive window and a brighter, lighter home.
Finally, window sills that come with bifold windows are made to match your product as well as your home's aesthetics.
All in all, bifold windows and doors are a really attractive addition to almost any type of property – and the unrestricted views are certainly worth it.
Fill in the form in just 1 minute