French Doors: Benefits, Security & Costs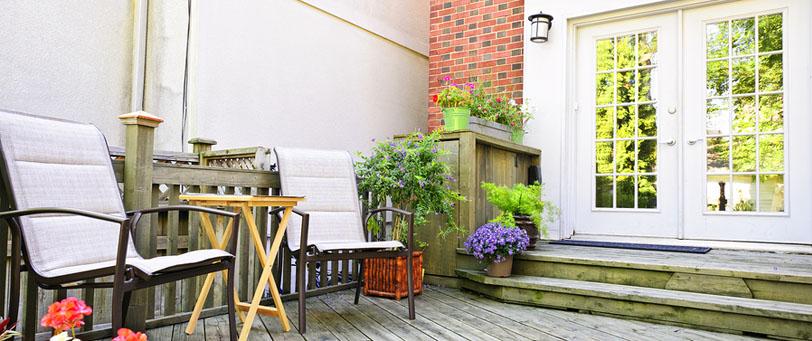 French doors are charming, elegant and carry a certain level of class.
Most homeowners choose to fit them at the back of the house. That's because they create a generous walkway out into the garden and bring the outside in.
It's important to remember that French doors are different to patio doors though.
The difference between French and patio doors
Patio doors used to exclusively refer to sliding doors that led out into the garden or patio area. Nowadays, the term has grown to refer to all types of door that lead out to the garden. This can sometimes include French doors.
Traditionally, French doors are two identical doors side-by-side that open outwards. Creating a spacious route into the garden. This is great news for small homes or gardens as they increase the feeling of space.
As patio doors are sliding, you won't be able to walk through the whole space. There will always be one fixed side that doesn't open up.
Types of French door
So that's how they work, now let's look at the different types of French door.
External (French patio doors)
External French doors lead outside, most commonly into the garden. The two doors will normally open outwards but there are some that can open inwards. They feature large glass panels which allow natural light in to brighten your home.
Internal
Internal French doors look much like exterior ones. They have two doors (mostly made up of glass) that swing open to create a larger living space.
Fitting double French doors between two rooms in the home is a great way of creating more space. They'll also allow more light in and while creating a stylish divide between two rooms.
Sliding
Sliding French doors have a classic design that holds a certain charm. Rather than swinging open, the two doors slide apart to create a generous amount of room to pass through into the garden. Either side of the sliding doors are fixed panes of glass that the doors overlap when open.
Wondering how that differs from sliding patio doors? Sliding patio doors tend to have 2 sides, one that remains fixed and another that can slide parallel to it, which creates an opening to the outside. These tend to be used more as another doorway to and from the home as you'll only be able to pass through half of the space that the doors fill.
How much do they cost?
The price of French doors will differ depending on size, material and whether they have double glazing. You can get an idea of how much French doors are likely to cost, based on the material, below:
| | |
| --- | --- |
| Material | Estimated Price |
| uPVC | £750 – £1,125 |
| Aluminium | £975 – £1,465 |
| Wood | £1,125 – £1,690 |
These prices are estimates and don't include the cost of installation. Installation costs will vary depending on who carries out the work. We highly recommend getting at least 3 quotes from different installers to increase your chances of finding the best deal.
Best materials for French doors
uPVC
uPVC French doors are your cheapest option. While uPVC is a more affordable option it's still an excellent way of insulating your home and will only need a little looking after.
While it does have some excellent properties, it's not always considered the most aesthetically pleasing material. However, uPVC is commonly used for window frames. So, if the windows around your home are made out of it then the French doors should match well.
Composite
Composite is extremely strong and will help to make your home more secure. It's made out of a mixture of glass reinforced polymers, uPVC edging and timber cores.
Aluminium
You probably want to install your French doors knowing that they'll last a good few years and you won't find a better material than aluminium. It's strong and durable so it's able to withstand corrosion and has excellent insulation properties.
Timber
Timber is most popular thanks to their visual appearance. You can choose from either softwood which is better suited to indoor installations, while hardwood can last for a longer time. They can even be painted to suit the decor of your home.
Are French doors secure?
By their very nature, French doors are meant to be open and welcoming. This might make you thinkg they're not the most secure. But that's not the case.
As long as they've been installed correctly then French doors can be as secure as any other door that leads into the home.
To help make your new doors as secure as possible, you can take some extra measures:
Install double glazing rather than single
Cover the handles with security bars at night or when you're not home
Have laminated glass fitted which adds extra protection
Are they simple to install?
If the space is already there, then fitting French doors can be fairly straightforward. You'll face more disruption when the space needs to be created in the wall.
How long the installation could take will depends on the type of installation required, get an idea with the table below.
Type of Installation
Possible Length of Time
New opening in the wall
4 days
Convert existing window
(remove bricks out from underneath)
3 days
Replace existing
1 – 2 days
Exterior and interior French doors are fitted in almost the same way. The frame of the door being replaced has to be removed then before the doors can be fitted, all of the measurements will have to be made to make sure the space is level. When it's ready, it's a case of the doors being installed.
When it comes to exterior doors, extra care has to be taken for security, as we mentioned above, and it's important to ensure that the openings are sealed to keep out any drafts.
As well all know, the weather in the UK can get a windy at times so make sure the doors are fitted with opening restrictors, which prevent the doors blowing open and causing damage. If they're not fitted during the installation, they can be easily fitted yourself.
Are they right for your home?
French doors add a touch of class from the outside, bring a lot of natural light to the inside and offer a generous amount of space to walk through.
One of the biggest concerns with them is that they aren't the most secure type of door but they're more secure than ever. They have locks as standard and extra precautions can be taken like fitting double glazing.
If there's already a space in your home to install French doors then they're well worth considering. Should a space need to be created in the wall then it's a bigger job. But if you don't mind living with the extra disruption you'll reap the rewards in the end.
Sometimes things have a certain je ne sais quoi about them but the style, charm and elegance of French doors is there for everyone to see.
Open your home up with French doors
Ready to take the next step? Then get free quotes from qualified door installers in your area. Simply complete our online form – letting us know about the work – and you'll soon get up to 3 quotes from installers near you.
Get Free French Door Quotes Now
Get quotes and compare prices.