Wooden Doors: Benefits & Costs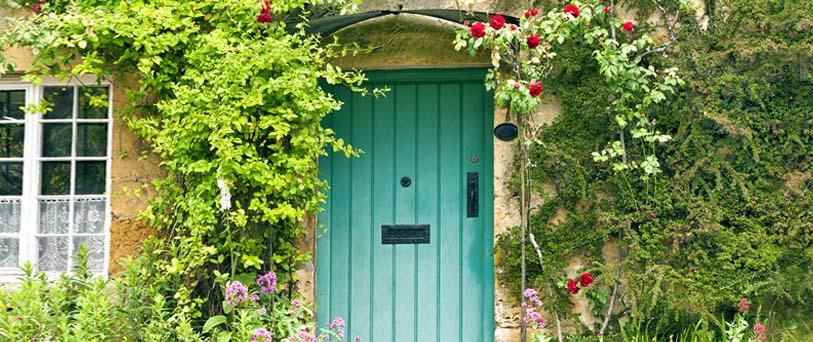 Whether you're looking to install internal or external doors, wood is a prime choice that can deliver a traditional charm or modern style to meet the tastes of any homeowner.
Not only do wooden doors have a visual appeal, they also boast many other benefits from helping to reduce your energy bills to preventing outdoor noise from creeping into the home.
We're going to explore the benefits, considerations and potential costs of wooden doors to help you decide if they're right for your home.
Get quotes and compare prices.
Types of Wooden Doors
Wooden doors can be fitted to the front or back of a house, as well as internally too, so no matter what you're looking for in your new doors, wood is a great choice.
Internal
Internal wooden doors can compliment, transform or reinvent a home's internal decoration. Wooden doors with a natural look hold on to the grain and act as traditional room dividers, while some wooden doors can be fitted with glass to allow the light to travel through the home.
External
An external wooden door can make for a grand entrance to the home that's both secure and energy efficient. Plus, with a wide range of wooden materials available, you'll find the right style to suit your home.
Types of Wooden Materials
It's not just a case of deciding that you'd like wooden doors as a host of different types of wood are available.
Solid (Hardwood) Timber
Compared to softwood, solid timber tends to be the more expensive option but is a great option if appearance is a priority for you.
Hollow (Softwood) Timber
If you're looking for wooden doors but have a fairly tight budget, then you might want to look towards a softwood. Just because they are a cheaper option, doesn't mean that they don't have some benefits.
Solid Oak
The material for solid oak doors has been cut straight from an oak tree, as you might have guessed. Other than being shaped and dried, not too much else is actually done to the wood before it can become a door. Solid oak makes for the highest quality wooden doors but this does often make them the most expensive option.
You'll benefit from a natural look that features patterns, unique to your door. On the other hand, as it's a natural product, it can be susceptible to warping if it isn't treated correctly.
Wooden Doors: Benefits
The visual appeal of wooden doors is there for everyone to see but they're also able to deliver a host of benefits that aren't so obvious.
Energy Efficient
Wooden doors will help to keep the warmth in your home rather than it escaping outside, meaning that you won't have to turn the heating up so high, helping you to save money on your energy bills.
Noise Reduction
If you live in a fairly loud area then you'll be able to rely on wooden doors to keep the noise out as wood acts as an effective insulator of sound.
Lifetime
The high-quality wooden materials such as solid oak will be a long term investment so you won't have to worry about replacing them for a number of years.
Get quotes and compare prices.
Wooden Doors: Considerations
Before committing to installing wooden doors around your home, you'll want to consider the potential downsides:
Cost
Depending on the type of wood, installing wooden doors could end up being an expensive venture. Don't just go for the cheapest option to save money though as cheaper wooden doors probably won't last as long.
Maintenance
To prevent wooden doors from warping or getting damaged, you'll need to take good care of them with ongoing treatments and varnishing.
How Much Does a Wooden Door Cost?
Wooden front door costs will vary depending on the type of wood, style and size. On top of the price for the door itself, you'll need to consider the installation costs which will vary too depending on who carries out the work. You can find out the potential costs of wooden doors depending on the material with the tables below.
Type
Typical Price
Solid Oak
£950- £5,750
Softwood
£625- £750
Hardwood
£1,250- £3,250
Are External Wooden Doors Secure?
While you'll no doubt want be looking to install wooden doors because of their style, charm and many benefits, security is probably a high priority too.
Wooden doors are perfectly secure but, just as with any door, you'll need the right lock. Some wooden doors are fitted with a yale lock as well as a mortice deadlock. For the more modern doors, a multipoint locking system (often found on uPVC doors) can be fitted. A wooden door fitted with one of these locking systems will help to keep your home safe.
Here are some more steps you can take to increase the security of your home:
Peep hole
Door chain
High-quality glass
Secure hinges.
Should You Install Wooden Doors?
Wooden doors boast many advantages and a style that is unmatched by other materials. If you're happy to commit to maintaining them, then you'll have a secure set of doors that won't need replacing for a number of years. You'll also have to consider cost but thanks to there being different types of wood, there's a material to suit most budgets.
Get quotes and compare prices.