How Much Does a New Front Door Cost?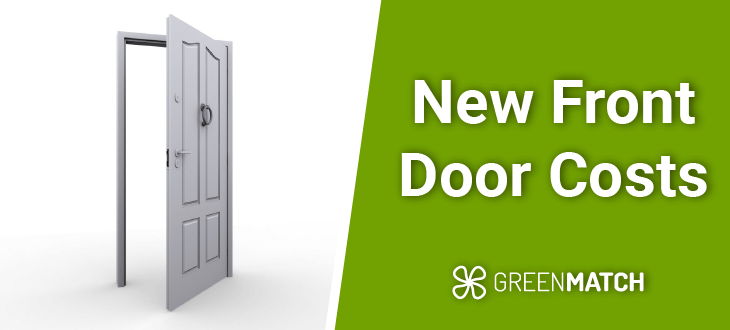 How much do front doors cost? A new front door costs between £340 – £2,325 to supply. Including installation, you can expect to pay between £840 – £4,325. 
If you're in the market for a new front door, then there are many cost-related factors to consider. Maybe you're trying to keep to a budget, or you'd like something custom with lots of kerb appeal? Either way, this article is here to guide you through some of your options. 
We'll also highlight some of the additional costs that will likely come up during the replacement process and show you the best ways that you can save on installation. 
In fact, we have the perfect solution for anyone looking for fast and reliable new door installation quotes. We can match you with up to 4 of the best installers within your area. You can then easily compare their quotes and choose the one that suits you the most. 
This saves you all the time and effort of searching for installers by yourself. Rather than spending hours of time researching, and even longer to get quotes, let us find the most suitable options for you from within our vetted network of professional door installers. 
For up to 4 free quotes within 48 hours, click the button below. 
Quotes from local engineers
Payment by finance available
Save up to £170 per year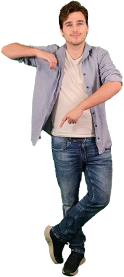 Optimise your home and save the planet
Cost of a new front door
The cost to replace a front door and frame in the UK costs between £840 – £4,235, including potential installation costs. 
The cost of a new front door is mostly determined by material, style, and size. Below we've provided some estimates for new door prices in the UK, based on the door material. For example, new front door cost can be far lower for uPVC, starting as low as £340.
New front door cost UK
Material
Supply costs
Installation costs
Total costs
uPVC
£340 – £925
£500 – £2,000
£840 – £2,925
Aluminium
£445 – £1,255
£500 – £2,000
£645 – £3,255
Steel
£450 – £2,100
£500 – £2,000
£950 – £4,100
Timber
£580 – £2,030
£500 – £2,000
£1,080 – £4,030
Composite
£640 – £2,235
£500 – £2,000
£1,140 – £4,235
The costs provided above, and throughout this page, are estimates taken from our extensive market research. The final door price of your project will vary depending on your specific circumstances, the company you choose, and your location.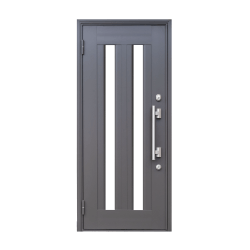 uPVC doors are the most budget-friendly option in terms of material, starting at around £340. The price of composite doors tends to start at higher rates (around £640). 
At the lower end of the price ranges below you'll find smaller-sized doors with small glazing panels and fewer decorative features. Doors at the higher end might have more decorative features and larger glazing panels. Double glazed doors will also come at a higher price than single glazed. 
Doors sizes in the UK tend to start at around 1,980mm in height and 760mm in width. Larger door sizes range up to around 3000mm in height and 1000mm in width. In general, larger doors amount to higher upfront costs. 
For those looking for some new patio doors and would like to know more about how much you can expect to pay, then check out our Patio Doors Cost guide, or Bifold Doors Cost guide. 
uPVC door cost
uPVC door costs in the UK range from £340 – £925, excluding installation. uPVC is the most affordable option because it is an easily recycled and manufactured material. This makes it one of the most popular options you'll find in the UK. 
If more premium materials, such as wood or aluminium, are beyond your budget, then you can install a uPVC door with a woodgrain or aluminium-like finish. This gives the appearance of these materials but costs significantly less. It also involves significantly less maintenance compared to wood. 
While it is a low-cost and durable option, uPVC doors may not last as long or be quite as sturdy as other options. 
Cost: Most affordable option
Security: Good
Maintenance: Low 
Thermal efficiency: Excellent 
Lifespan: 25+ years
Aluminium door cost
Not including installation, aluminium front door costs in the UK range from £445 – £1,255. Aluminium doors are a stylish option that come at a higher cost than uPVC because of their visual appeal and powder-coated finish, which maintains their quality over time. 
Beyond aesthetics, aluminium is also a strong, long-lasting material that requires very little maintenance.
Cost: Mid-range 
Security: Excellent
Maintenance: Low 
Thermal efficiency: Excellent 
Lifespan: 45+ years
Steel doors
Steel front door costs in the UK range from £450 – £2,100, not including installation. In terms of strength, steel doors are pretty unmatched. Steel doors are extremely durable which improves the security of your home and helps to prevent against physical damage.
If you live in an especially busy neighbourhood, then steel is a great choice since it is the most effective at reducing outside noise. 
Cost: Mid-range
Security: Excellent
Maintenance: Low  
Thermal efficiency: Excellent 
Lifespan: 50+ years
Wooden door cost
The average cost of a new front door using wood ranges from £580 – £2,030, before installation. While budget models are more in line with uPVC or aluminium door costs, the highest quality hardwood doors are considerably more expensive.
Hardwood options, including oak and mahogany, can be made with excellent craftsmanship and customisable options, which also drive up the overall door price. 
You should also keep in mind timber doors will need repainting or restaining to prevent warping or rotting which amounts to yearly maintenance costs.
Cost: Expensive
Security: Excellent
Maintenance: Medium-high  
Thermal efficiency: Excellent 
Lifespan: 50+ years
Composite front door cost
For supply-only composite doors in the UK, you can expect to pay between £640 – £2,235. While they can cost considerably more than other materials, composite doors have become one of the most popular options for doors in the UK, next to uPVC. 
That's because composite doors are made from a combination of uPVC and hardwood with a fibreglass exterior. This makes them some of the strongest and long-lasting doors out there. They also come with very little maintenance and with lots of different styles to choose from. 
Cost: Expensive
Security: Excellent
Maintenance: Low
Thermal efficiency: Excellent 
Lifespan: 50+ years
Front door replacement cost
In general, installation rates for new front doors can range from £500 – £2,000. This includes all of the standard installation costs as well as optional furnishings. 
The scale and complexity of the installation will also play a crucial role in the final costs. To limit mounting costs, your new door should be the same size as your existing one. 
Resizing the frame will take extensively more time and effort, and you will have to pay substantially more for it. In most cases, this will involve adding new drywall around the inside of the frame, or having to create a wider space by cutting into the wall. 
Location is another important factor when it comes to door replacement. When looking for a door installation company, we recommend that you search locally. This way, you'll pay less overall for the delivery of your new door. 
What's more, local installation companies will charge far less than a company that operates nationwide. Not only that, local companies can also offer a more personalised and efficient customer service.
If you're unsure where you can start to find the best local door installers, you're not alone. That's why GreenMatch offers a free quotes service to help connect you with up to 4 of the most suitable installers in your area. 
By getting your quotes provided directly, you will save hours of time and effort from finding them yourself. This way, you can easily choose between multiple vetted installers by comparing their quotes to find a good deal, and have the peace of mind that you're not overpaying. 
To get up to 4 quotes within 48 hours, simply click the button below. 
Quotes from local engineers
Payment by finance available
Save up to £170 per year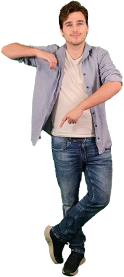 Optimise your home and save the planet
New front door installation costs
When it comes to the installation, front door replacement costs in the UK largely depend on the additional features you'd like for your new door- such as glazing, side panels, and top lights. On-the-day labour costs and old door removal should also be considered.
Below we've provided a breakdown of the main costs involved in a typical front door installation.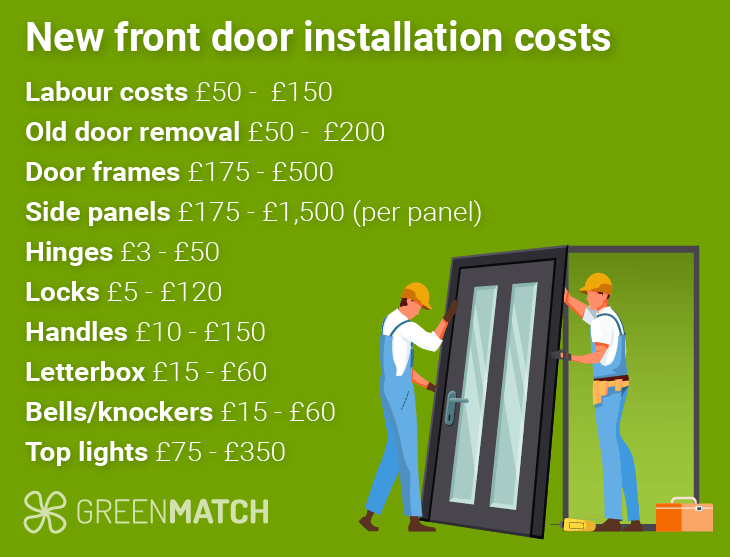 Door fitting costs: An overview
To give you a better sense of what a new door installation might involve, we've delved deeper into the process in the list below.
Labour costs 
Installers will charge a day rate that will vary from company to company. Your location in the UK will also play a part since there can be some regional difference between installer rates. Generally, rates vary from £50 –  £150 for a full day's work.
A straightforward front door installation, including old removal, should take from half a day to a full day to complete. Although this could take longer or shorter depending on the ease of access and the working conditions.
Old door removal 
Door removal costs generally range from £15 – £50. You may choose to just remove the door, or remove the door and the frame. The latter will cost slightly more. 
To remove your existing door, the installer will simply unscrew the door from the frame and lift it out of place. The frame can then be pried away from the wall. 
Door frames and side panels 
New door frames can cost anywhere between £175 – £500. While it is possible to replace a door without needing to also replace the frame, it may also be necessary depending on the condition of the existing frame. 
If you have noticed draughts coming from your door, or it doesn't open and close as smoothly as it used to, then it's showing signs of warping or rotting. In this case, a new door frame will greatly improve the energy efficiency, security, and comfort of your home. 
New doors may come pre-hung to the frame in a set. This will be easier to fit overall since less time will be spent measuring the door to the frame during installation. 
You may choose a standard, three-sided frame or you may choose to lay some panels on one side, both sides, or above the door. A new frame or side panels will come made to measure and can be customised to match your front door. 
Generally, side panels cost between £175 – £1,500 per panel. The cost of your side panels will depend on the scale style, scale, and material. Side panels can make a bold statement when entering a property. They also allow extra light into your entranceway and can make a nice fit into any style of home. 
Furnishings
The finishing touches on your door, which usually include handles, hinges, letterboxes, locks, knockers, and top lights are typically sold individually and are not included in the door supply price. You can choose any one or more of these options to decorate your door. 
You can also find these items sold altogether in one furniture set, all made in the same style and with the same materials. 
Get the best prices for new front door installation
When it comes to front door installation, the best way to land a good deal is to collect at least 4 installation quotes, compare them, and choose the most competitive offer. It may sound simple, but many buyers can become overwhelmed with all the options floating around the internet.
It's also crucial that you do some research into a company's background and previous experience before handing your project over to them. This involves checking things like customer reviews, qualifications and awards. Also keep an eye out for lengthy warranty periods on their door products, as this indicates that they are confident in the standard of their products and services. 
Altogether, the process of getting multiple quotes can be a long and painstaking one. That is unless you get your quotes provided directly using GreenMatch's free and exclusive quotes service. 
This is how it works: 
Fill out the form: We require some simple details from you to find the most suitable installers. It takes less than a minute. 
Wait to be contacted: You will receive up to 4 quotes within 48 hours from the top-rated installers in your area.
Make your choice: Compare their tailored quotes and choose the most competitive offer. 
Get started today by clicking the button below. 
Quotes from local engineers
Payment by finance available
Save up to £170 per year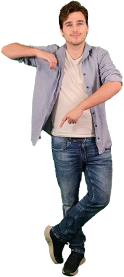 Optimise your home and save the planet
Frequently asked questions