uPVC Window Replacement Near Me: Compare Prices and Installers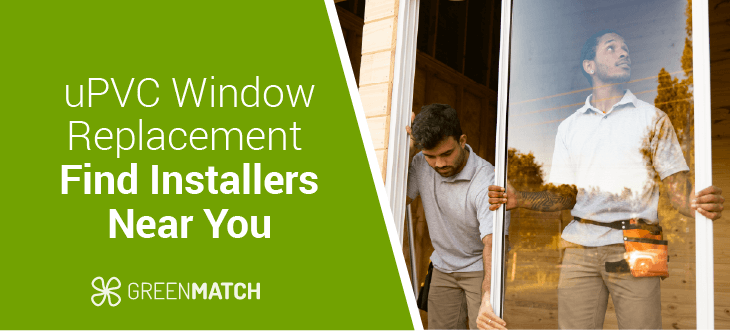 Tired of draughty, inefficient windows that let in cold air and increase your energy bills? It may be time to consider uPVC window replacement. Not only do these windows offer superior insulation and energy efficiency, but they can also add value and curb appeal to your home.
But where to start? You can search for "uPVC installers near me". Hiring a local installer saves you time and money. It ensures that you get personalised service and support from someone who understands the unique needs of your area.
You may wonder about the uPVC window replacement cost. Replacing a uPVC window can cost from £160 to £1,240. The price can vary depending on the window's size, the type of glass, and the complexity of the installation. However, the benefits of uPVC windows far outweigh the cost in terms of energy savings, increased comfort, and improved aesthetics.
So why wait? If you're ready to upgrade to high-quality, energy-efficient windows, type "uPVC window replacement near me" in your browser and find an installer in your area. They can guide you through the process, answer your questions, and provide a quote that fits your budget. 
However, this process usually takes a lot of time and effort. On top of that, you will have to research every single local installer you find and check if they comply with all necessary certifications. 
Do you want to get quotes as quickly as possible without compromising quality? Then you can use GreenMatch's free quotes service. We have a wide network of installers up and down the country ready to help you, all of them vetted by us and FENSA certified.  
Click the button below and our team of experts on domestic energy solutions will:
save you from the stress of spending hours searching for installers
send you up to 3 quotes from top-rated uPVC window suppliers near you
match you with trusted providers who meet the highest quality standards
It is the easiest and smartest way.
Get FREE uPVC Window Replacement Quotes
Fill in the form in just 1 minute
Do you need uPVC replacement windows?
If you're experiencing issues with your current windows, you may wonder if uPVC replacement windows are the solution. While replacing your windows can offer a range of benefits, it's essential to consider whether repair may also be an option.
Repairing your existing windows can be a cost-effective solution if the issues are minor. For example, if you have a broken seal or a small crack in the glass, these issues can often be repaired without needing a full replacement. However, replacement may be necessary if your windows are old, inefficient, or damaged beyond repair.
One of the main benefits of getting uPVC replacement windows is improved energy efficiency. uPVC windows are designed to provide better insulation than traditional windows, which can help reduce your energy bills and improve the comfort of your home. Additionally, uPVC windows are low-maintenance and easy to clean, making them a popular choice among homeowners.
If you're considering getting uPVC windows replaced, there are several benefits to working with a local installer. These are some of them:
A local installer will know the local building codes and regulations, ensuring your new windows meet all requirements. 
They can also provide personalised advice and recommendations based on the specific needs of your home.
You can potentially receive better customer service. 
Working with a local installer also means supporting a local business.
Additionally, you can often find uPVC windows online from local installers, making it easier to research your options and find the right fit for your home.
Should you get double or triple glazing when replacing uPVC windows?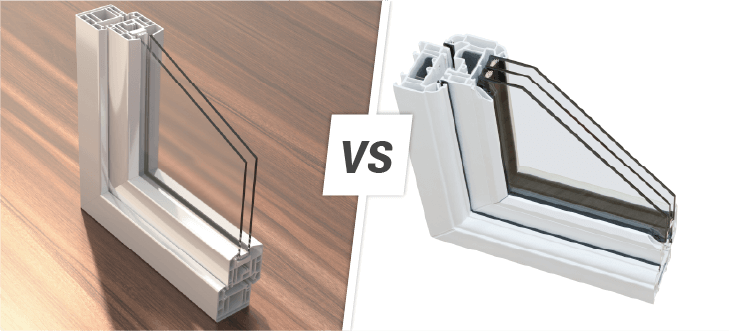 When replacing uPVC windows, one important decision is whether to choose double or triple glazing. Both options can offer improved energy efficiency and noise reduction compared to single glazing, but there are some key differences to consider.
Double glazing features two panes of glass separated by a layer of air or gas, while triple glazing features three panes of glass with two layers of gas or air in between. Triple glazing is generally more expensive than double glazing, but it can offer even greater energy efficiency and noise reduction benefits.
Here are some pros and cons to consider when deciding between double glazing and triple glazing:
Double glazing
Generally less expensive than triple glazing
It can still offer significant energy efficiency and noise reduction benefits
It can be a good option for milder climates or if cost is a concern
It may not be as effective at reducing noise or heat loss compared to triple glazing
It may not be suitable for areas with extreme weather conditions
Triple glazing
Offers even greater energy efficiency and noise reduction benefits compared to double glazing
It can be a good option for areas with extreme weather conditions
It can add value to your home and may provide a better return on investment in the long run
Generally more expensive than double glazing
It may not be necessary in milder climates
It can be heavier and require stronger frames to support the extra weight
Ultimately, deciding between double and triple glazing will depend on your needs and budget. If you live in an area with extreme weather conditions or noise reduction is a top priority, triple glazing may be worth the extra cost. 
Overall, triple glazing is a better choice than double glazing when it comes to performance. But the question of whether that high quality of performance is needed is a different subject. 

The usage of triple glazing will be needed in more extreme environments, where the building is exposed to harsh noise impacts or harsh weather environments. 

Monika Zoksimovska, Expert Contributor
However, double glazing may be sufficient if you're looking for a more cost-effective option or if you live in a milder climate. In any case, it is best to discuss your options with a professional installer so you can determine the optimal solution for your home.
At GreenMatch, we can put you in touch with up to 3 top-rated suppliers in your area for expert advice. We ensure the companies we match you with meet the highest quality standards. Our service is 100% free , and you are not obliged to accept any quote you receive. 
To start, just click on the button below.
Get FREE uPVC Window Replacement Quotes
Fill in the form in just 1 minute
How much does a uPVC window replacement cost?
On average, the cost of uPVC window replacement can range from £240 to £4,000 per window. Here are some average cost ranges for different uPVC windows styles:
Casement windows: £160 – £825 per window
Sash windows: £240 – £1,240 per window
Tilt and turn windows: £200 – £1,030 per window
Bay windows (3 panels): £1,190– £1,800 per window
Bow windows (4-6 panels): £1,430 – £3,655
Please, note that these are just average cost ranges. The actual uPVC window replacement cost may vary depending on factors such as the size and complexity of the installation, the type of glass you choose, the features and options you select, and the number of windows you need to replace.
To get a more accurate estimate of your uPVC window replacement cost, you can use a uPVC windows cost calculator or consult with a professional installer. 
Keep in mind that while uPVC window replacement may require an upfront investment, it can provide long-term energy savings and improve the comfort and value of your home.
Finding local installers for replacement uPVC windows
Finding local installers for replacement uPVC windows is an excellent idea, especially if you want to benefit from their personalised advice or support local businesses. However, manually searching for local window companies and requesting quotes one by one can be tedious and time-consuming.
This is because there are likely to be a large number of window companies operating in your area. Thus, contacting each one individually to obtain quotes can take up a significant amount of time and effort.
It can also be overwhelming and confusing, as each company may provide different pricing structures, services, and levels of quality. It can be challenging to compare and contrast the different quotes and services provided by each company, making it difficult to determine which company will provide the best value for your money.
Fortunately, there are easier ways to get uPVC Windows Online Quotes. For instance, you can use GreenMatch's free quotes service. It is designed by experts to provide assistance in finding top installers in your area, ensuring you get the best deal. Check out how it works:
The 2 Ways to Get the Best Deal on Replacement uPVC Windows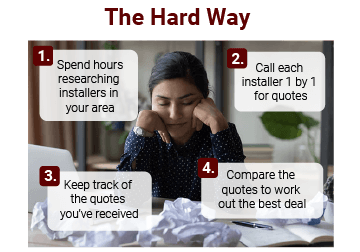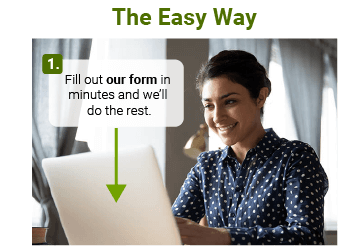 Get uPVC Window Replacement Quotes Now
Fill in the form in just 1 minute
FAQ