Inward Opening Windows: Everything You Need to Consider
Most homes have outward opening windows but more and more people are considering windows that open inwards as they look to replace their existing windows. Before changing to this opening mechanism, it's important to consider all of the factors.
Windows open inwards Vs windows open outwards
Traditional casement windows usually open outwards while tilt turn windows are usually an inward opening window system. You can also get casement windows that open inwards too.
Fill in the form in just 1 minute
When choosing new windows, it can be hard to decide which option to go for so let's take a look at some of the advantages and disadvantages of both types of window openings.
Inward opening windows – advantages
When you have an inward opening window, it becomes much easier to clean. You don't need a ladder, special equipment or to hire a window cleaning. When the window is open, you can clean it quite simply without compromising your own safety.
Another advantage of this type of window is that you can use external shutters, balustrades and fly screens without worrying about needing to open windows.
If the windows are tilt turn windows, you also have flexible ventilation options too. For example, with the tilt open, you have fresh air coming in but you're not worried about security or safety of small children and pets.
Tilt turn windows actually have increased security since they have wider frames and more hinges.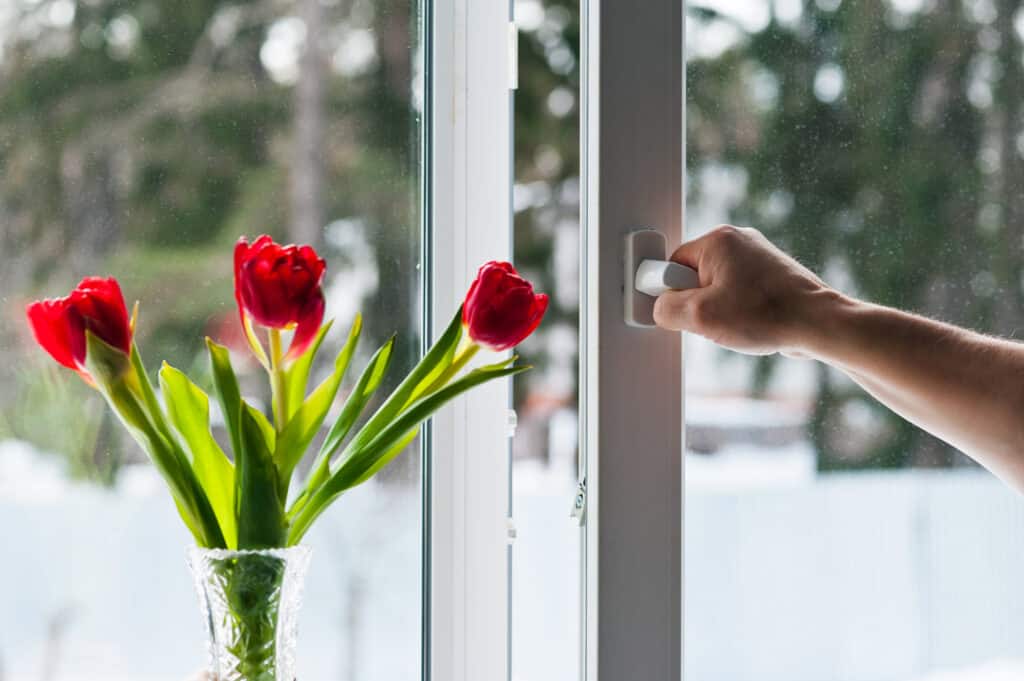 Inward opening windows – disadvantages
With an inward opening window, you would need to have space on the window sill if you intend to open the window wide as a casement window. This means that you won't be able to put picture frames or ornaments on there.
If it's a tilt and turn window and you only intend to have it fully open in emergency situations, this won't be a problem.
Blinds and curtains can also pose a problem when turn windows open inwards. However, you can get blinds that clip on windows opening inwards so that they're attached to the frame or glass and move with the windows.
If your room has limited space, an inwards opening might cause problems with where you can place furniture in your house when they're opened fully.
Outward opening windows – advantages
These are more traditional windows that swing outwards and they're the most popular choice for homeowners.
With an outward opening window, you can still put things on your window sill without having to remove them to open the windows. What's more, you've got a wide choice of blinds, curtains and internal shutters as the opening windows won't get in the way.
Outward opening windows – disadvantages
When windows open outwards, they're more susceptible to the elements. Rain will get into the mechanisms, which over time can cause problems. What's more, the frames will be more exposed to UV light from the sun with the window fully open on hot days.
If you like the idea of tilt and turn windows, the majority of these won't be outward opening windows, which means you can't enjoy the advantages of an outward opening window.
Another disadvantage of these windows is that it makes it harder to fit external shutters or fly screens too.
Which type of window looks the best?
Traditionally, windows opening inwards looked chunkier and weren't as slim as outward opening windows. However, things have changed a lot in recent years.
Many places still offer inward opening windows with thicker frames, but you can get thinner frames, especially if you choose aluminium windows.
Are windows opened inwards better than casement?
Often, windows that open inwards are lower in price. They are more modern and have fittings that are easier to use.
What's more, these windows often have better thermal insulation too. And they're much easier to clean!
Key features of inward opening windows (and tilt turn windows)
Let's look at some of the most important things you need to know about these windows:
Hardware
Window hardware for inward opening is much more functional no matter the weather. When you have windows that open outwards, you expose the frames and hardware to the elements.
Hardware for inward opening windows also comes in different finishes too so you'll certainly find something for your new project.
Colour
You can get windows in all sorts of colours these days. White uPVC tilt windows are one of the most popular choices but you can get coloured uPVC and even uPVC that looks like wood.
Wooden windows are also possible but these are often more expensive and need more maintenance over the years. With a wooden frame, you've got a huge choice of colours and you can even change the colour when you want.
Glass
There are plenty of glazing options with all window types. Obscure glass for bathrooms, leaded windows, tinted windows, or any other type of window glass is possible.
Frame type
It doesn't matter which way your windows open, you can have wood frames, aluminium frames or uPVC. These cost different amounts and so there is something for every budget.
Locks
If you go for a tilt turn window, you're getting a window with heaps of security features. The locking mechanisms are solid and easy to maintain.
Price
Like all things, you get what you pay for. Inward opening windows used to be more expensive than their outward opening counterparts but now, a quick search will tell you there is a range of prices for both types. You're bound to find ones within your budget range.
Quality
Provided you choose a good company that guarantees their installation, you're going to get high-quality windows. After installation, you will get many years worry-free.
Soundproofing
It is possible to get acoustic glass fitted to windows. That said, double-glazing and tight-fitting frames will do a good enough job for most people.
Final thoughts on inward opening window installation
Inward opening windows and tilt and turn windows are becoming more and more popular. With this type of window, when you have the window open, you're not exposing it to the elements outside, which means it lasts longer.
Most inwards opening windows are tilt and turn windows, which have added benefits of having a few different opening options. They're also secure and can be used as emergency escapes on upper floors of the house.
In the tilt position, you get ventilation in the room without worrying about children falling out of people getting in.
If you like the idea of these, you can even get tilt and turn doors for Juliet balconies installed with the same mechanisms. (Outward opening doors aren't possible on this type of balcony).
Fill in the form in just 1 minute