Double Glazing in England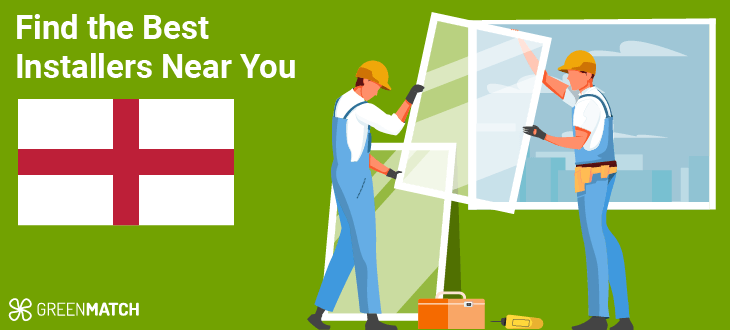 All new windows come with double glazing in England. This is the standard to keep homes well insulated. Across England, multiple companies are offering to supply and install new and replacement double glazed windows. But, choosing the right company requires some careful consideration.
It's always recommended that you do some research into a company before agreeing to work with them. It's also a good idea to receive quotes for installation from a few companies before making a decision. 
Altogether, finding and researching multiple companies can take several hours, and then you could be waiting days for them to respond with their quotes. To save yourself all this time and effort, why not let us at GreenMatch do this work for you. We offer a free quotes service for anyone in England looking to install new double glazed windows. 
All you have to do is fill in a few details using our form, linked below, then we'll connect you with up to 3 professional installers within 48 hours. You can then compare their exclusive quotes and choose the one that offers the best deal. 
We have a whole network of vetted installers, making it easy for us to find the most suitable installers for your requirements. Looking for the best double glazing near you? We'll even find those operating in your local area so you can benefit from the best local rates. 
Get started today by clicking the link below.  
Get Free Windows Quotes Now
Fill in the form in just 1 minute
Window regulations England
All replacement windows and doors in England must adhere to certain performance standards. In particular, this applies to thermal efficiency, safety, and some other key areas. Let's take a closer look at these Building Regulations. 
Thermal Heat Loss
The energy efficiency of any new windows in England is determined by the amount of heat loss they allow. This is measured as U-Value. The lower the U-Value, the less heat is lost. In England, the maximum U-Value a window can have is 1.4W/m2K or minimum Window Energy Rating (WER) band B.
Safety glazing
Safety glazing is required for certain properties which could be vulnerable to break-ins or breakages, i.e. those on street level. For this, laminated or toughened glass should be used. The exact conditions for new windows that should have this are as follows: 
Any window panel up to 800mm from ground level
Any side panel up to 300mm from the edge of the door, up to 1500mm from floor level.
Ventilation
Windows and doors must provide a minimum amount of ventilation to a given room, the extent of which mainly depends on the room's size or its function. Kitchens or bathrooms in particular require extra ventilation given the amount of steam they can produce. 
Fire Safety
In cases where fire can spread between properties is a particular risk or there are fewer escape routes, new windows may be required to be fire resistant or fixed shut. 
Means of escape
In most cases, the size of your replacement windows should match or exceed those that they replace to provide the same potential for escape. For new windows, certain conditions may have to be met to provide your home with a potential escape route. These include:
A minimum width and height of 450mm 
A minimum openable area of 0.33m²
A maximum height of 1110mm above the floor
A FENSA registered installer, or equivalent certification body, means the installer has adhered to these regulations and means you won't need to apply for any planning permissions or involve a local council. 
You can be sure that they have installed it according to these standards by the certificate they will offer at the end of the project. If you ever go on to sell your property, you will need this as evidence that your windows meet all the necessary Building Regulations in England.
To start your search for installers, use GreenMatch's free quotes service. We can connect you to up to 3 qualified installers that can offer a fixed, tailored quote for their services. All fo the installers in our network are vetted by us and FENSA qualified. You then have the chance to find a good deal by comparing their offers and choosing the most competitive option. 
It's quick, reliable, and 100% free. You're also under no obligation to accept any of the quotes you receive. 
Get Free Windows Quotes Now
Fill in the form in just 1 minute
Window regulations for rented properties England
New and replacement window regulations for rented properties in England are the same as outlined above. For those living in a rented property, it can be good to know some of the key window regulations in England that landlords are obliged to follow when it comes to the windows in the property. 
Some of these include: 
Windows
Ground floor opening windows must have window locks or cable restrictors for child safety.
1st floor and above opening windows should have secure window restrictors or locks for child safety.
All windows should be in good working order, and each room should have at least one window that opens.
Glazing
Replace any broken or cracked window panes before letting.
Interior doors with glass panels should have safety glass or be protected and boarded over.
Insulation
Improve properties with EPC ratings of F or G before renting out for new tenancies.
Repair broken windows and doors.
Ventilation
Ensure proper ventilation in the property.
Safety and security
Install restrictors or safety rails on large low-level windows.
Ensure escape windows can be opened easily in case of a fire.
Ensure windows, doors, and entry points can be securely locked.
By adhering to these window regulations, landlords can create a safe and comfortable living environment for their tenants while fulfilling their responsibilities.
Double glazing England
Double glazing is simply a window that has two layers of glass sealed within a frame. Argon gas is used to fill the gap between the panes of glass to create a thermal barrier that prevents heat from passing through it.
Upgrading your home with energy-efficient double glazed windows will help to improve the comfort and safety of your entire home.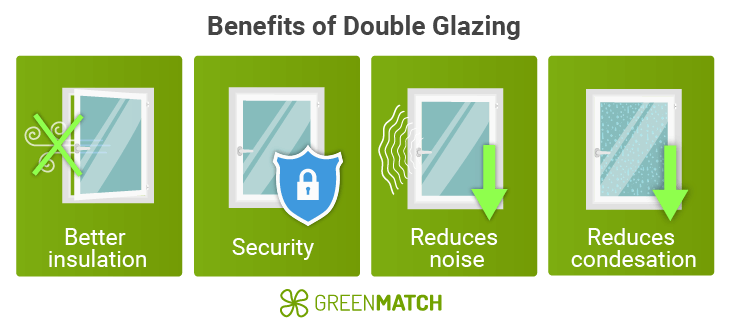 Reducing heat loss with better insulation can also drastically reduce your monthly energy bills, especially if you're replacing single glazed windows. According to the Energy Saving Trust, replacing single glazing with A+ double glazing can reduce annual energy bills by up to £195. 
Double glazing prices England
For a single double glazed window unit, you can expect to pay between £300 – £600. Window prices in the UK mainly depend on the size and style of window you choose. Below, we've provided cost estimates for standard white uPVC windows.
uPVC double glazing costs
uPVC windows style
Price range
Casement 
£200 – £710
Sash
£300 – £1,065
Tilt & Turn 
£250 – £890
Bay (3 panels)
£1,190 – £1,725
*Estimates based on 900 x 1200mm single window units
New windows may also come in aluminium, timber, or composite material. uPVC windows remain the most popular for new windows considering it's a highly durable, energy-efficient, and versatile material. It's also the most affordable of all the materials available today.
Aluminium windows in the UK tend to cost between £375-£750. The most expensive material is timber, which can cost up to £900 for a single double glazed unit. 
You can also opt for various types of glass to enhance any particular feature of your new windows. For example, installing toughened glass will enhance your home's security, whereas solar control or Low-E glass improves thermal performance.  
Glass Type Average Cost
Glass type
Price per square metre for double glazing
Toughened glass
£50 – £100+
Annealed glass
£25 – £50
Low-E glass
£30 – £60
Acoustic glass
£126 – £160
Self-Cleaning glass
£25 (glass coating treatment)
Solar control glass
£106 – £141
Do bear in mind that the double glazing costs provided throughout this article are only estimates based on our market research. It's always best to consult a professional installer for a tailored overview of what you can expect to pay for new windows supply and installation. 
We also recommend comparing quotes from various window installers to get an idea of the fairest and most accurate costs and to avoid overpaying. To get your quotes, you can either: spend hours of your spare time to individually research and contact companies one by one, or you can do it in a few simple steps using GreenMatch's free quotes service. 
Let us take away the stress and hassle of collecting quotes by filling in our quick form, linked below. You'll then receive up to 3 quotes from professional installers based in your local area. 
Get started today by clicking the button below.
Get Free Windows Quotes Now
Fill in the form in just 1 minute
Double glazing grants in England
The initial upfront cost of double glazing, especially across an entire home, can be a lot to cover. You may be happy to know then that there are various government grants for windows that are designed to help alleviate these costs. 
Below we've outlined some double glazing grants available in England today.

ECO4 (Energy Company Obligation Scheme)
ECO4 was first released in April 2022 and will last till 31st March 2026. ECO4 is the latest in the Energy Company Obligation (ECO) scheme, initiated by the UK government. 
The scheme obligates energy suppliers with more than 150,000 domestic customers to support low-income, energy-inefficient homes by offering free energy efficiency upgrades, including free double glazing installation. 
The scheme is available to any recipient of a list of means-tested benefits. These include Income-based Jobseekers Allowance, Universal Credit, and Income Support. 
Home Upgrade Grant 
The Home Upgrade Grant was first opened in April 2023 and will run until March 2025. The grant offers a total of £1.4 billion in funding to 45 local authorities in England that applied to the scheme, as well as social housing providers. 
The Home Upgrade Grant funds energy efficiency improvements between £3,000 to £24,000 in households across England. In particular, the scheme aims to support low-income households and homes off the gas grid with an EPC rating of D and below. 
According to government projections, the Home Upgrade Grant will benefit over 115,000 homes in England and could save tenants between £220 and £400 on yearly energy bills.
Double glazing companies England
Many reputable companies across England offer manufacturing and installation services on a nationwide basis. Below we've listed 3 of the biggest companies operating in the UK market today.
Safestyle UK

Safestyle UK has over 20 years of experience in the installation of windows and doors in England and Wales. With a Trustpilot rating of 4.1 out of 5, based on 45,000+ reviews, the company has established itself as one of the most reputable in the UK. 
Safestyle manufactures and installs uPVC windows in various styles, including casement, sash, and French windows. Safestyle offers a 10-year warranty across all its products. 
Safestyle offers flexible finance options, including '24 Months Interest-Free Credit' and 'Buy Now Pay in 12 Months' plans. During winter 2023, customers can take advantage of discounts of up to 20% on installations. 
Everest

For over 50 years, Everest has been a trusted name in the double-glazing industry, proven by its impressive Trustpilot score of 4.3, based on 12,141 reviews.
Everest manufactures and installs double glazed windows for customers across England, Scotland, and Wales. Its extensive product range includes all kinds of window styles, in uPVC, aluminium, and timber. 
You can also choose from a range of finance options, including competitive rates for 10 and 15-year plans, as well as 'Multi-buy Savings' when upgrading multiple windows.
Everest offers 10-year and 20-year guarantee options for all products. Additionally, its lifetime guarantee protects against condensation and fogging.
Anglian Home Improvements

Established for 55+ years, Anglian Home Improvements has become especially renowned for competitive prices. Anglian Home Improvements manufactures and installs casement, flush, sash, and tilt and turn windows in uPVC, aluminium or timber. 
Anglian offers 'up to £250 off' on online orders and 'up to £250 cash rewards' for referrals to friends and family. For quality assurance, Anglian offers a 10-year guarantee on parts and labour for all windows, along with a 10 to 15-year guarantee on gas-filled sealed units.
It also provides a low-rate finance option for 3 years (subject to criteria), allowing customers to manage payments comfortably. 
Replacement windows England: compare quotes
When it comes time to collect quotes, we always recommend that you seek out local installers. Not only can they often offer you a quicker and more personalised service, but you'll also benefit from cheaper installation rates. 
With that being said, it can take a lot of time, sometimes days, to find suitable installers which is not great for those in need of an urgent window replacement. With GreenMatch, we can eliminate the extra time and stress it would usually take to collect multiple quotes, and get you straight to the part where you choose the installer you'd like to work with.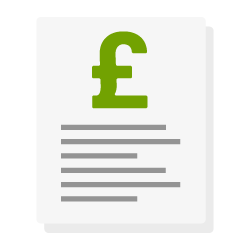 1. Get quotes
Save time by completing one form & let multiple quotes come to you.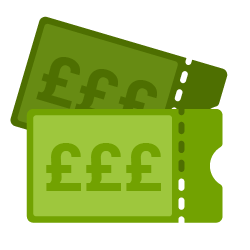 2. Compare prices
Compare prices from local, recommended installers.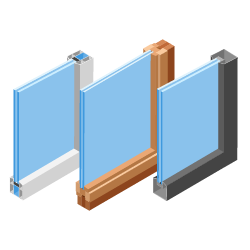 3. Choose the best
We only work with reputable windows installers.
All the installers in our network have been selected and vetted by us. We will only connect you with those based closest to you and, with multiple quotes, you can be sure you've found a good deal by choosing the installer that offers the most competitive rate. 
The best part is that our service is 100% free and you're under no obligation to accept any of the quotes you receive. 
Get started today by clicking the button below. 
Frequently asked questions