Double Glazing For Caravans And Lodges
With many more people choosing to stay in the UK for their holidays each year, buying a caravan or a static home or lodge is becoming ever more popular.
This option lets you holiday whenever you like, without the need to pay for accommodation, as you already have it. A static home or lodge will often pay for itself if you choose to rent it out when you are not using it, making this a very cost-effective way to holiday.
Fill in the form in just 1 minute
The slight downside to a caravan or lodge is that you have to maintain it, and pay for heating or air conditioning costs when you stay, and with the unpredictable weather in the UK these costs can add up.
Installing double glazing in your lodge or caravan is a great way to save on energy costs as good quality double glazing will keep the heat in when it is chilly and out when the sun is blazing down.
In this article we will discuss the important things you need to know about caravan double glazing and why it could be a great investment for your holiday home.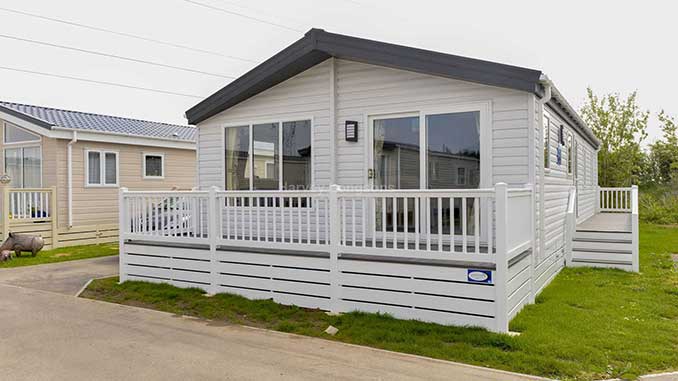 Can you put double glazing in a static caravan?
Yes you can most definitely put double glazing in a caravan, and can benefit from range of things if you do.
Modern static caravans can be just as comfortable as traditional bricks-and-mortar homes, thanks to innovations like double glazing.
Double glazing is a type of windowpane that consists of two layers of glass separated by a small gap of air. This helps to trap heat inside the caravan, making it more energy-efficient and comfortable to live in.
It's also relatively easy to install double glazing in a static caravan, so it's definitely worth considering if you're looking for ways to improve your caravan's insulation.
Can you replace windows in a caravan?
As your windows get old and or damaged, you may be wondering if you can replace them. The good news is that, yes, you can absolutely replace the windows in your caravan
In fact, many people choose to do this to improve the thermal efficiency of their caravan. Replacing old, single-glazed windows with new, double-glazed ones can help to trap heat inside the caravan, making it more comfortable to live in and saving you money on energy bills.
If you're thinking of replacing the windows in your caravan, it's important to choose a reputable company that specializes in caravan window installation. This will ensure that your new windows are fitted properly and meet all the necessary safety standards.
How much does caravan double glazing cost?
The cost of new double glazing windows can vary depending on the size and style of window you choose. For example, house windows will generally be more expensive than caravan windows.
However, caravan windows tend to be larger and require more material, so the overall cost can still be significant. For a standard static caravan, you can expect to pay around £500 for new double glazing windows.
If you want something more luxurious, such as slimline static caravan windows, the price can go up to £1,000 or more. Of course, the final cost will also depend on the specific supplier you use.
Ultimately, new double glazing windows can help to improve both the comfort and value of your caravan, so it is worth considering if you are planning to upgrade your accommodation.
Static caravan double glazing and energy efficiency:
Double glazing units for caravans come with uPVC or steel frames; the former is easier to maintain and tends to look better, but may warp in strong sunlight whereas the steel frames can stand up to any level of sun heat without being affected.
There are different styles of double glazing unit, with different sections that can be opened and varying levels of energy efficiency, so consider what you want before committing to a quote. If you are only ever planning to holiday in the summer then paying more for the very highest level of energy efficiency, an A rating, is probably not necessary but you may want to splash out on a special coating to reflect more of the sunlight and stop your caravan or lodge overheating.
How do you stop condensation on your caravan windows?
We often get asked how to stop condensation on caravan windows. The main cause of condensation is when warmer air meets cooler surfaces, and while replacement double glazing often resolves this, it doesn't always solve the problem.
The best way to reduce condensation is to keep the inside of your caravan well ventilated – open all our windows when you're cooking or showering, for example.
Or if you're getting new double glazed windows, talk to the install about adding double glazing trickle vents. These little vents help to keep the air flowing, which will help to reduce condensation
Another option is to buy a caravan dehumidifier, which can help to regulate the humidity levels in your caravan and stop condensation from forming on your windows.
Another tip is to use central heating – the warmer air will help to reduce the temperature difference between the inside and outside surfaces of your windows.
Hopefully these tips will help to keep your caravan free from condensation!
Does static caravan double glazed windows increase security?
Security is another important consideration when you are choosing double glazing for your lodge or caravan; these are generally not the most secure of places and so anything you can do to make it harder to gain access is a bonus.
Check what locks come with the double glazing units you are considering and make sure they are secure and easy to use.
On new windows you can also choose which locking features you want, this could be one with high security locking systems or one with high security multipoint locking.
Windows that can be locked open just a small amount are great for letting a little bit of air in on a summers evening without compromising your safety.
Final thoughts: Is static caravan double glazing worth it?
Double glazing windows can be a really good addition to your caravan or lodge; it will save energy, increase your safety and also filter out a lot of the noise from outside, which is especially good on a noisy site.
Your caravan or lodge will also look better with new, good quality window units, and the resale value will increase.
Fitting new double glazing units really has no downside, except the cost.
If you're ready to add double glazing to your replacement windows and would like to save up to 65% off with FENSA registered installers, simply click the button below and we'll put you in touch with one of our local installers.
Fill in the form in just 1 minute