Small Conservatories: Ideas & Costs in the UK (2023)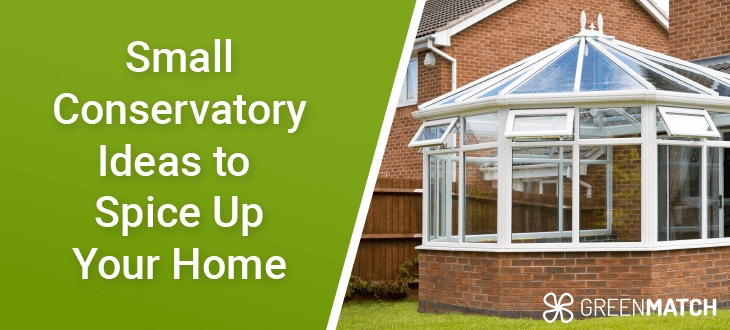 Small conservatories can be a stylish addition to any house. Though compact, they still have many possible uses and well-designed ones allow for homeowners to enhance the value of their home. While one may think conservatories always require a lot of space, there are options for those looking for more modest sizes.
Smaller conservatories are generally about 3m by 2.5m (7.5m square) or even less. While a large conservatory offers more options, even at smaller sizes, there are many designs and styles that can make the most of limited space. Let's examine these options and see how their prices compare.
However, if you've already made your mind up about what type of conservatory you want, you'll still need one thing above all: an installer you can trust. When researching on your own, it can often take days of research to find one that matches your needs and is also reliable. That's where we come in.
We can provide you with up to 3 free, non-binding quotes from trustworthy installers in our network and all you have to do is fill out a 30-second form. Do away with all the days of stressing over checking prices and vetting professionals by yourself and let us do the hard work for you. Click the button below to get started.
Quotes from local engineers
Payment by finance available
100% free and no obligation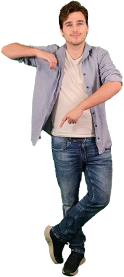 Optimise your home and save the planet
Small conservatory ideas in the UK
There are many modern small conservatory ideas that you can borrow from when trying to find the right style for your home. These could create a guest bedroom, an entertainment space, or a stylish living room extension. Let's look at some ideas for tiny conservatories of different types.
Small lean-to conservatory ideas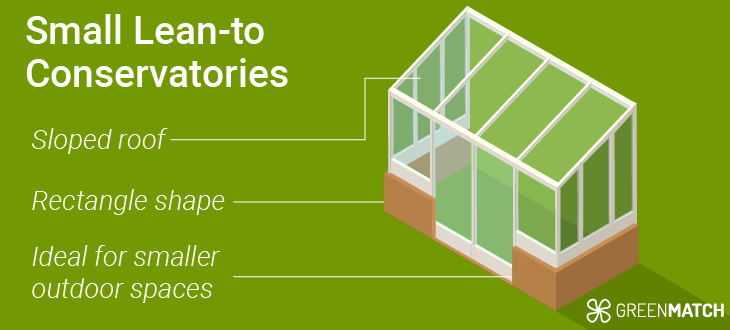 Lean-to conservatories, aka lean-to sunrooms, are probably the best option if you're looking to save space but also build a compact, small conservatory. Simple in design, but fairly effective as a structure: the lean-to conservatory features a low-pitched, sloping roof. uPVC lean-to models are also the best option for a small garden conservatory at a relatively affordable price.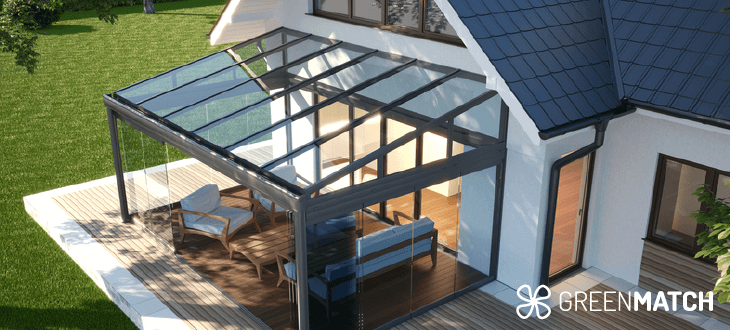 There are a number of things one can do with the lean-to conservatory design to spruce it up but we prefer to put the "sun" in the sun-room concept. You could, for example, open it up for maximum daylight using slimline, aluminium frames and glass doors. This design makes use of the limited space available and adds 3 transparent walls for optimal lighting. It's worth noting that these are suitable for sunny climates, otherwise may require extensive insulation and glazing.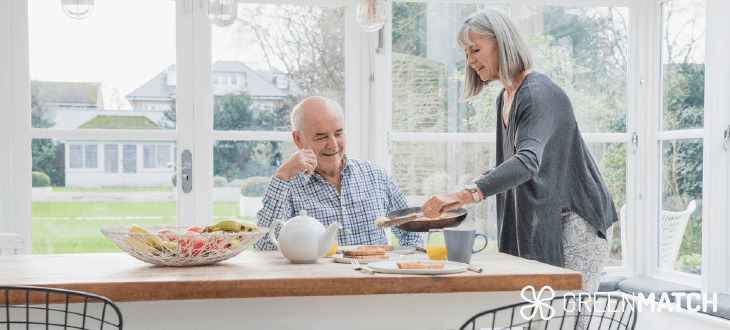 By the nature of lean-to conservatories, they tend to look like an extension of the house (more so than other designs). Rather than keeping them separate why not lean into (no pun intended) their attached nature and extend your living room? Create an open-plan living space that breathes in the sunlight thanks to a small modern lean-to conservatory attachment.
Tile your roof to create a wintertime sanctuary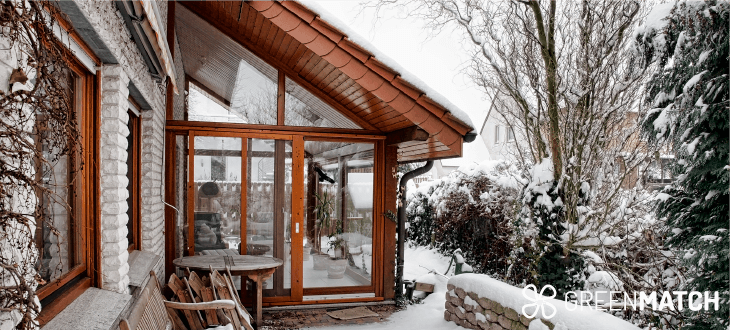 Tiled roofs provide a lot of insulation and are stylish to boot. If you live in a snowy region, you can retain the warmth of your home and reap the benefits of a conservatory altogether. This can be more expensive than standard prices but could provide sanctuary from the cold while bringing in some fresh light and a cool view of the outside.
Small Victorian conservatory ideas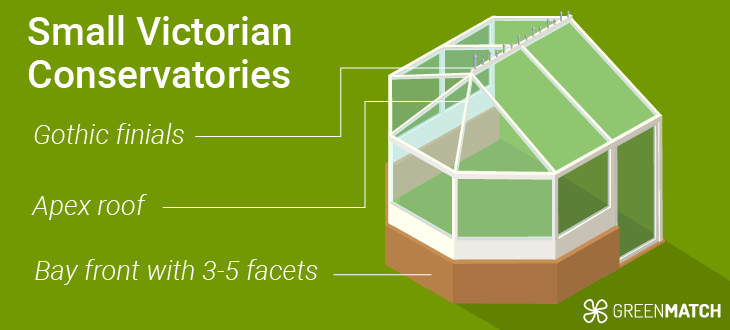 Victorian conservatories are a popular option in the UK. These can come in the form of 3-facet or 5-facet designs. They often feature a bay front, a tall peaked roof, and many glass panels.
Build a garden path and entrance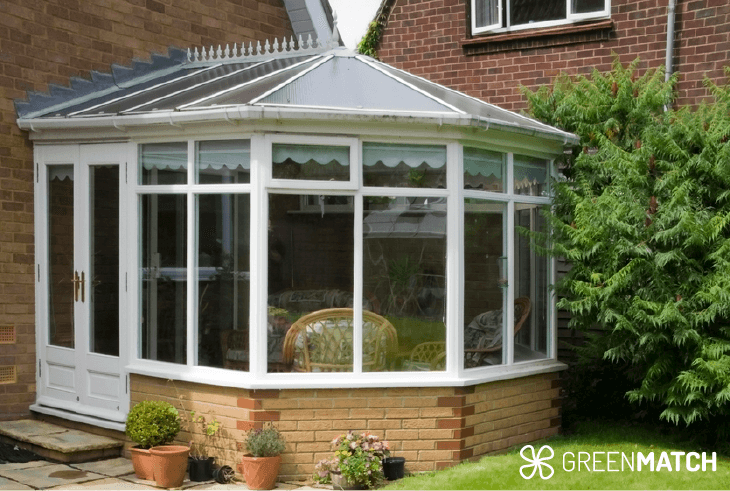 Victorian conservatories are stylish and make for an inviting secondary entrance. Building a good garden path can be enticing to the eyes of any visitors. You can up the wow factor with a paved pathway. These are the ideal conservatories for small gardens that need something extra.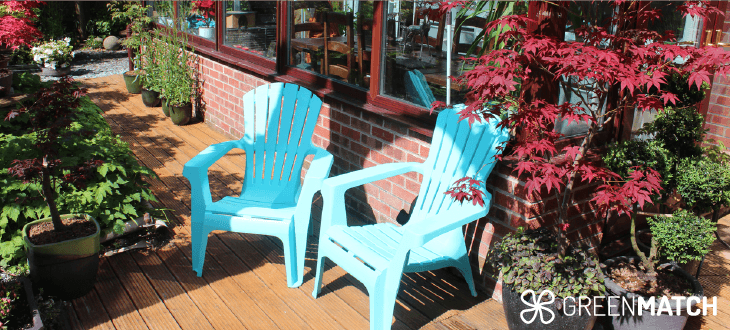 From brown brick to natural colours, the Victorian design is brimming with possibilities for earthy tones. Take advantage of the design and build a garden space that complements the exterior greenery with a grounded ambience and a splash of outdoor whimsy.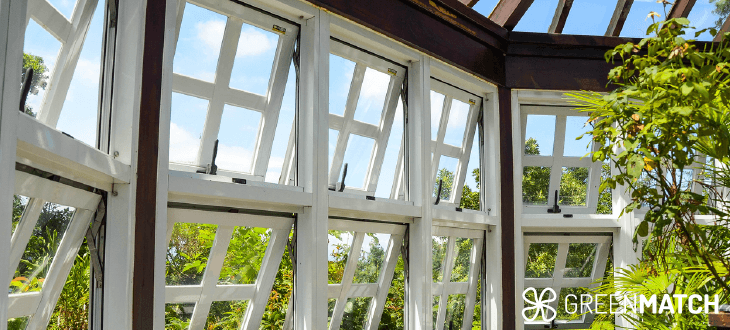 In contrast to the previous one, another way to go with Victorian sensibilities is to lean into the white shade. It's an effective and eye-catching design choice that can pop out in any home setup. It blends well with Victorian gardens and contrasts with greenery.
Small Edwardian conservatory ideas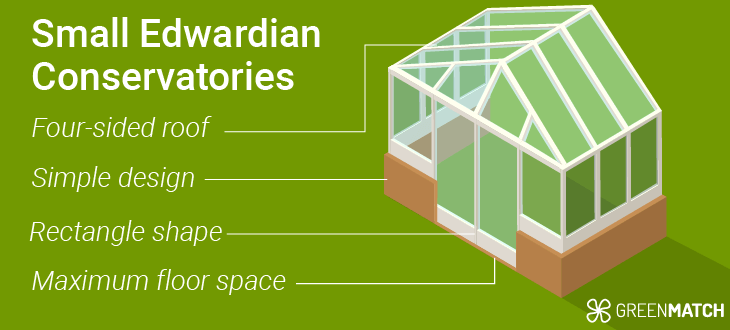 An Edwardian conservatory can provide the most floor space of any of the designs discussed here. The rectangular form and peaked roof shape set them apart from the others as they also let in a lot of natural light. The symmetrical design helps them fit in with most houses with ease and very small conservatories can benefit from the rectangular shape, allowing for more area overall.
Decorative lighting for capturing the nighttime atmosphere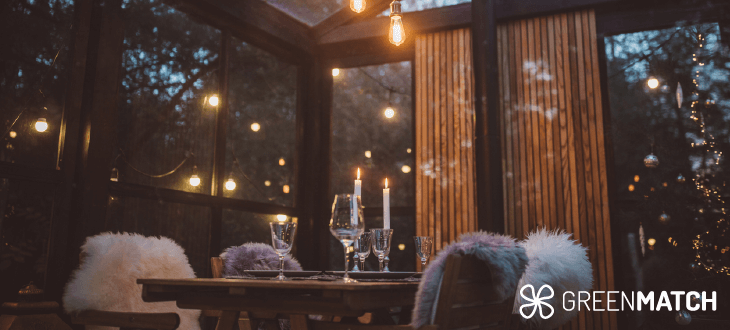 Edwardian conservatories can provide the most light from their respective windows. This makes them ideal for letting in the atmosphere of your surroundings. With some creative lighting choices, you can create a moody little room to enjoy cosy dinners or even relish in the night's own ambience. On the plus side, avoiding bulkier lighting helps you make the most of the open design Edwardian conservatories offer.
Banquette and wall seating for optimising space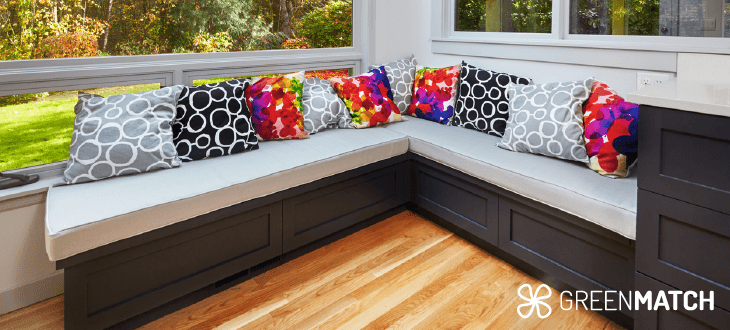 Edwardian designs have more space than most, but here's how you can get even more out of it. Banquette seating alongside the walls can open up the main floor space while making use of the rectangular form factor and sharp corners. This stylistic choice can be great for conversations or watching movies in a crowd while leaving space in the centre of the room.
Hopefully, these ideas have given you some inspiration for what to do with your conservatory. If you don't have one yet, regardless of whatever type of conservatory you're looking to install, you'll need an installer you can trust. This can be a laborious process that requires days of research and lots of effort. Luckily, our service can speed this up and minimise the time you might waste on researching and vetting different installers on your own.
All you need to do is fill out a 30-second survey and we'll provide you with quotes from trusted installers in your area. Click the button below to receive up to 3 free, non-binding quotes for conservatories.
Quotes from local engineers
Payment by finance available
100% free and no obligation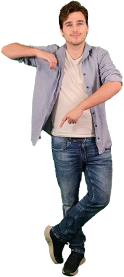 Optimise your home and save the planet
Small conservatory costs in the UK
A small uPVC lean-to design can be the cheapest type of conservatory, costing upwards of £8,000. Similarly, aluminium can be about £10,000 while wooden ones can cost £12,500 and above.
The cost of conservatories can vary based on design and material among other factors. There are a few estimates for smaller conservatories that can give you an idea of how much you may have to spend on one.
| | | | | |
| --- | --- | --- | --- | --- |
| Type of conservatory | Size | uPVC | Aluminium | Wood |
| Lean-to | 3 x 2.5m | £8,065 | £9,880 | £12,845 |
| Edwardian | 3 x 3m | £10,750 | £13,175 | £17,130 |
| Victorian | 3 x 3m | £12,250 | £15,000 | £19,510 |
Pros and cons of small conservatories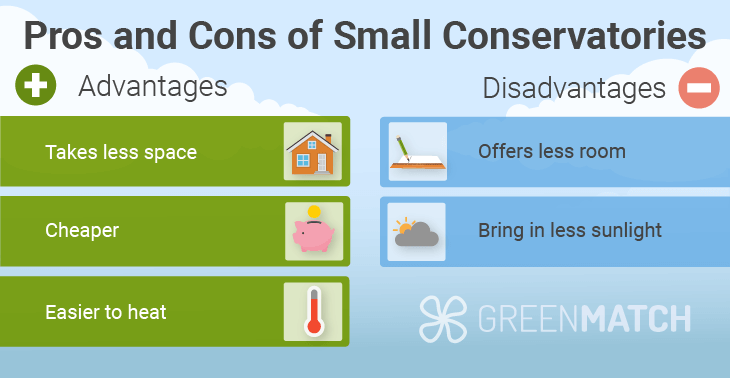 Small conservatories can be a double-edged sword. While they are easier to install, they may be less adaptable to your specific needs. At the same time, what they lack in space, they could make up for in convenience of installation and heating. Let's look at some of their pros and cons.
Pros
Take less space: One of the main reasons to get a smaller conservatory is that it can be so much more space-efficient. This also means that they're more likely to get planning permission.
Cheaper: Less labour and material costs allow for small conservatory extensions to be cost-efficient.
Easier to heat: Smaller spaces are not just easier to warm up, they also require less insulation (particularly in terms of glazing per window).
Cons
Offers less room: By their nature, these conservatories are smaller making them less useful for wider functions. One of the major regrets of consumers is that they sprung for a design that's too small.
Bring in less sunlight: If you want to make use of ample window spaces, smaller conservatories will have fewer (and smaller) windows.
Find local small conservatory installers for your UK household
If you're looking to install a conservatory, small or otherwise, you will need one thing above all: an installer you can rely on. Finding trustworthy installers can be an arduous task that takes days of research and crunching the numbers to find the best price. Luckily, we can help using our service.
All you have to do is fill out a simple 30-second form and we can provide you with up to 3 free, non-binding quotes from thoroughly vetted installers in your area. Click the button below to get started.
Quotes from local engineers
Payment by finance available
100% free and no obligation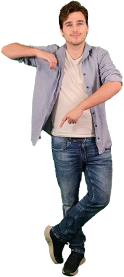 Optimise your home and save the planet
FAQ