Large uPVC Windows: Pros, Cons and Costs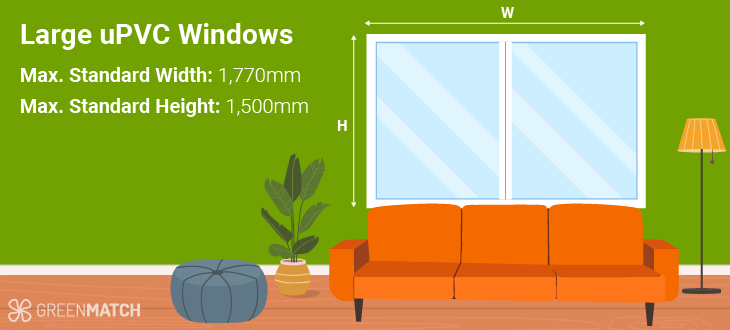 Are you looking to elevate the aesthetic appeal of your home or office? Consider installing large uPVC windows. These windows are elegant and come with numerous benefits that make them a popular choice among homeowners and businesses alike.
One significant advantage of uPVC large windows is their excellent energy efficiency. They are also durable, low-maintenance, and reduce noise, making them ideal for any weather conditions. 
Moreover, with more glass and less frame, a large uPVC window offers unobstructed views, perfect for sightseeing and enjoying your surroundings. Whether you want to admire the landscape or enjoy the city skyline, large windows can be an excellent addition to any room.
However, it is worth noting that large uPVC windows may come at a higher cost than their smaller counterparts and may require more maintenance and cleaning. Additionally, although uPVC windows are generally long-lasting (around 20 years), uPVC lifespan is shorter than other materials.
If you're considering installing a large uPVC window, you should know that uPVC windows standard sizes typically go up to 2.65 metres squared. The most common unit is the 1200 x 1200 window (1.44m2), which costs around £160 – £1,240 for a double-glazed white uPVC frame, exclusive of installation. It is also possible to buy and install oversized windows at an extra cost.
When looking for large uPVC windows, you could start by searching online and comparing prices. However, an easier and more reliable option is to count on GreenMatch's help. We have almost 10 years of experience providing expert domestic energy solutions in the UK, and we can help you find top-rated window suppliers near you.
By clicking the button below and completing a short form, we'll send you up to 4 quotes from vetted suppliers from our nationwide network. You'll be able to compare prices, special offers, and warranty options and choose the best deal for you. Our service is 100% free, and you're under no obligation to accept any of the quotes you receive.
Quotes from local engineers
Payment by finance available
Save up to £170 per year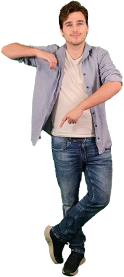 Optimise your home and save the planet
Are Large Windows Right for You?
When considering whether large uPVC windows are right for you, there are several things to consider. You should also take into account their pros and cons carefully.
Things to consider when choosing large uPVC windows
Budget: Most likely large uPVC windows are not cheap uPVC windows, so it is essential to set a budget before you start shopping.
Space: You need to have enough space to accommodate large uPVC windows. If your home does not have enough wall space or the windows are too close to the ground, you may need to reconsider your options.
Energy Efficiency: Consider the window energy ratings of the windows you choose, as it can significantly impact your home's energy bills.
Maintenance: Large uPVC windows require regular cleaning, so ensure you have the time and resources to maintain them.
Longevity: Consider the lifespan of the windows you choose, as this can impact their long-term cost-effectiveness.
Pros of large uPVC windows
Extra Large uPVC Windows provide a range of benefits, including:
Improved energy efficiency: uPVC is a good insulator, making it an excellent choice for windows. Large uPVC windows offer better energy efficiency than smaller windows, as they have more glass and less frame, allowing for greater natural light and better thermal insulation. This can lead to significant savings on energy bills.
Durability: uPVC windows are known for their durability and resistance to weather, rot, and corrosion. Large uPVC windows are no exception, and they can last for decades with little maintenance.
Noise reduction: Large uPVC windows are particularly effective at reducing outside noise, making them ideal for busy urban areas.
Increased Natural Light: Large uPVC windows provide plenty of natural light to your home. Natural light can significantly impact your mood and improve your overall well-being.
Unobstructed views: With more glass and less frame, large uPVC windows offer an unobstructed view of the outdoors. This can make your home feel more spacious and allow you to enjoy scenic views.
Cons of large uPVC windows
Despite their numerous benefits, there are also some drawbacks to consider when installing large uPVC windows:
Higher Cost: Large uPVC windows can be more expensive than smaller ones. This is because they require more materials and may need specialised installation. However, their benefits in terms of energy efficiency and aesthetic appeal may justify the investment for those seeking a long-term solution.
Increased Cleaning: Cleaning large windows can be time-consuming, particularly if they are hard to reach. It can be even risky for those without the proper equipment and training, making it essential to consider the maintenance requirements before investing in extra large uPVC windows.
Lifespan: A uPVC window, large or small, will likely have a shorter lifespan than other materials such as wood or aluminium. This is due to uPVC being susceptible to degradation over time, especially when exposed to extreme weather conditions. However, uPVC windows still have a relatively long lifespan of around 20-30 years.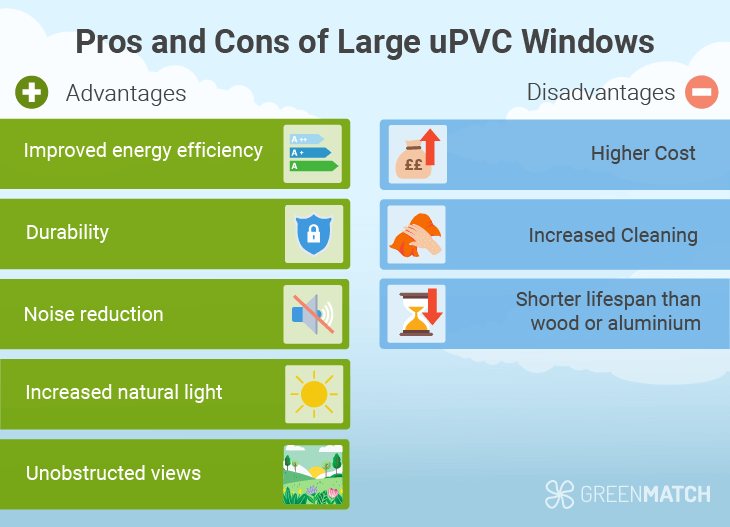 What is the maximum size of a UPVC window?
uPVC windows come in various sizes to cater to different needs. According to industry standards, a large uPVC window design can have a size of up to 2.65 metres squared. However, custom-made, extra-large uPVC windows can be even bigger, with some manufacturers offering sizes up to 4 metres squared or more.
To ensure you get the right size, it's important to know how to measure your windows correctly. In the next section, we'll look at the steps involved in measuring large uPVC windows accurately.
How to measure uPVC windows
Measuring uPVC windows accurately is essential to ensure you get the right size and fit for your replacement windows. It can even determine if the window will achieve the benefits you're looking for. 
To start, measure the width and height of the window opening, ensuring to take measurements from multiple points to account for any irregularities. When measuring the width, take the measurement from the top, middle, and bottom of the opening, and do the same for the height.
It's worth noting that some uPVC window sizes are industry standard, so you may not need to measure them. However, custom window sizes are also available, so it's best to double-check before purchasing. In addition, it's essential to consider the different uPVC window styles, as this can affect the measurements required.
In the next section, we'll discuss the different sizes of uPVC windows available so that you can make an informed decision.
What are the sizes of UPVC windows?
uPVC windows come in a range of standard sizes. Below, you can find a table with standard widths and heights.
Standard Sizes of uPVC windows
Standard uPVC window frames widths
Standard uPVC window frames heights
488mm (19 inches)
488mm (18 inches)
630mm (25 inches)
600mm (24 inches)
915mm (36 inches)
1,050mm (42 inches)
1,200mm (48 inches)
1,200mm (48 inches)
1,770mm (70 inches)
1,350mm (54 inches)
1,500mm (60 inches)
As per the average prices, a 1,400mm x 1,400mm large uPVC window can cost approximately £230 – £1,240. If you want triple-glazing, then the price will be higher. However, their price per square metre is likely cheaper than the cost of a small uPVC window.
uPVC Windows Costs
Size
White uPVC / Double-Glazed Windows
Woodgrain uPVC / Double-Glazed Windows
White uPVC / Triple-Glazed Windows
Woodgrain uPVC / Triple-Glazed Windows
600 x 900mm
£160 – £990
£200 – £1,030
£225 – £1,385
£265 – £1,425
Small Windows
900 x 1,200mm
£200 – £1,065
£240 – £1,105
£280 – £1,490
£320 – £1,530
Large Windows
1,400mm x 1,400mm 
£230 – £1,240
£270 – £1,280
£325 – £1,735
£365 – £1,775
On top of this, you need to consider that different uPVC window styles have different prices, which can impact the costs. Also, extra-large uPVC windows and custom-made ones will have a different price reference. Lastly, using special types of glass (e.g. soundproof glass or solar control glass) will increase the final bill. 
If you're in the market for new large uPVC windows, it's important to shop around and compare prices from multiple suppliers. By doing so, you can ensure you're getting the best value for your money and avoid overspending on your window replacement project. 
At GreenMatch, we can put you in touch with up to 4 top-rated suppliers in your area. They will advise you on what window style and size best fit your needs and budget. We ensure the companies we match you with provide the highest quality and energy efficiency standards. To start, just click on the button below.
Quotes from local engineers
Payment by finance available
Save up to £170 per year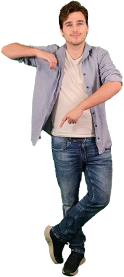 Optimise your home and save the planet
Large Coloured uPVC Windows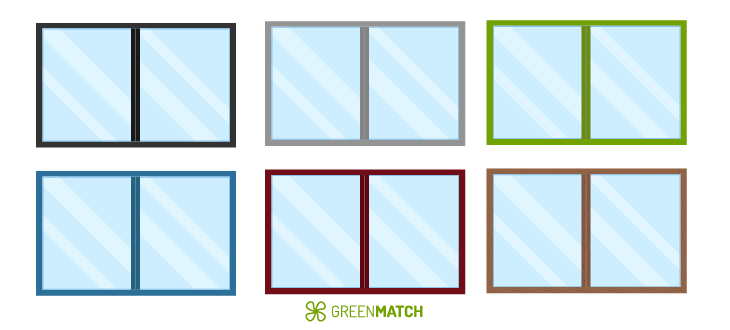 While white uPVC remains the most common choice, large windows made of coloured uPVC can add a bold and stylish statement to any room. Fortunately, many colour options are available, making it easier than ever to find the perfect match for your style and decor.
There is a whole range of other colours available, including black, green, blue, red, and grey uPVC windows, to name a few. In addition, woodgrain uPVC has also become popular for those who want the look of real wood without high maintenance requirements.
When considering coloured uPVC windows, it's essential to choose the right shade for your property's style and surroundings. For example, grey or black uPVC windows can create a sleek and modern look, while green or cream can provide a more traditional appearance.
However, it's worth noting that large coloured uPVC windows can be more expensive than white ones.
Large uPVC Window Styles
From classic casement and sash to modern tilt and turn, as well as elegant bow and bay options, there is something for every taste when it comes to large uPVC window styles.
uPVC casement windows are a popular choice for their simplicity and versatility. They can be customised to fit almost any size and shape of the opening. Tilt and turn windows are modern uPVC windows that are practical for cleaning, as some can be tilted inward for easy cleaning.
Regarding large uPVC windows, sash, bow, and bay windows are the most commonly found styles. Large uPVC sash windows have a classic look that is commonly found in traditional homes. They can be operated from the top or bottom and are ideal for creating a more traditional look in a large uPVC window.
Bow windows are an elegant option that can add a touch of sophistication to any home. They comprise four or more casement windows joined together to form a curve. Large bay window uPVC styles are similar to bow windows but have three panels instead of four or more. They are a classic style and often found in traditional homes.
Get the Best Price for Replacement uPVC Windows
To find the best deal for replacement uPVC windows, it's crucial to research local window companies and consider all the factors that matter to you. Comparing windows installation costs is also a proven way to save money. Ultimately, the ideal window for you is one that offers a perfect balance of quality and affordability.
At GreenMatch, we know that searching for local suppliers and installers can be tedious and time-consuming. This is where our service can be helpful to you. It is 100% free. Check how it works below:
Quotes from local engineers
Payment by finance available
Save up to £170 per year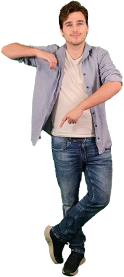 Optimise your home and save the planet
FAQ