Secondary Glazing For Sash Windows
Secondary glazing for sash windows is a great way to upgrade the energy efficiency of your property without fitting brand new windows and doors.
Often, it simply isn't viable to install brand-new double-glazing windows into your home. It might be that you live in a listed building or it might be that your property is located in a conservation area where laws govern what you can and can't do to its exterior appearance.
Similarly, there might be a clause in the property deeds that says you have to retain as many original features as possible while inhabiting the property, including the single glazed sash windows. It may be however that permanent double glazing is just a bit beyond your budget, and far down the list of priorities for home improvements.
Fill in the form in just 1 minute
However, a cheaper alternative to new double glazing is available in the form of secondary glazing for sash windows.
What are sash windows?
Sash windows are easily recognisable as they do not open on a hinge, instead, they are usually made up of two panels that slide up and down, or in some cases side to side. They are counterbalanced by corded lead weights hidden amongst vertical grooves.
They are a more traditional style of windows and due to that, they are commonly single-paned, meaning they are less energy and heat efficient, and they don't offer much in noise reduction from nearby disturbances.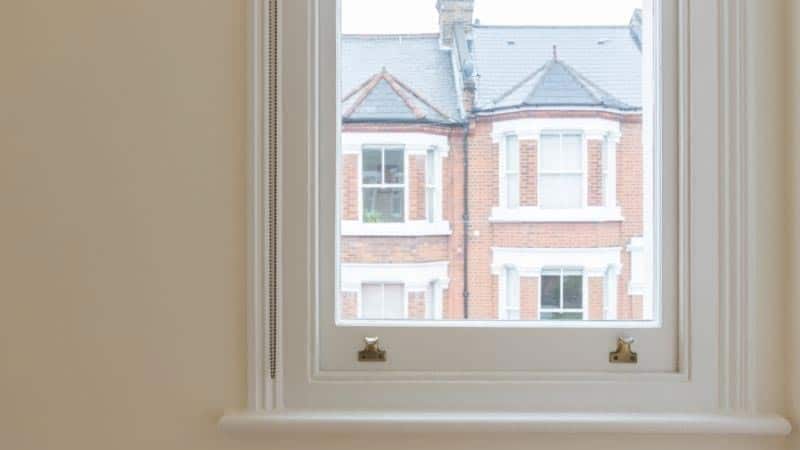 Of course, there are some benefits to sash windows that counteract the negatives. The traditional look and effect of sash windows add an element of class to your home.
They are incredible for ventilation, particularly during stiflingly hot summers days, and they are suited very well to homes in conservation areas where genuine timber windows may be your only choice.
What is internal secondary glazing?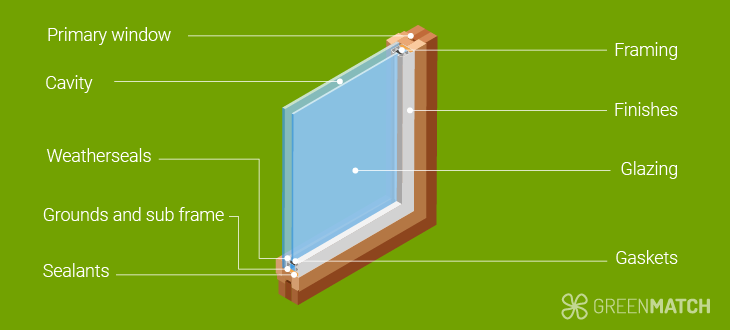 Internal secondary glazing involves putting a secondary pane of glass or Perspex inside your original existing window in a style similar to that of double glazing. The secondary pane of glass is commonly fixed in place with the help of an internal frame but when a Perspex sheet is used it can be tacked or even stuck in place using quality Velcro.
As with double glazing, a gap is left between the two panes of glass so that the air trapped inside can act as an insulating layer, providing many of the properties you would enjoy through a new double-glazing system. Now, the unit isn't sealed quite as well as a true double glazing unit would be, but it still offers a number of the benefits provided by double glazing.
Sash window secondary glazing is also a pretty straight forward to add and can be done with the existing windows you already have. So rather than having to completely replace your windows you simply install secondary glazing to the existing sash windows instead.
Secondary double glazing can be installed so that the original sash window can still be opened preserving all of the décors that it has. To do this the secondary pane of glass needs to be housed in a sliding frame, the result being that the insulating benefit of the unit does become ever so slightly reduced. Although, the unit will still be more energy and heat efficient than the original single-paned sash window.
The cost of installing secondary glazing for sash windows
Secondary glazing ranges in price depending on what material you use for the interior pane. It is possible to buy a transparent film for around £15 from a DIY store and stick it to the inside of your original window.
This type of film does have some benefit in terms of heat retention, but it doesn't really insulate against noise.
This option from Stormguard, can be found on Amazon and is fairly well-reviewed amongst the 1,500+ that left a comment on the product.
As we mentioned, it won't quite provide the same quality as the more expensive options we'll explore below, but it is still an improvement on the single-paned system on your sash window.
It makes more sense to pay a little extra in the first instance and have a glass or good quality Perspex secondary glazing installed on your sash window. This type of glazing lasts a lot longer than the cheaper alternatives and improves energy efficiency dramatically. It also costs around one-fifth the price of double glazing meaning you save a substantial amount of money in the process. Please be aware though that even secondary glazing isn't allowed in some listed buildings, so it pays to check beforehand.
These days, many modern new-build homes come with double glazing built-in as standard. However, for those who live in older homes and buildings, it is often necessary to arrange double glazing yourself if you want to benefit from increased energy efficiency, security, and aesthetic improvements along with the range of other benefits that double glazing can offer. This is especially true of sash windows, as they are more commonly found in older homes and buildings, sometimes this adds to the allure of the home, but they may not be as economically sound as we would like them to be.
However, there are people who may not be able to have double glazing installed for one reason or another. For instance, you may live in a rented property where the landlord is not prepared to pay for double glazing installation, or you may have an apartment in a listed building where changing the sash windows isn't an option. You may even live in a character property where new windows would look out of place, and as we mentioned earlier, sash windows are often stunning features of a home.
In circumstances such as these, you may find that secondary glazing is an effective alternative, even the very basics of secondary glazing in the form of thermal films. This will enable you to enjoy many of the benefits that regular double glazing can offer but at a lower cost and without having to change the windows in your property or go through the rigmarole of finding out whether new window installations are authorised.
The benefits of secondary glazing
As with double glazing, secondary glazing helps to keep heat inside your home and the cold out. It isn't as effective as double glazing because the insulating gas in the gap between the two panes of glass isn't as tightly sealed, but the heat retention benefits can be felt. As the majority of heat from the home is lost through the windows, even when closed, the addition of secondary glazing in any form can make the difference.
Leading on from this, if you're able to retain heat within your home you'll find your energy bills fall over time. Obviously, this is good news for you and you'll soon recoup the money you spend when paying for your secondary glazing, making it more than a sound investment.
You'll also find that the amount of external noise you hear while in your home also becomes reduced. So, if you live near a busy road, on an airport flight path, next to a school or college or you simply have boisterous neighbours the amount of noise you get coming into your home will fall. Again, the degree of reduction won't be as high as with permanent double glazing, but it will definitely benefit you.
While secondary glazing on your sash windows may not offer the same aesthetic benefits as having new double glazing installed, it can still be an excellent alternative if having double glazing is not an option for you. Your home and sash windows can be enhanced in a number of ways with secondary glazing, with some of the key benefits including:
Insulating your home: When you opt for secondary glazing, you can enjoy an effective solution to insulating your home. This means that you can keep your property warmer for longer without the need to keep the heating on, and keeping your sash windows for the summer months where you benefit from better ventilation.
Financial and environmental impact: As a result of the efficient insulation qualities of secondary glazing, you can also enjoy financial and environmental benefits. By keeping your home warmer for longer you will use less energy, which means you can get away with lower energy bills as well as do your bit for the environment. Sash windows are notorious for letting heat escape due to their usual single-glazing system, so any upgrade will make the world of difference.
Noise reduction: Like double glazing, secondary glazing can help to keep a lot of noise out, which means that you can enjoy increased peace and quiet inside your home if you live in a busy or noisy area.
A variety of styles: You will be able to choose from a range of styles when it comes to secondary glazing, which means that you can select a style that suits your preferences and your property. This includes styles such as sliding secondary glazing or hinged glazing.
Whatever your reasons for not opting for standard double glazing, you will find that secondary glazing could provide you with the ideal alternative for your sash windows.
You should make sure you choose high-quality products and experienced installers in order to ensure you get to enjoy the maximum benefits of this type of glazing. By doing this, you can look forward to many of the benefits that standard double glazing can offer but without the need to actually change your windows.
Fill in the form in just 1 minute