Do You Want to Invest in a Solar Panel System?
A solar panel system is the multitude of installed solar panels and their necessary components, whether they may be roof mounted or ground mounted, in a household or a commercial building. These systems make it possible to capture sunlight and store it for daily use, thus providing clean energy. The investment of solar systems stabilises after several years from installation, as the system becomes completely sustainable, even profitable as the excess energy can be sold back to the national grid.
When purchasing solar panel systems, one can apply for certain government incentives, which have the role of aiding in the cost of instalment. Depending on the size of the system, thousands of pounds can be saved as solar panels' advanced technology is becoming more and more efficient.
If you're interested in solar panel systems, and you would like assistance and guidance regarding budgets and suppliers, we will gladly help you find all the information. Our service is simple and without any obligations: just fill in the non-binding form at the top, and you will be contacted by up to for professional installers with their offers, thus saving you tonnes of time of research. If you happen to like any of their offers, you are then free to choose the one you prefer. If you would like more information about solar panel systems before filling the form, just keep reading!
Solar Panel System Sizes
There are different factors to explore when purchasing a solar panel system. These come in various sizes and have different rates of performance depending on this. A 5kw solar panel system with battery in the UK will offer other outputs than a 3kw solar panel system. Click on the links above to get more information on the panel sizes and compare which system suits your needs.
Criteria for Installing Solar Panel Systems
When evaluating whether a solar panel system would be suitable for your household a set of criteria needs to be met. The amount of available solar resource must be taken into consideration, depending on the geographical location and amount of sunlight, system performance will be affected. The UK does not experience a large amount of sunlight all year round, however, PV systems use both direct and scattered sunlight. Before buying a PV solar panel system, analyse if the installation site has sufficient solar energy to meet your electricity needs. This can be achieved by considering the orientation and tilt of the solar panels, both of these factors can affect the system performance.
The roof area is another criteria taken into account. The roof area determines the size of the solar panel system, larger roofs can accommodate more powerful systems.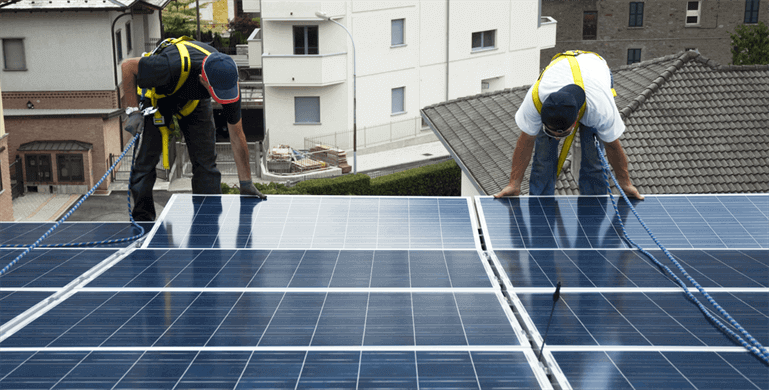 The economics of installing a solar panel system is determined by the cost of installation and operation costs. Factors such as the size of the panel system, whether it is connected to the grid or not, and a number of solar resources at the location, influence the economics.
When installing a solar panel system certain permits are required thus planning should be done in case any issues which may arise. Installing solar panel systems on households may be permitted development with no need to apply for a planning permission, however, there are certain conditions which must be met in order to benefit from these permitted development rights.
Solar Panel System Cost
Solar panel systems have dropped in price considerably over the past years. This is a result of decreased manufacturing costs and increased competition in the market. Depending on the system size, prices range from £1,500 for the 1 kWh solar panel system and can exceed £20,000 for the larger 6 kWh system.
In the UK, the government plays an important role in helping to make solar energy more affordable and profitable (excess power can be sold to the national grid).
The cost of a solar panel system is dependent on the size of the installation and on the quality of the solar panels used. Regarding the size, the most common systems installed on UK households are the 3 kWh and 4 kWh systems, due to the balance between their price and power output. Taking into consideration the 3 kWh system, it produces 2500 kWh of energy and can save up to £1,000 per year on electricity bills. The size of the installation is directly proportionate with the available roof space. For reference, a 3 kWh system consists of 15 x 200-watt solar panels or 12 x 250-watt solar panels which will require a roof space of at least 21 square metres or above.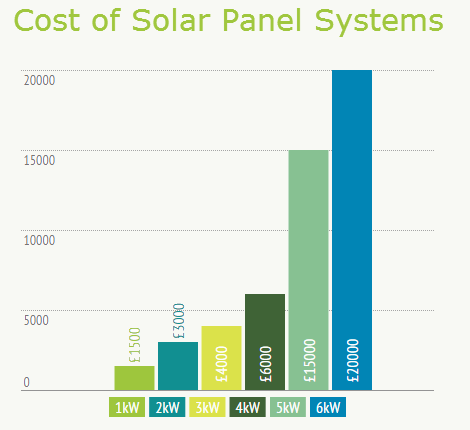 The quality of solar panels differs from manufacturer to manufacturer. There are two main types of PV solar panels:
Monocrystalline solar panels are made from single crystals grown in isolation. This type of panel is the most efficient at 15-22%, but they are also the most expensive type of solar cells.
Polycrystalline solar panels are cheaper than monocrystalline panels, but their efficiency is lower, at just 13-17%.
The efficiency of solar panels is determined based on how many watts of power are produced in a single square metre. So by this logic, a 1,000-watt panel would generate 100% efficiency.
Fill in the form in just 1 minute