Installing dogs and cat flaps in double glazing glass and UPVC patio doors
We look at some of the options for installing dog and cat flaps into your double glazing glass and UPVC patio doors
As dog and cat lovers, providing comfort, convenience and freedom for our pets is of utmost importance. Installing A cat or dog flap in UPVC double glazing patio doors is considered as one of the major ways to provide convenience and freedom for our four-legged friends. This can allow your pet to make the most of your home and garden when you're not around.
These flaps installed into your glass door make it possible for our dogs and cats to easily go in and out of the house as they please without having to try and get the attention of someone. In other words, you are not going to be frequently hassled by your pets when they feel like going out. This is indeed truly important. Installing a dog or cat flap into your double glazing can also allow your pet to be left home alone for longer periods of time.
Choosing the right cat or dog flap for your home can be difficult, there are many options out there. There are many things you have to consider which include; the type of flap, size of flap, security and the type of door the flap is being installed into.
The type of door is a major issue to consider especially when working with a double glazed patio door. In this article, we break down the multiple options available when buying and installing dog and cat flaps into your double glazed doors.
If you already have a double glazing glass patio door installed, then the best thing to do is to contact a local double glazing company and discuss possible solutions for installing a dog or cat flap. Many local companies will have installed a pet flap before and will be able to offer advice on which particular flap will be best suited to your current door.
Although many cat and dog flaps state that DIY installation is possible, don't go drilling holes into your door without any form of direction, as any slight damage can cause misting of your glass and air entering into your home.
If you're having a new double glazing patio door installed, the best way to install a pet flap is to pre-order with the door. This is the most efficient and easiest method to insert a pet flap. Speak with your glazing company about the possible options when ordering your new door.
What are the options for cat and dog flaps in double glazed patio doors?
When it comes to choosing a pet flap, there are a few things you need to consider like the style and size that is suitable for your pet. Ensure you measure your animal so you have an idea of how large your pet flap needs to be.
Also, note that the size of a pretty large dog could be big enough for a small burglar to fit in, so you have to be very careful and take precautions, such as adding a pet-friendly motion detector especially if you have an active home alarm system.
There are multiple options of cat and dog flaps for different types of doors to choose from. For double glazing glass patio doors, check out the options below.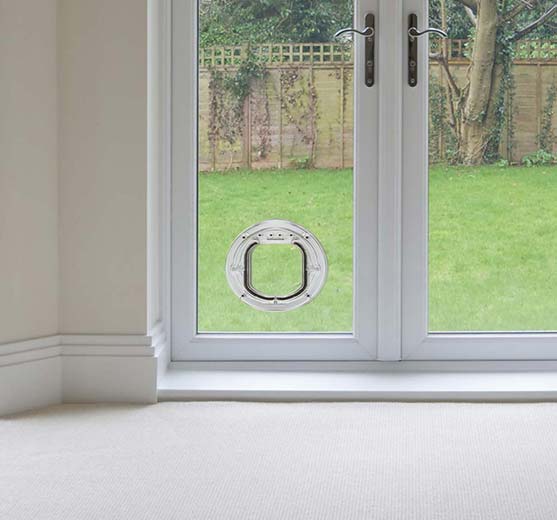 SureFlap Cat Flap with Microchip Identification
The range of pet flaps from SureFlap is designed specifically for use in double glazed doors. They offer a range of sizes from small to large and look un-obstructive when installing into your glass door. Quick and easy to install with the durable build quality and innovative openings, these cat and dog flaps offer great value and a simple solution to installing a pet flap into your home.
Pricing: Starting from as little as £52.99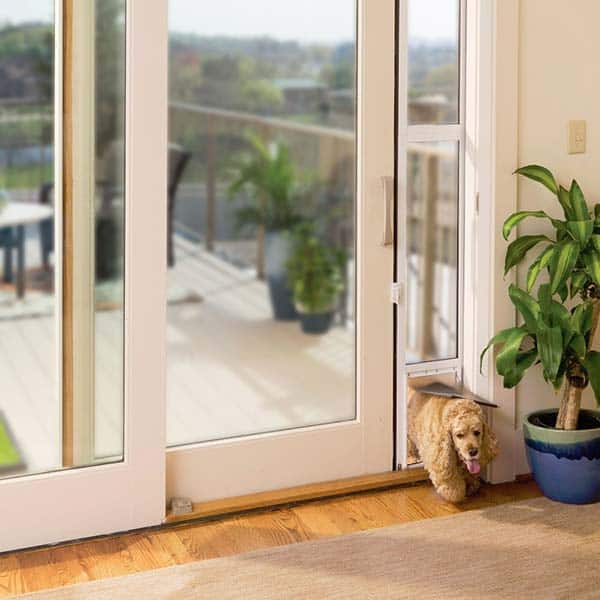 PetSafe Staywell Big Cat/Small Dog Pet Flap
The PetSafe Staywell Big Cat/ Small Dog Pet Door offers fast, simple installation with an adjustable four-way locking system. This pet door can be set to in only, out only, open or closed. Available in a frosted or white finish this pet flap looks stylish and unobtrusive.
This flap is weatherproof and energy-efficient, with a built-in draft excluder which insulates the opening. The Circular shape and flexible plastic construction of this pet flap allow for a fast and simple 3 step-installation in thicker glass doors and glass panels.
Pricing: Starting from as little as £18.99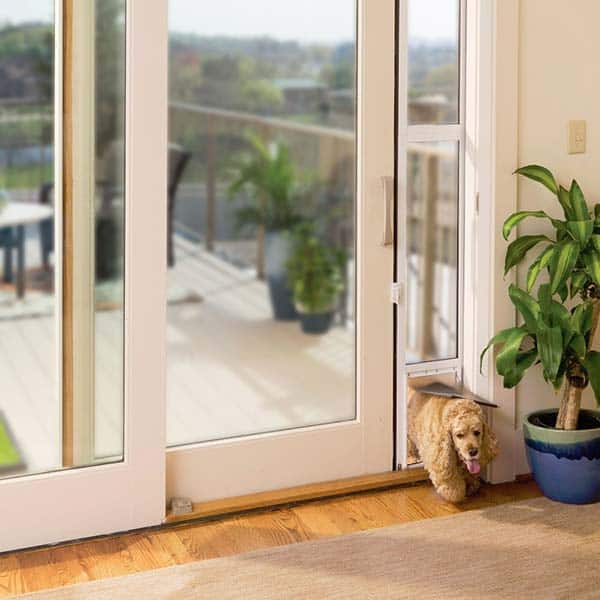 PetSafe Sliding Glass Pet Door
The PetSafe sliding glass door can be fixed permanently or even temporarily into your existing door. It is safe and suitable for all sizes of pets. This sliding pet flap is a two-piece aluminium construction, made in a way that it can be easily adjusted to fit any door size. It is made with 4mm safety glass to provide strength and safety. It is also made with a vinyl magnetic lockable pet flap that helps keep your pets inside when necessary. No cutting is required when installing the PetSafe pet door. The temporary installation option is ideal for apartments or rental properties; Detailed installation instructions and necessary hardware are included with each door.
Pricing: Starting from £180
Microchip Dog & Cat Flaps
These pet flaps are created to recognise the ID chip already implanted in your pets or come with a tag to attach to your pet's collar. They ensure the pet door is unlocked only for your pet and prevent burglars, neighbourhood or stray dogs and cats and other animals from entering your home. They work by automatically unlocking the door when your pet walks up to the flap from either side.
There are many suppliers in the UK for microchip cat and dog flaps. Here are some of the best sellers.
SureFlap Microchip Pet Door
Keep unwanted animals out of your home with a SureFlap microchip pet door. Larger in size than most cat flaps, the pet door is designed for large cats and small dogs and includes a curfew mode which allows you to set specific times that the flap can be opened. Works with your existing pet microchip or collar tag which is included and can save up to 32 pet identities. Suitable for: glass, wood and most types of PVC doors.
Cat Mate Microchip Cat Flap
Pet Mate's range of cat flaps is considered to be one of the best available. They are brush sealed and magnetically closed for ultimate draft and weather resistance and all products in the range offer a 3-year guarantee. View the range on Amazon here. (Please note: ensure you research which models are suitable for glass doors as not all their range is designed for use with glass.)
Dog Mate Microchip Dog Flap
Suitable for a wide range of dog breeds and sizes due to the super-strong, lightweight construction of these dog flaps. All flaps are sealed with a magnetic closure for total weatherproofing and minimum energy loss from the house. They offer fantastic security with robust locking panels. (Please note: ensure you research which models are suitable for glass doors as not all their range is designed for use with glass.)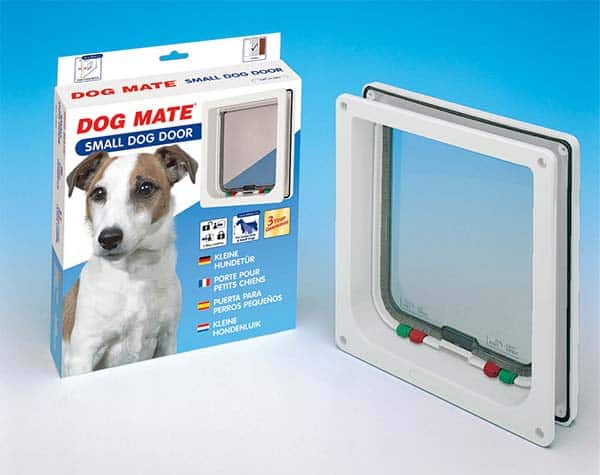 Installing your dog or cat flap
The options listed above can all be installed yourself, however, we recommend using a specialist when installing these dog and cat flaps into your home, especially if installing into double glazing glass doors.
There are many accredited installers of pet flaps throughout the UK. One example is Cat Out of Glass who are accredited by Sure Petcare & Pet Tek Ltd which offer the products mentioned above. You have peace of mind that your pet flap is being professionally installed and they supply and fit the correct product for your needs.
Many local companies will be happy to install and supply a pet flap for you. Our advice would be to inquire with local companies in your area and get a range of quotes. You can also purchase your pet flap directly and then ask a local tradesman to install the flap for you, they will most likely have the range of tools needed to ensure a secure and professional finish.
These days the range of cat and dog flaps available for your glass and patio doors ensure your pet can be free to roam your house and garden safely and securely.