UK Energy Bill Paves the Way to a Sustainable Future by 2030
Energy bills in the UK are a concern for many households, significantly as the cost of living rises. However, the importance of low-carbon and renewable energy cannot be overstated. Renewable energy sources emit low or no carbon emissions, making them vital in tackling climate change. 
The UK government has set a target for all electricity to come from 100% zero-carbon generation by 2035, with clean power generation being front-and-centre of the country's strategy to reach net zero by 2050. In 2020, 42% of the UK's electricity came from renewable energy, with wind power being the highest proportion of any G20 country and more than four times the global average
The UK's reliance on gas to heat homes, generate electricity, and fuel heavy industry has come at a steep cost, which is expected to keep rising. Therefore, generating more electricity from renewable energy is a guaranteed way to avoid firing up gas power plants and protecting electricity bills from rising. 
This article will explore the importance of low-carbon and renewable energy in the UK and how it can help reduce energy bills.
Energy bill price cap and government price guarantee
The Energy Price Cap limits the amount that energy suppliers can charge consumers for each kilowatt hour (kWh) of energy they use. It is a government protection calculated by Ofgem, the independent regulator for the energy market in the UK. The cap ensures suppliers' profit is capped and recalculated every six months based on wholesale energy prices.
Ofgem sets the Energy Price Cap every three months, confirming the maximum price suppliers. Households are selected to be charged per unit of energy on a standard or default tariff in normal circumstances. 
The Energy Price Cap affects households in England, Wales, and Scotland, and it determines their energy cost. The cap was set from July to September 30 2023.
It is at an annual level of £2,074 for a dual fuel household paying by direct debit based on typical consumption. Using regular energy in England, Wales, and Scotland will pay £426 less yearly.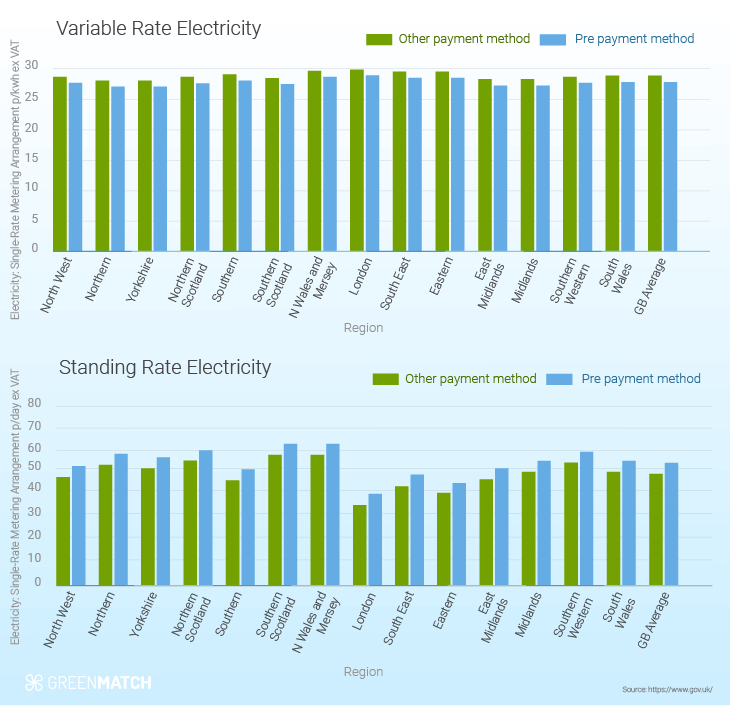 However, annual bills are not capped, and households that use more energy will pay more, while those that use less will pay less. The price cap for July sees a reduction in last quarter's cap and a reduction in how much customers will spend on their bills.
The energy bill is recalculated every six months based on wholesale energy prices and set by Ofgem every three months. The following review is expected to change in October 2023. The Energy Price Guarantee will remain a safety net until the end of March 2024 should energy prices increase above £3,000 per year.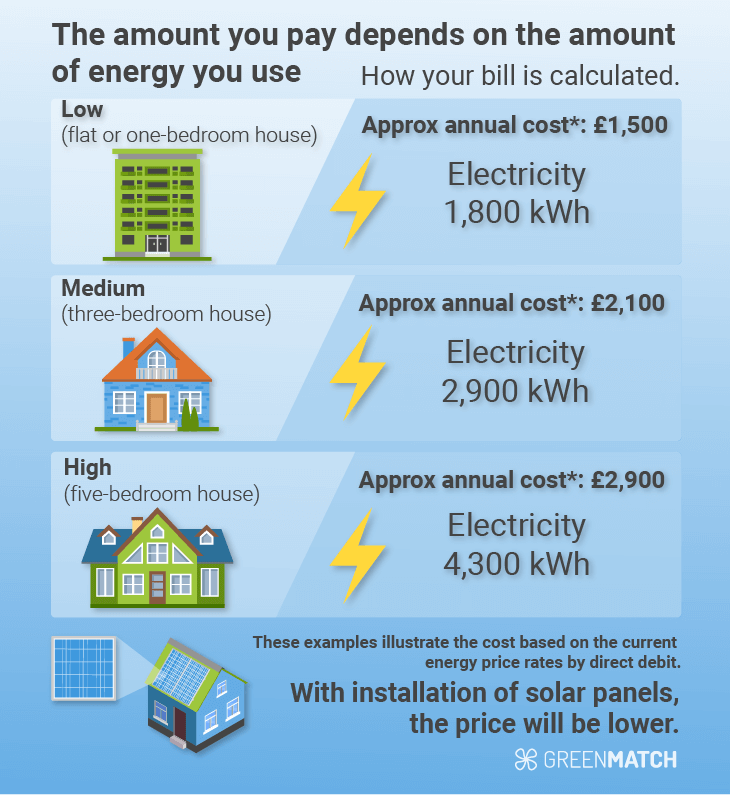 Energy bills support scheme in the UK
The UK has made significant progress in decarbonising its economy. Consequently, emissions were cut by 48% between 1990 and 2021 while the economy grew by 65%. Thus, the UK became the first G7 country to sign net-zero greenhouse gas emissions by 2050 into law.
Various policies and initiatives are implemented to achieve these targets, including the Energy Bills Support Scheme. The scheme supports households and companies struggling to pay their energy bills due to rising prices. 
The UK government is also exploring energy demand reduction options to reduce carbon emissions (Co2). Energy demand reduction can minimise reliance on high-risk carbon dioxide removal technologies and has moderate investment requirements. The UK government is using the country as a case study to explore this potential, given its legally binding targets for short- and long-term greenhouse gas emissions. 
The government has implemented several policies and initiatives to achieve this, including the UK Energy Bills Support Scheme. The aim is to reduce emissions from public sector buildings by 75% by 2037, compared to 2017. 
The scheme is part of the government's commitment to reduce UK energy demand by 15% by 2030 and support the UK's move towards greater energy independence.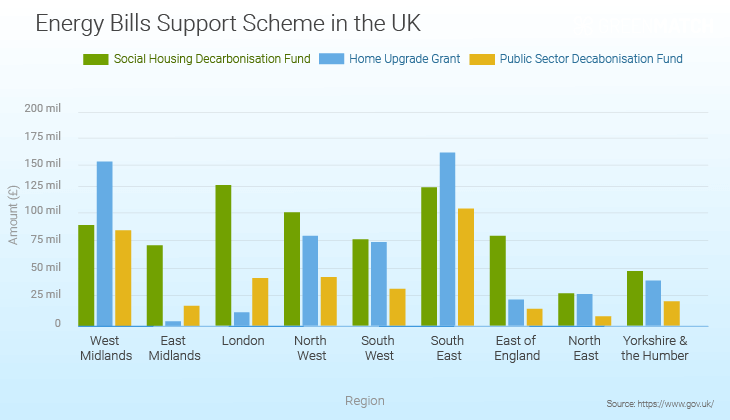 Connecting the Dots: Carbon Emissions Reduction
The UK Energy Bills Support Scheme bridges individual households and the larger carbon emissions reduction goal. By facilitating the adoption of renewable energy solutions and energy-efficient technologies. The scheme will contribute to a significant decrease in carbon footprints at the grassroots level.
This ripple effect aligns with the UK government's broader strategy to achieve net-zero carbon emissions by 2050. The government aims to drive systemic changes across industries and non-domestic customers to adopt energy-efficient practices and technologies.
Here are some key points about the UK Energy Bills Support Scheme and its connection to reducing carbon emissions:
Discounts on Energy Usage: The scheme provides deals on non-domestic gas and electricity unit prices for eligible customers. By lowering the cost of energy, businesses and non-domestic customers are encouraged to use power more efficiently. This, in turn, inspires them to invest in renewable energy sources, ultimately reducing their carbon footprint.
The scheme also promotes energy efficiency measures, such as improving insulation and adopting low-carbon alternatives. By making homes and buildings more energy-efficient, energy consumption can be reduced, lowering the UK energy bill and decreasing carbon emissions.
The UK Energy Bills Support Scheme applies to customers of England, Scotland, and Wales. Electricity suppliers in these regions have received and distributed funding to support domestic energy customers. 
Electricity suppliers are responsible for implementing the Energy Bills Support Scheme direction and delivering the scheme. They must discount eligible customers by crediting their accounts with the relevant amount. Customers do not need to apply for the plan, as they are automatically identified and notified by their electricity supplier.
UK's clean energy bill revolution
The UK is leading the clean energy revolution, planning to phase out carbon fuels by 2035. This plan shines as a beacon of hope as the world grapples with rising temperatures, extreme weather events, and the urgent need to reduce greenhouse gas emissions.
This ambitious plan addresses the urgent need to combat climate change. It aims to boost the country's energy security, reduce household bills, and create thriving green industries. 
To accelerate the transition to a clean energy system, the UK has committed to decarbonise its power system by 2035. With a budget of £205 million, this scheme aims to scale up affordable, clean, and homegrown power, driving multi-billion-pound investments in the renewable energy sector. 
The UK emphasises adopting homegrown, green technologies like solar power and offshore wind. The aim is to reduce the nation's dependence on fossil fuels and mitigate the impact of volatile global energy prices. This shift enhances our energy security and fosters a sense of energy independence. It is a guardian of household energy budgets, ensuring a stable and sustainable future.
The UK plans to phase out carbon fuels by 2035, aligning with the Committee on Climate Change (CCC) recommendations. The CCC envisions a future where demand for oil falls by 85% and renewable energy sources play a central role in meeting the country's energy needs. 
As the Clean Energy Revolution and the Energy Bill Scheme entwine their strengths, the UK's carbon fuel phase-out by 2035 emerges as a resolute mission. The harmony between these two strategies accentuates the feasibility of this ambitious goal. This is a testament to the nation's unwavering commitment to confronting the climate crisis.
Future Outlook and Steps
The path towards net-zero emissions and green technologies is a central focus for many countries, including the UK. The changes will affect people's lives, from transport, heating, and cooking to urban planning and jobs. 
According to government estimates, approximately 55% of the cumulative emissions reductions in the pathway result from consumer choices. These choices include purchasing an electric vehicle, retrofitting a house with energy-efficient technologies, or installing a heat pump. The goal will require continued investment in green technologies and sustained support from citizens.
The Energy Bills Support Scheme is just one of the many initiatives the government has implemented to promote green technologies and reduce carbon emissions.