Finding the right boiler
A boiler sits at the heart of the home's central heating system. That is why you will want to make sure that you choose a boiler that best fits your energy consumption requirements. You can determine what the right boiler is for you based on the size of your home and your energy needs. 
When it comes to fuel, natural gas is the most popular fuel type in the UK today. Since natural gas is supplied from the mains network, your home must be connected to the local gas grid. In terms of gas central heating installation costs in the UK, they tend to be lower than those of other boiler types. 
However, homes that are not on the gas grid will require other options, such as LPG boilers, oil boilers, electric boilers, or biomass boilers. Since combi boilers are the most popular option in the UK, we have broken down the combi boiler costs per different fuel type. These figures do not include installation costs. 
Combi Boiler Costs Per Fuel Type

| Fuel Type | Price Range |
| --- | --- |
| Gas | £600-£3,000 |
| LPG | £750-£2,700 |
| Oil | £1,200-£4,500 |
| Biomass | £4,000-£21,000 |
| Electricity | £500-£2,500 |
However, the boiler alone is not the only element that will contribute to the total cost of installing central heating. Below you can find out more about each type of boiler, as well as about the other components of your new heating system that will affect your expenses. 
At the same time, the numbers above are only estimates that might not apply to you. To find out the exact cost of a new combi boiler for your home, you will need to consult a heating engineer. We can help you get in touch with a professional in no time!
Simply click below to request quotes for new boilers and installation services from up to3 local installers with our 30-second form!
Quotes from local engineers
Payment by finance available
Save up to £1040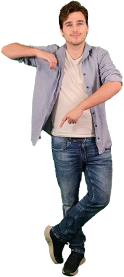 Optimise your home and save the planet
Type of boiler replacement
The cost of a new central heating system will be directly impacted by the kind of boiler replacement you need. For instance, a like-for-like boiler swap in the same position in your home will be easier than changing the position of the boiler or changing the type of boiler. 
A like-for-like swap means that the surrounding pipework can connect to the new boiler. On the other hand, switching to a new type of boiler could take a few days since different boiler types require their own components which will need to be installed or taken away. 
If we assume a home is installing a new combi boiler, the UK's most popular boiler type, then the boiler replacement costs will depend on the old boiler type. The table below shows the estimated costs of replacing your old boiler with a combi boiler: 
Boiler Replacement Costs

| Type of Boiler Replacement | Estimated Cost |
| --- | --- |
| Like-for-like combi boiler swap  | £1,700-£3,500 |
| Replacing a system boiler with a combi boiler | £1,500-£3,000 |
| Replacing a conventional boiler with a combi boiler | £2,500-£4,500 |
Combi boilers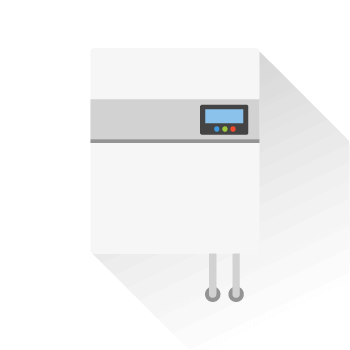 New combi boiler prices range from £600-£3,000. Combi boilers can be fuelled by gas, oil, LPG or electricity. Easily the most popular type of boiler available in the UK, combi boilers deliver hot water on demand from the mains water supply to heat your radiators and provide hot water. This is all done from one sleek unit, saving space in your home since there's no need for a hot water cylinder or cold water tank. 
Their compact design makes them most suited to smaller homes with less space. For homes with little space for additional units but high water demands, storage combi boilers combine the best features of a combi and system boiler, as they include internal hot water storage that provides hot water to multiple outlets while still taking up little space.
System boilers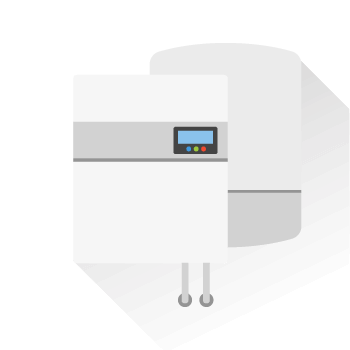 System boilers cost somewhere between £600 and £3,800. Including installation, the average cost of a like-for-like boiler swap is around £1,900. These powerful boilers are popular among larger homes with a high energy demand, since they can provide a constant, reliable supply of hot water from an external, unvented storage cylinder. 
The additional hot water cylinder means that multiple water outlets can be used at once without compromising the heating supply to your radiators. Therefore, system boilers are a great option for homes with more than one bathroom and with the space to install a hot water cylinder. 
Conventional boilers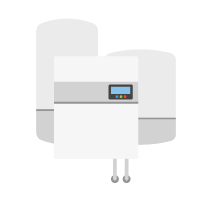 Regular boilers, also known as conventional boilers, cost somewhere between £650-£3,200. Regular boilers require a cold water tank which is kept in the loft of a home. This tank stores cold water which it feeds to the hot water cylinder for heating. This internal water supply makes regular boilers a good match for homes with high energy demands. 
If your system is already set up with a hot water cylinder and cold water tank, then it might be best to keep it this way by upgrading to a newer boiler model to avoid the high installation costs involved in switching to a new boiler type. A regular boiler also indicates an older central heating system. In this case, the mains high water pressure provided by a modern combi or system boiler might be too powerful for the pre-existing pipework and radiators.
Electric boilers
Electric boilers are connected to the local electricity grid and so are a popular alternative to gas boilers for small to medium-sized homes. They typically range from  £500-£2,500. Electric combi boilers are especially suitable for smaller homes, since they are contained to one unit and can be wall-mounted, fitted into a standard kitchen cupboard, or floor-standing. 
Electric boilers provide water for central heating and domestic hot water from the mains supply. They are very efficient since they don't burn fuel to produce heat. This means that electricity-powered central heating systems can also be better for the environment, especially when combined with a domestic solar PV system. This will allow your system to run emissions-free since you'll be powering your electric system from renewable sources.
Biomass boilers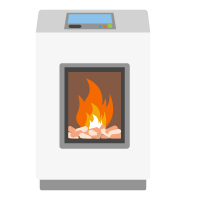 A biomass boiler is the most expensive boiler type, ranging from £4,000 to £21,000. However, there are ways to lower your total expenses for a new biomass boiler. With a government scheme such as the Boiler Upgrade Scheme, you can benefit from a grant of £5,000 towards the upfront costs of installation for a biomass boiler.
The government is encouraging homeowners to opt for biomass boilers, as they could represent a widespread carbon-neutral heating solution, especially for homes that are not connected to the gas grid. Locally sourced biomass fuel is close to carbon neutral and completely renewable, as long as trees are planted in the place of those cut down for fuel. 
Hopefully, this overview of the different boiler types has given you a better idea of the options you have for your central heating system. However, if you still have questions about which kind of boiler would be most suitable for your situation, you will want to consult a heating engineer who can assist you in finding the right boiler for your home. 
However, looking for an installer requires hours of reading reviews and you most likely do not have that kind of time on your hands. To make things easy for you, we have done the research and found multiple reputable installers across the UK who can help you with your new central heating system. 
All you need to do is fill in our 30-second form and request quotes from up to 3 local heating engineers. They can offer you quotes for new boilers, as well as for their installation services. By comparing the prices you receive, you can easily find the best deal for your home and directly get in touch with the installer of your choice. 
Our service is completely free and there is no pressure for you to commit to the services any of the installers you receive quotes from.  
Click below to get started today!
Quotes from local engineers
Payment by finance available
Save up to £1040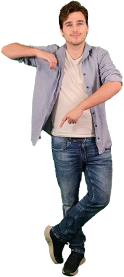 Optimise your home and save the planet
Hot water cylinder
If you choose a system or conventional boiler as part of your central heating system, you will also have to include a hot water cylinder when you calculate your total costs. The estimated price of a hot water cylinder ranges from £400 to £1,300, including installation costs.
However, the exact price will also depend on the type of hot water cylinder you opt for. You can find an overview of the different costs below. 
Hot Water Cylinder Costs

| Hot Water Cylinder Type | Estimated Cost (Including Installation) |
| --- | --- |
| Vented hot water cylinders | £400-£900 |
| Unvented hot water cylinders | £400-£1,300 |
Installing a new hot water cylinder will cost considerably more than a like-for-like replacement in the same location since the surrounding pipework will have to be fitted to incorporate it into the larger heating system. 
Installation costs will also depend on the type of cylinder as well as the material it's made from. Copper cylinders are highly effective heat conductors and tend to cost less than stainless steel cylinders, but they won't last as long. A hot water cylinder that directly heats the water with internal immersion heaters will typically cost more than an indirect system where the boiler heats the water.  
Vented hot water cylinders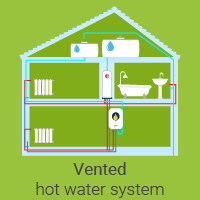 A vented hot water cylinder comes as part of a conventional boiler system. It typically costs between £400-£900 and is connected to a cold water storage tank kept in the loft. Including installation, vented cylinders cost less than unvented cylinders. However, if you are having a new conventional boiler installed, then a cold water tank will have to be installed alongside the cylinder which will cost an additional £200-£450. 
You should bear in mind that a vented hot water cylinder could be incompatible with the pre-existing pipework, as the water pressure will be much more intense than the pipes are used to. However, you can install an additional water pump to improve the pressure from a vented system. This would also help you to avoid overspending on replacing the entire system. 
Unvented hot water cylinders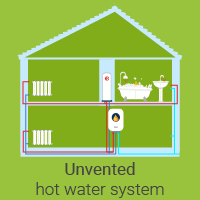 An unvented hot water cylinder will cost more than a vented one, with the overall costs usually ranging between £400-£1,300. An unvented hot water cylinder gets its cold water supply straight from the mains through an expansion vessel. It can be installed alongside a system boiler to provide hot water at a high mains pressure for multiple radiators and taps. 
Since there's no need for a cold water cistern, there's also more freedom in terms of where you can install your unvented hot water cylinder in the home. The overall installation is also simpler. However, switching positions within the home will require reworking of the surrounding pipework so it's recommended to keep the cylinder in the same position if you are just replacing it. 
Radiators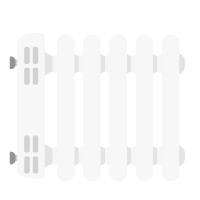 Radiators typically last 15-20 years, which is why upgrading your central heating system with a new boiler doesn't always require new radiators. However, they will need replacing if they develop a lot of rust or require increased maintenance due to leaking or inefficient heat distribution. 
Older radiators can also build up sludge that affects the flow of water through them, which impacts the quality of heat. However, before replacing your radiators, you could have a system flush to remove any debris build-up. 
If you do require new radiators after all, you can expect to pay somewhere between £20-£250 per standard radiator and up to £800 for a designer-style radiator. Additionally, installation costs range from £150-£750 for standard radiators and around £900 for designer styles. 
There is some scale to the potential costs since replacing existing radiators with the same type will result in lower upfront costs than fitting different-sized or additional radiators. Upgrading an existing radiator will take 2-3 hours for smaller radiators and about 4-5 hours for larger radiators. The table below outlines the price ranges for each type of radiator installation:
Radiator Installation Costs

| Type of Radiator Replacement | Price Range |
| --- | --- |
| Fitting a new radiator  | £170-£1,000 |
| Replacing a radiator with the same radiator type  | £150-£450 |
| Replacing a radiator with a new radiator type | £250-£680 |
If you are fitting new radiators, you must acquire the right amount of radiators to heat your home. Too many radiators will produce unnecessary excess heat which wastes energy that you will have to pay for. On the other hand, too few radiators will not provide enough heat to sufficiently warm up the space. 
Generally, each room requires 1 radiator. However, larger rooms will require more heat so they might need 2 or maybe 3 small radiators. Larger radiators typically have a higher power output due to their larger surface area. Therefore, these will also cost more.
A heating engineer can estimate the required size and power output for a radiator by calculating the British Thermal Units (BTU) of a room. A room's BTU can be affected by its size and the quality of your home's insulation. 
Heating controls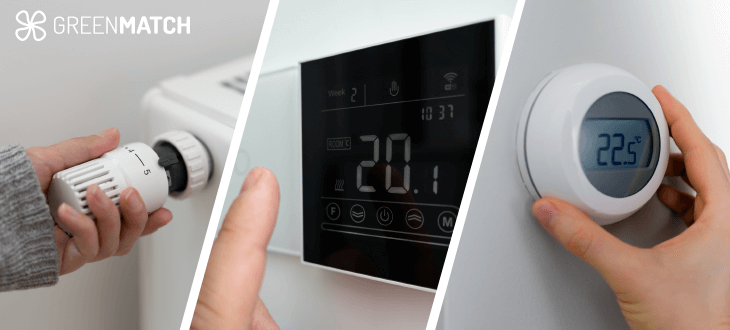 To comfortably manage the levels of heat coming from your central heating system, you can have heating controls installed. They are also a great way to save money on your monthly bills, while also limiting your boiler's carbon emissions. 
While traditional heating controls are at the lower end of the price range, smart controls are a great way of reducing the long-term running costs of your heating system, since they help you avoid wasting energy. However, the upfront cost of installing smart controls is higher. 
To give you a better idea of the cost of the different heating controls available, we provide an overview of the estimated price of room thermostats, smart thermostats, and radiator valves below: 
Estimated Costs of Heating Controls

| Heating Control Type | Cost (Including Installation) |
| --- | --- |
| Room thermostat | £100-£170 |
| Smart thermostat | £140-£410 |
| Radiator valve | £3-£150 |
Room thermostats
Individual room thermostats can cost between £100-£170, including installation. They are the best way of regulating heat in each room of your house. This usually works via a dial that you can turn up or down. 
Digitally programmed thermostats allow you to set the ideal temperature for the heating to reach at optimal times. The heating will then switch off once it reaches this temperature. 
Smart thermostats
Smart thermostats will cost you between £140-£410, including installation. These wifi-enabled heating controls learn your lifestyle patterns, which allows them to heat up and cool down your home optimally. You can also input instructions that these thermostats will automatically follow and they can be controlled from any smart device, even when you're not at home. 
Your smart thermostat can also send you reports based on your energy usage habits so you can be more aware of your energy efficiency. As a result, you could be wasting less energy when heating up your home and you could reduce your energy consumption by up to 31% with a smart thermostat.
<h4>Radiator valves</h4>
Radiator valves allow you to control the heat output of an individual radiator. There are three types of radiator valves with some variance in terms of costs. You can find an overview of those in the following table:
Radiator Valve Costs

| Radiator Valve | Price Range |
| --- | --- |
| Manual | £3-£45 |
| Smart  | £70-£250 |
| Thermostatic  | £8-£150 |
Manual radiator valves work by turning the valve up or down, which adjusts the flow of hot water passing through the radiator. This allows you to regulate the amount of heat your radiators emit. Since they have to be manually operated, it's important to remember to turn manual valves down when you don't need them, so that you don't waste any heat. 
Smart radiator valves can be installed alongside smart home thermostats. These wifi-enabled controls let you regulate each radiator's thermostat from a smart device, from anywhere. They also allow you to gauge your energy and manage your comfort levels more efficiently.  
Finally, thermostatic radiator valves (TRVs) allow you to set the exact temperature of the room via a digital control on the valve. It will automatically stop the supply of water once it reaches the desired temperature, meaning you'll only use what energy you need. 
How to save money on your central heating installation costs
Ensure easy access to the installation sites
Check what kind of appliance swaps you need
Purchase your boiler when demand is lower
Do your research in advance
Request quotes from several heating engineers