Black Friday is almost here, and the deals and discounts have already started flashing in malls and ecommerce stores. While it's going to be bigger than ever before, here are a eco friendly shopping tips to make this Black Friday a bit more greener.
Take a look at the infographic!
1. Shopping Bags – bring your own!
Taking your own shopping bags while going on a Black Friday shopping spree can help in reducing plastic waste significantly. A good tip is to always keep a shopping bag with you because you never know when you'll find something you want to buy. Single use plastic bags are the worst for environment and if all shoppers carried their own bags, imagine the contribution we can make to our environment.
2. Support small and local business
Choose local brands for your shopping needs. You will not only help the local businesses grow by giving money back to the community, but also help the environment by purchasing locally produced goods that are more conscious than the big brands.
"Going to a local mall to do your Black Friday shopping rather than driving from store to store. You will save on gas plus you can shop in hundreds of stores instead of just a single location." says Jon Vincent.
3. Choose sustainable friendly brands
Brands that display eco friendly practices should be encouraged for their contribution. There are many green brands that are moving towards an environmentally conscious approach by making small changes in their production. Choosing these brands to shop from on this Black Friday.
"I shop sustainably by seeking out smaller brands. A good way to find a green company is to use search operators while searching for partnerships with eco-friendly companies such as BlueSign and Oeko-Tex. I also seek out brands by small business and women-owned businesses. These businesses usually practice more eco-friendly processes." says Alex Tran, and eco-friendly yoga blogger.
4. Wrap your gifts in reusable and recyclable products
Gift wrappers are usually for a single time use and cannot be recycled. On a day like Black Friday where many people are exchanging gifts, making small changes to wrap your gifts can make a huge difference to the environment. Use gift paper that is reusable and recyclable, you can even try DIY gift wrappers which also add a personal touch to your gifts.
"Use recycled packaging when wrapping gifts. Newspapers, old shopping bags, or clothes can be re-purposed in a fun and creative way. Paper is one of the biggest wastes around the holiday time, and is a single time use product that is usually thrown away after." says Rachael Carlevale, founder, farmer and intructor at Ganjasana.
5. Tech shoppers look for energy efficient gadgets
Buying tech gadgets during Black Friday and Cyber Monday is usually what people look forward to. There are big discounts on various electronics. Try to look for energy efficient products that you and the environment can benefit from, in the long run.
"Sometimes the idea of 'going green' sounds like a difficult task, but it doesn't have to be. The first tip would be to buy energy-efficient gadgets during Black Friday. Being energy-efficient means to make a better management of your energy consumption, be it electricity or gas. You can continue to buy your tech gadgets and modern devices, but it will be great if you pick the most efficient one on the shelf." says Caio Bersot.
6. Online shoppers – try to place a single order!
Adding all your items to the shopping cart and consolidating your order will help in reducing the shipping costs of delivery. Try to make as few frequencies of purchases as possible while shopping online.
7. Purchase cruelty free products
There are many brands within each industry that have been practising cruelty free practices during their production. This trend can be witnessed specially in the fashion and cosmetics industry. Take a close look at these brands this Black Friday.
8. Gift experiences rather than things
Black Friday gifting is almost exceeding Christmas gifting practices. While gifting things is mainstream, try gifting experiences this Black Friday, to your friends and family. Experiences such fitness membership, day at a spa, or an adventure trip are gaining popularity in the gifting culture.
"Gifting experiences is more carbon friendly than gifting things. I know we're used to gifting physical things during the holidays. However, there is a carbon cost of manufacturing and transporting products across the world and to your local stores. If you can, give things like memberships (e.g.., gyms, museums, etc.), lessons (e.g., art, music, acting) or sporting good events." says Jose Almanzar.
9. Don't impulse buy
We all know how attractive window shopping can be, and what's more attractive is those products that you just can't resist buying, and you usually don't have a need for them. This Black Friday make a shopping list beforehand reduce your impulse spending. This practice can be both eco friendly and pocket friendly.
10. Skip it, repurpose what you own
How about going the other way and not visiting a mall or an ecommerce site? Can you resist not shopping at all this Black Friday? Instead repurpose what you own and make DIY products. You will be doing a huge favour to the environment by reducing the crazy consumption.
Having said that, shoppers will be shoppers, and the least you can do is to implement these eco friendly tips while you go shopping this Black Friday.
The infographic below sums up Eco Friendly shopping tips that you can use while shopping on this Black Friday.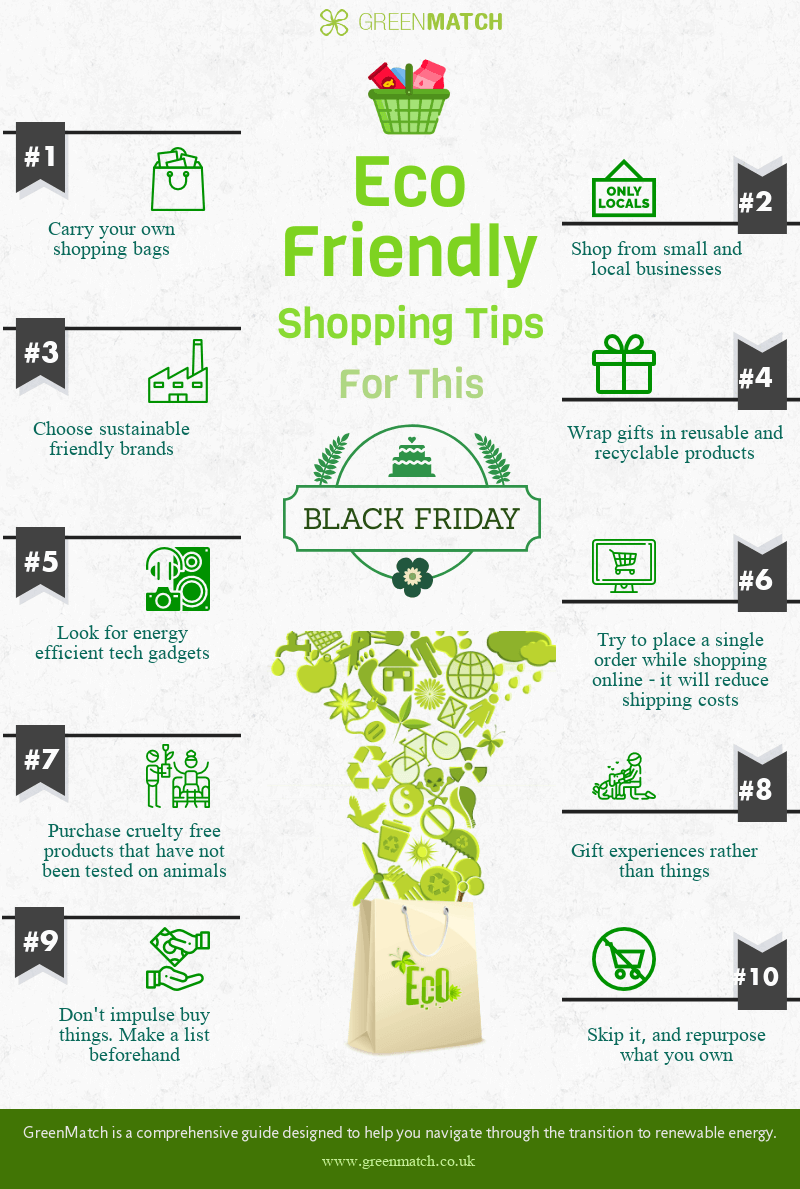 If you would like to use this infographic on your website, use the embed code below: