Have Your Own Reusable Coffee Mug Every Time You Buy Coffee On the Move
Like most people, you are likely to start your day off with a cup of coffee (or a few). If you are home or at work, you are probably enjoying a wide variety of mugs to choose from. However, when you are on the move, you are probably going to end up at a coffee shop, where you will end up with a standard paper/carton cup.
A friendly tip, bring your own mug and you will get a discount and will contribute to saving our environment!
You probably didn't know that during the manufacturing process, paper/carton cups are covered with a plastic paste also known as polyethylene. This helps the cup keep your coffee warm, but also prevents the cup from being recycled! These single-use plastics, like plastic covers and straws, have now been banned in the UK.
If you need more convincing, here are some facts.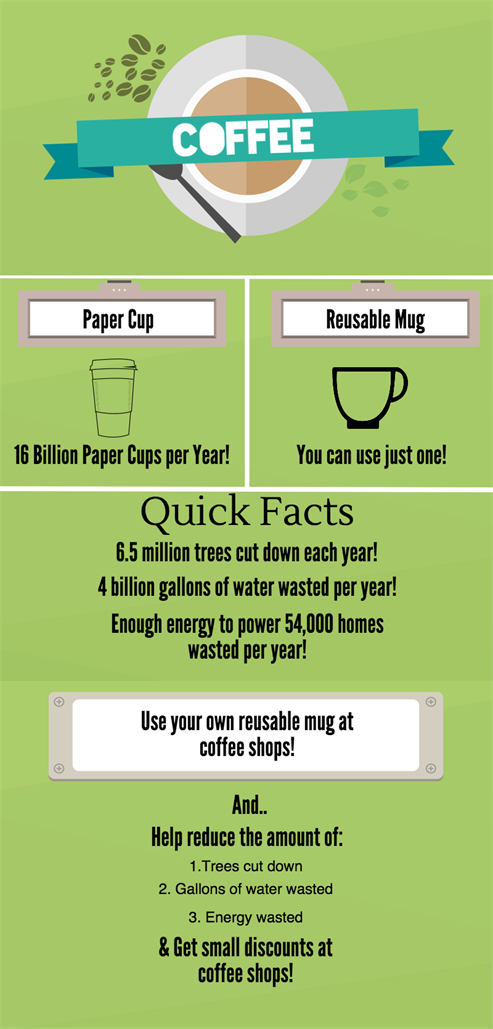 If you would like to use this image on your website, use the embed code below:
Let's take a closer look:
16 billion paper cups are used for coffee every single year, which leads to 6.5 million trees cut down, 4 billion gallons of water going to waste, and enough energy to power 54,000 homes for a year also goes to waste.
You don't need to invest in solar panels for your home to lead a greener lifestyle, you can start small by having a reusable coffee cup.
Many coffee shops also offer small discounts if you are using your own mug. Even though the discount rates are not significant, what is important is that you will help save paper, reduce chlorine used to bleach the cups and you will also reduce your contribution to landfills.
If you are a coffee shop owner, give discounts to customers that bring their own reusable mugs, when using your coffee machine. 
Let's proudly raise our mugs to this!
GreenMatch, besides providing our readers with interesting content around sustainability and green energy, also help finding quotes through our comparison service. We can help you find quotes on house improvements such as Conservatories, Solar Panels & Heat pumps.