Windows Wales: Find Installers Near You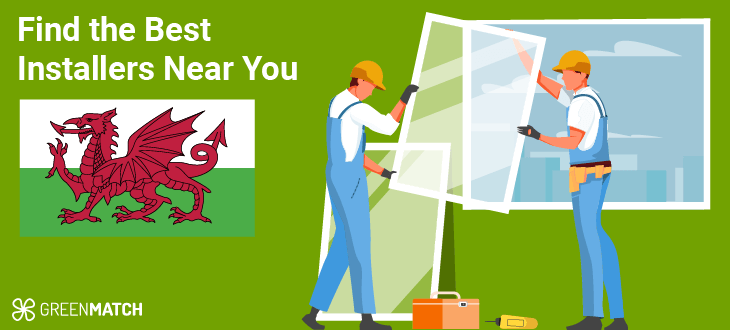 Looking for some new windows in Wales? Upgrading your home with energy-efficient double glazed windows will prevent heat loss through your windows, reduce noise disturbance from outside, and improve your home's overall security. Not only that, but you'll also save on your monthly energy bills.
Considering all the benefits of double glazing, it's clear to see why they have become the standard for new windows across the UK. Whether you're looking for some new double glazed windows in North or South Wales, there are plenty of reputable companies that can supply and install your home with high-quality double glazed windows. 
With so many options out there, it can take a lot of time to find the perfect installer, with a lot of room for error. Rather than spending hours, or even days, searching for the best window companies near you and asking for quotes, leave it to the dedicated team at GreenMatch. 
Our exclusive quotes service makes the process of booking an installer so much easier. Using your details, we will locate up to 3 of the best installers for your particular project. We have an entire network of vetted installers across Wales, meaning we can find the top installers in and around your local area.
To get your free quotes with us, click the button below. 
Get Free Windows Quotes Now
Fill in the form in just 1 minute
Double glazing Wales
In Wales, A+ double glazing can save you up to £195 a year on your energy bills, compared to single glazed window (Energy Savings Trust). 
This is thanks to the thermal barrier created from a double glazing unit a traps heat inside your home and prevents it from escaping through your windows. There are several other benefits to installing double glazing that you can also enjoy year-round.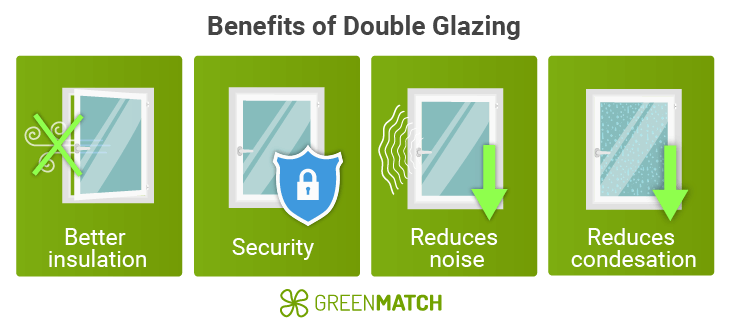 Double glazing prices Wales
Double glazed uPVC window prices in the UK range from £300 – £600. As the table shows below, the costs can vary according to the style of window that you choose. These cost estimates refer to standard white uPVC windows.  
uPVC double glazing costs *
Window type
uPVC
Casement
£550
Tilt & turn 
£680
Sash
£740
Bay
£1,460
*Estimates based on 900 x 1200mm single window units
uPVC is a popular material since it has many benefits such as its durability, thermal efficiency, and comes with lots of customisable options, yet it remains the most affordable material available today. Other popular materials include aluminium, timber, or a composite material. 
There are also several types of glass available that can enhance the performance of your windows. Some of these options include: 
Glass Type Average Cost
Glass type
Description
Price per square metre for double glazing
Toughened glass
Enhanced security 
£50 – £100+
Annealed glass
Thermal stress resistance
£25 – £50
Low-E glass
Energy efficiency 
£30 – £60
Acoustic glass
Noise reduction
£126 – £160
Self-Cleaning glass
Less maintenance 
£25 (glass coating treatment)
Solar control glass
Temperature regulation
£106 – £141
Remember that these double glazing costs are estimates based on our market research. For a tailored overview of the final total cost you will have to pay for the supply and installation of your new windows, it's best to get quotes from professional window companies. 
Receiving multiple quotes from different companies helps keep the total costs down since you can compare offers and choose the best deal. However, it's important to do some research into a company's background before asking for quotes to make sure they are qualified to handle your project. 
Altogether, this could take a lot of time (sometimes even days) which is not great if you're in need of an urgent window replacement. To make this process a whole lot faster and easier, use GreenMatch's free quotes service. 
It's simple: you fill in the form, and then our team will find up to 3 of the most suitable double glazing installers in your local area. They will each offer you a tailored quote, then the choice is yours. It's 100% free and you're under no obligation to accept the quotes you receive. 
Click the button below to get started. 
Get Free Windows Quotes Now
Fill in the form in just 1 minute
Double glazing grants in Wales
The total costs of new double glazing can become unaffordable for many homes in Wales. This is where government grants for windows can help. In this case, you may be happy to know that there's a UK-wide government scheme designed to improve the quality of housing for those that need it most.

ECO4 (Energy Company Obligation Scheme)
Launched in April 2022, ECO4 is the fourth iteration of the UK government's Energy Company Obligation (ECO) scheme. Until March 2026, any recipients of certain means-tested benefits, including Income-based Jobseekers Allowance, Universal Credit, and Income Support, can get free energy efficiency improvements made in their home. 
These upgrades are provided by energy companies with over 150,000 domestic customers and aim to alleviate fuel poverty among the UK's lowest-income households. Double glazing replacement is included among the potential energy efficiency improvements that could be made under the scheme.

Warm Homes Nest Scheme
While the Welsh government's Warm Homes Nest Scheme does not include double glazing replacement, the scheme is designed to improve energy efficiency by upgrading your heating systems and other forms of insulation.
Double glazing companies Wales
There are many reputable companies across Wales offering to supply and install high quality double glazing products. Whether you're living in North or South Wales, take a look at some of our top picks. 
We've based our picks on positive customer reviews, the range of products that the companies offer, and competitive deals and pricing. 
Window companies South Wales
If you're looking for new windows in South Wales from some reputable companies, then the 3 listed below are some of the most popular options in the region.

South Wales Windows
This is the longest-running company for double glazing in South Wales, first established in 1990.

Stevly Windows
This company aims to supply its products between 7-10 days as standard. Its FENSA registered products also come with an insurance-backed guarantee.

Heath Windows & Doors
This family-owned business is Certass approved and it offers an insurance-backed guarantee on its products. Its team of expert installers is also Which Trusted approved. 
Window companies North Wales
Looking for some double glazing in North Wales? Here's 3 of the most popular companies supplying and installing new windows in North Wales.

Conwy Valley
To ensure the financial stability of its customers, this company also provides deposit protection and a 10-year insurance-backed guarantee on its products.

Peninsula Home Improvements
Peninsula provides an end-to-end service, planning and building work and offers a ten-year guarantee on its products and its team works to strict workmanship standards.

Altra Glass
All of Altra Glass' windows and doors come with a ten year guarantee against discolouration, warping, and cracking, and a 5-year guarantee on its glazing products. 
Window regulations Wales
Since April 2002, all replacement glazing in the UK must adhere to certain building regulations, related to thermal performance, safety, ventilation, and means of escape.  
A professional installer should be registered with a competent person scheme, such as FENSA accreditation. This means they are qualified and obliged to ensure your windows installation meets such regulations. You'll also receive a certificate that confirms compliance at the end of the installation process. 
Thermal heat loss
Building Regulations in Wales stipulate that new windows and surrounding framework must have a maximum U-Value of 1.4W/m2K or minimum Window Energy Rating (WER) band B. U-Values measure the amount of heat that can pass through an object. This means the lower the U-Value of a window, the less heat will pass through it.
Safety glazing
Homes in 'critical areas', where break-ins or breakages are more likely (for example, ground floor windows), are required to be fitted with toughened or laminated glass to help prevent this.
This applies to your replacement windows if:
Any window panel is up to 800mm from ground level
Any side panel is up to 300mm from the edge of the door, and up to 1500mm from floor level.
Ventilation
In kitchens, bathrooms, or rooms where a lot of steam is produced, extra ventilation is required via windows and doors. Generally, the extent and form of ventilation are decided by the size and function of the room. Some rooms may only require less drastic ventilation measures such as trickle ventilators. 
Fire safety
To prevent fire from spreading between properties, windows may need to be fire-resistant or fixed shut. This mostly applies to those in "unprotected areas", where the fire resistance of the walls, doors, and windows is reduced or undetermined. 
Means of escape
As a rule, new windows should provide the same potential for escape as the windows they are replacing. This means they should be the same size or larger unless the original windows were larger than necessary in terms of escape potential. However, all new windows must still meet the following minimum requirements: 
A minimum width and height of 450mm 
A minimum openable area of 0.33m²
A maximum height of 1110mm above the floor
Window regulations for rented properties Wales
Window regulations in rented properties follow the same guidelines as those listed above. However, if you live or are moving to a rented property, you may also like to know about some specific window-related requirements that your landlord is obliged to carry out.
These measures help to ensure that conditions in the property are 'fit for human habitation' and are enforced by the Welsh Government. 
Damp and mould growth
The presence of mould or fungal growth, caused by dampness or high humidity, can be tackled via damp proofing the area around windows and doors and ensuring that there's sufficient means of ventilation without the need to always have to open the windows. 
Cold 
Poorly insulated homes can become very cold and unpleasant over winter. Landlords are therefore tasked with ensuring that all windows are properly sized and fitted. 
Heat
Overheating can become an issue in properties with poor ventilation or those with a lot of south-facing glazing. In this case, shutters or blinds can be installed to help cool the property during the summer months. 
Entry by intruders
To prevent break-ins, all window locks and deadlocks must be operating smoothly, otherwise, your landlord is expected to replace them. 
Lighting
Your windows should allow plenty of natural light. This means they should be sufficiently positioned and sized so that eyesight is never strained during the daytime. 
Fire 
There should be adequate means of escape from all parts of the building- that includes through doors or windows that are not too high up a building. 
Replacement windows Wales: compare quotes
To find a good deal from a suitable installer, it's always recommended that you shop around for quotes before choosing a company to work with. With multiple installer quotes from different companies, you can get a good sense of the fairest and most accurate installation rates and you can choose the installer that offers the most competitive deal. 
We also recommend that you find an installer operating within your region. Local installers are sure to offer the best local rates, while also offering a more personalised service and quick response and turnaround times, compared to larger nationwide companies. 
With all that being said, finding multiple installers in your area, ensuring they are suitable and qualified for the job, and asking them for quotes, can be quite a lengthy process. Rather than spend hours upon hours collecting quotes to compare, why not leave it to the dedicated team at GreenMatch. 
With our free quotes service, up to 3 top-rated installers in your area will offer your quotes directly, rather than you having to find them. We will only connect you with those based in your region so you can take advantage of the best local rates.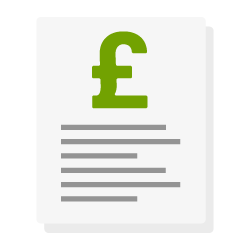 1. Get quotes
Save time by completing one form & let multiple quotes come to you.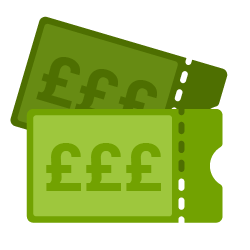 2. Compare prices
Compare prices from local, recommended installers.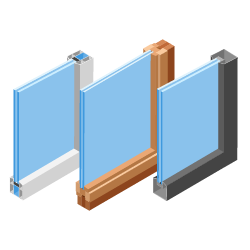 3. Choose the best
We only work with reputable windows installers.
Our service is completely free and you're under no obligation to accept any of the quotes you receive. No hassle, and no time wasted, just competitive quotes from professional installers. 
Get started today by clicking the button below. 
Get Free Windows Quotes Now
Fill in the form in just 1 minute
Frequently asked questions