Double Glazing With Integral Blinds, Advantages, Disadvantages & Costs
If you are looking for new double glazed windows for your home, why not consider buying double glazing with integral blinds.
The popularity of double glazing with integral blinds is increasing, and there are many advantages to selecting this type of window dressing.
Integral blinds offer an alternative to traditional blinds or curtains that are neat and come in a range of styles to choose from. The integral blind will be either a Venetian or pleated blind that sits perfectly between the double-glazed panes of glass in the sealed unit.
Fill in the form in just 1 minute
What are integral blinds?
Integral blinds are blinds that are sealed between the two panes of glass in a double-glazed or triple-glazed window unit. This way, integrated blinds in windows are protected from dust, dirt, and damage, and they are also very easy to clean.
The diagram below shows the main components of the integral blinds
Outer glass pane. The outer glass pane protects the integral blind from the elements and from accidental damage.
Integral blind. The integral blind is typically made of Venetian blinds, roller blinds, pleated blinds, or cellular blinds.
Inner glass pane. The inner glass pane seals the integral blind and protects it from dust and dirt.
Spacer bar. The spacer bar helps to create a seal between the two panes of glass and prevents moisture from entering the window unit.
Desiccant. The desiccant helps to keep the inside of the window unit dry and prevents condensation from forming.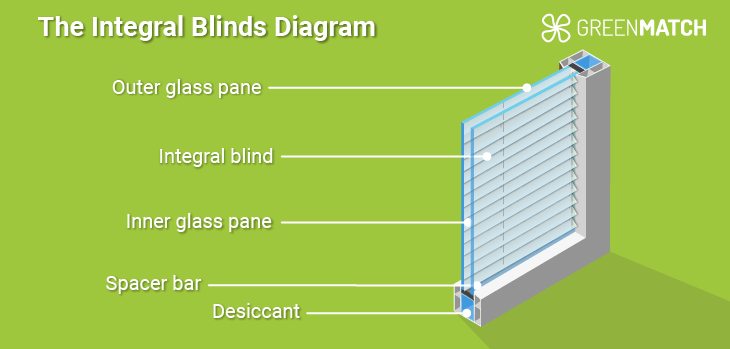 What Are the Benefits of Double Glazing with Integral Blinds?
Integral blinds are contained within the sealed double-glazed unit, which gives you the advantage of never having to clean them! If you have tried to clean traditional blinds, then you will understand how much of a benefit this is and how many hours you will gain that you can spend on hobbies instead.
However, it's not just the cleaning aspect that makes these blinds an advantageous choice. Having the integral blind system sealed in the double-glazed unit means the blinds are far less likely to get damaged. This is especially beneficial if you have children or pets that may love nothing more than running around your home!
Another benefit of the integral blind is that it is designed to fit your window perfectly. As it sits within the glazed unit, there is no issue with the sizing and therefore, no issue with your blinds letting in too much sun because they don't quite fit perfectly. There is also no need to get your tools out to install your blinds or pay someone else to do it. On those warm but breezy days, you can also open your windows as you don't need to worry about your blinds blowing in the wind and causing too much noise!
Also, as they use a double glazed unit the integral blind will also benefit from improved heat insulation throughout the colder times of use to the warm edge spacer bars that come as standard with most installations now.
Disadvantages of Double Glazing with Integral Blinds
While there are many significant advantages to installing integral blinds to your double glazing, there are some disadvantages that you should be aware of before you part with your cash. The main disadvantage is the fact that you cannot use your existing glazing to install the blinds within and will need to have the entire unit replaced. This means that it is worth waiting until you need new glazing to get the integral blinds fitted.
If you are a homeowner that likes redecorating or changing the style of your rooms, then this can be more difficult with integral blinds. However, if you opt for a neutral blind colour, then you should still be able to mix things up without the need to replace your windows!
Finally, many people see the higher price tag for double glazing with integral blinds and get put off purchasing. When you consider the quality of the product you are buying and factor in the cost you would need to cover to install blinds in the room anyway, then you will begin to see the cost as a more reasonable amount. Plus, with new, stylish windows across your home, you will be the envy of all the neighbours.
What Additional Costs Can You Expect?
When it comes to working out prices, each home will have different requirements and different amounts of windows to be installed. To help you get an idea of the cost, we have shared some approximate guide prices below:
1m single door £1000 – £1800
2-panel sliding door, 1.8m £3000 – £5000
3-panel, bi-fold door £3500 – £5500
4-panel, bi-fold door £4500 – £7000
Be aware that the price ranges are dependant on the materials you choose, fitting costs and location of your home. You must organise a detailed quote from your supplier before you agree to have any work done, allowing you to budget without pressure.
What Does the Installation Process Involve?
The installation process for double glazing with integral blinds is straightforward. You firstly select the types of windows and doors you would like and choose from a range of different blind styles. The windows and doors will be made to measure, and double-glazing installers will install your new windows and doors. You will have a choice of manual or automatic blinds.
If you do not want new windows or doors but would like integral blinds then don't worry, it is possible to retro-fit integral blinds into some existing windows and doors, as well as double glazed units. This will depend on the size and type of window or door that you already have because there needs to be enough space between the panes of glass for the blinds to sit and function properly. If you can have integral blinds fitted, the installer will simply replace the sealed unit with one that incorporates the blinds.
Having retro-fitted integral blinds added in existing window frames is a costly job, and we would always recommend that you opt for new windows and doors to maximise the lifespan of your new purchase. There really is nothing better than looking at your new installation and seeing your design concept come to life.
How Can You Find a Trustworthy Supplier?
When it comes to finding a top-quality supplier for your new double glazing with integral blinds, then take the time to source a range of quotes. If a supplier promises something that seems too good to be true, then it probably is, and If the quote comes in much higher, then you should be wary of the company trying to make more then their work is worth.
We take pride in our work and provide a professional and honest service. We would be happy to provide you with a no-obligation quotation that lists all the costs included so that you can be confident that there will never be any unexpected extras when it comes to paying for any work we complete.
FAQs
Should you choose pleated or venetian blinds?
Pleated blinds and venetian blinds are very similar in the sense they both have horizonal slats and can be folded into pleats by pulling on a cord that has been threaded through both sides. Venetian blinds are typically created with harder materials while pleated blinds are made from fabrics or durable paper. While a venetian blind while be more hardy and last longer, a pleated blind may be more energy efficient because you can choose a lighter colour that will help reflect some sun light during the summer months.
Both can either come with the traditional style cord for opening and closing, or a new modern cordless magnetic slider. This second option can also come as motorised blinds with a remote control that will enable you to open and close the blinds without having to even leave your seat.
Can you install integral blinds in doors?
Most doors that are either primarily made of glass or have a large window opening can be fitted with integral blinds, they are particularly good for uPVC French doors, sliding doors and bi folding doors. You will typically find them fitted in orangery and conservatory doors where you receive a lot of light and are likely to spending a reasonable amount of time.
So if you're looking for blinds for uPVC French doors or other similar doors, an integral blind could well be the right choice.