Aluminium Casement Windows in the UK: A Complete 2023 Guide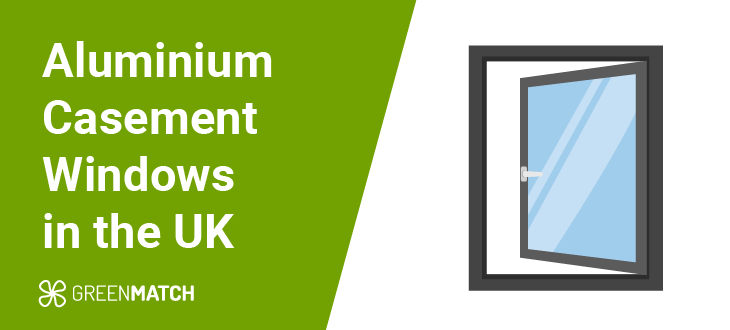 Aluminium casement windows are growing in popularity as they can be a stylish way to spruce up your home. Aside from sporting a classic design that's great for ventilation, they also have high durability and long lifespans, making them a solid investment. Let's go over some of the prices, design possibilities, pros, and cons of these windows.
Although, if you've already made your mind up about what type of window you want, there's still one thing you'll need: an installer you can trust. While this usually takes days of laborious research when conducted on your own, we can help make the process far easier.
All you have to do is fill out a 30-second form and we'll handle the rest. With some basic information about what you need, we can provide you with up to 4 free, non-binding quotes from thoroughly vetted installers in our network. Click the button below to get started.
Aluminium casement windows prices in the UK
Cost of Aluminium Casement Windows
Size
Price
600mm x 900mm
£210 – £860
900mm x 1200mm
£260 – £925
1400mm x 1400mm
£300 – £1,075
The main determinants of window prices tend to be the design and the size. The prices provided above assume these are single or double casement windows as opposed to some of the more elaborate designs which can add extra expenses.
For standard casement windows, aluminium models start off at £210 pounds and go up to £1,075. The average price for aluminium windows is roughly £600 to £700. In comparison, aluminium sash windows can be around £315 to £1,615, making casement models the more affordable option.
As mentioned earlier, there are also a few other elements that could add to the cost of aluminium windows. Since aluminium is a heat conductor, it can be thermally inefficient. This is why many aluminium windows come with a thermal break to help keep the heating costs down. Another way to improve their insulation is to get triple-glazed windows as opposed to just double-glazed ones.
Popular ideas for aluminium casement windows for your home
Single-frame casement window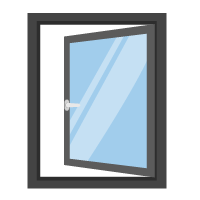 The single-frame window is a simple enough design but brings with it some great benefits. The panels, aka lights, can open inwardly or outwardly based on the specifics of the design. It's a popular design that allows for good ventilation and durability.
French casement window
Combining both the casement window and the design sensibilities of French doors, as the black aluminium casement window illustration above shows. This style of window promises a high degree of ventilation control and a stylish look.
In-swing casement window
In-swing casement windows can be space-efficient for homes with a lack of exterior space, particularly if you have a small terrace or balcony and would like to make the most of it.
Picture window with casement flankers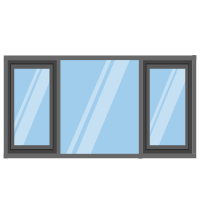 Although it's technically a 3 window design and not simply a casement, it can be very beneficial. For one thing, it allows for excellent lighting, using two casements and a giant picture window. It also creates two separate ventilation points and, unlike the French or double casement window, these are further apart which can provide better airflow. While it can be pricey and a bit elaborate, it has several advantages and a great aesthetic.
Regardless of what style of window you want, you'll still need to hire a professional who can ensure a smooth installation process. Finding a trusted installer can be a headache since it requires hours of diligent research and painstakingly comparing prices on your own. Luckily, our handy service can be a great way to minimise stress and make sure you've got a professional you can trust.
All you have to do is fill out a 30-second form and we'll handle the rest. You can easily obtain 4 free, non-binding quotes from thoroughly vetted installers. Click the button below to get started.
Pros and cons of casement aluminium windows
There are many reasons aluminium is ideal for a casement window replacement but there are certain drawbacks that keep it from being a one-size-fits-all material. Let's go over some of these advantages and disadvantages.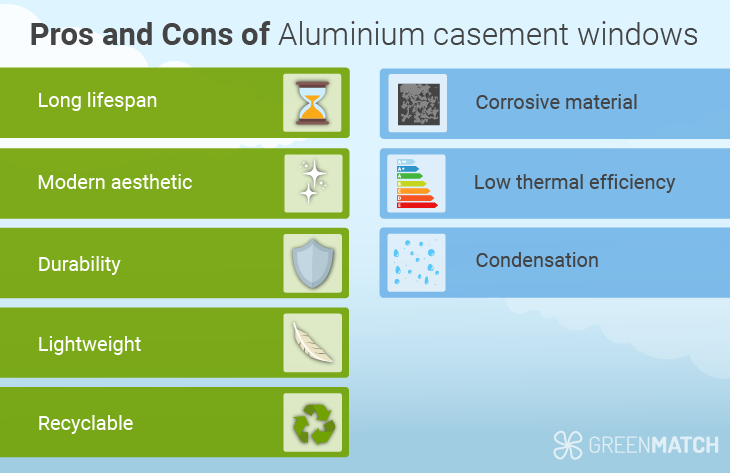 Advantages of aluminium casement windows
Long lifespan: Compared to both uPVC windows and timber windows, aluminium sports a far longer lifespan.
Modern aesthetic: In terms of casement windows, aluminium can provide a sleek modern look that other materials can't compete with. Its design goes great with newly built houses and, compared to other models, a standard casement window is fairly cheap.
Lightweight: Aluminium is often used to create lightweight products. This makes it great for windows as they can be easily opened and closed and do not put strain on their surroundings.
Durability: Despite its lighter weight, aluminium can be quite strong. It can withstand stronger winds and a lot of wear and tear and is considered scratch-proof.
Recyclable: Aluminium is far better than most materials and can be easily recycled. While uPVC can be recycled less than a dozen times, aluminium can potentially be endlessly recycled without loss in quality.
Disadvantages of aluminium casement windows
Corrosive material: Aluminium needs proper installation otherwise it can succumb to corrosion. While aluminium does not rust, it can develop an unwanted coating if it makes contact with the wrong types of metals or alloys. However, modern aluminium finishes are designed to help prevent this. There are also special finishes to protect against harsh environments.
Low thermal efficiency: Aluminium is a heat-conducting metal which means that it can be less efficient at keeping in the heat. This can be fixed by fitting a thermal break as most aluminium windows are. Luckily, almost all systems that are offered at the market already are insulated with thermal breaks, so this is rarely an issue.
Possible condensation issues: Aluminium can trap moisture which, if not properly dealt with, can lead to mould and other growths. Thankfully, most aluminium windows are made to be water-resistant. Features like thermal breaks and good glazing can prevent this.
Are aluminium casement windows something for your household?
Aluminium casement windows provide a modern look to a classic design. They are long-lasting and endlessly recyclable which makes them a good investment. Aluminium is also easy to clean as maintenance only requires the occasional cleaning (roughly every 3 months) with a mild detergent and warm water.
They come in a number of styles and sizes that suit many different types of homes. Their modern aesthetic and durability have kept them a popular choice for many homeowners. The lightweight design possibilities they offer can be beneficial for many types of designs.
On the other hand, aluminium can potentially have issues with condensation and thermal efficiency without proper elements like thermal breaks. Contact with other materials such as the wrong type of steel can corrode aluminium window frames, so it's worth considering whether this will be an issue for your home.
Aluminium windows are also not as affordable as uPVC but they can be a better investment in the long run due to their durability and longer lifespan. Aluminium has a modern aesthetic and a lot of charm for newer homes.
If you're looking for an aluminium casement window replacement or installation (or any type of window for that matter), you'll still need an installer you can trust. This can be a time-intensive process that could take days if undertaken on your own. Lucky for you, we're here to help.
Instead of hunting down professionals and fielding their offers yourself, fill out a 30-second form and we'll bring the best deals from thoroughly vetted installers to you. Save those precious hours by letting us take the wheel. Click the button below to get up to 4 free, non-binding quotes.
FAQ