Triple Glazed Wooden Windows: Complete Guide 2023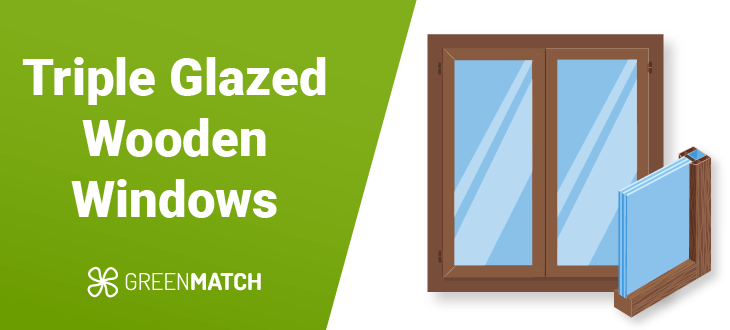 When it comes to glazing you can go a step beyond. Triple glazed wooden windows provide the utmost insulation for your home, help with noise reduction, and can be a great way to cut heating costs. Let's see the latest prices for all sorts of designs and how they compare to double glazed windows.
But first, if you're already in the market for triple glazed timber windows in the UK, you'll need an installer you can trust. This can be a laborious process that could take multiple days on your own. Luckily, we can provide you with a shortcut.
All you have to do is fill out a 30-second form and you can obtain up to 4 different quotes from thoroughly vetted windows experts in our network. Click the button below to get started.
Quotes from local engineers
Payment by finance available
Save up to £170 per year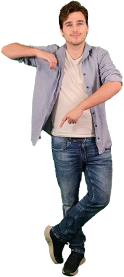 Optimise your home and save the planet
Triple glazing wooden window prices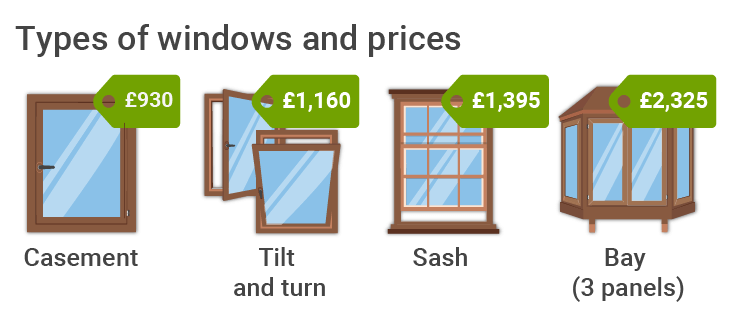 On the lower end, triple glazed wooden windows can cost £990 but go up to £4,000. Wooden double glazed windows can cost between £750 – £3,750 in comparison. Triple glazed wooden windows are not a cheap option, to put it mildly. Using wood as a material is already comparatively costly and adding triple glazing on top can rack up a significant price tag.
Wooden window costs are higher than other materials like uPVC or aluminium but the material provides more durability and longevity if well maintained. Adding on triple glazing can significantly increase the bill but also provides many benefits in terms of extra durability, noise reduction, and heat insulation.
On average, triple glazing prices are 30% more expensive than double glazing, so it's a good rule of thumb to add 30% to most double glazed wooden window prices to obtain a ballpark figure. For instance, double glazed casement windows cost about £850, so triple glazed windows could cost around £1,100 on average.
Triple glazed wooden window prices
Type of Triple Glazed Wooden Window
Estimated Cost Per Window
Casement
£1,100 – £1,900
Sash
£1,650 – £2,750
Tilt & Turn
£1,225 – £2,450
Bay (3 panels)
£2,450 – £4,500
Triple glazed windows can be pretty expensive, which is why it's all the more important to have them installed correctly. To make sure your installation goes off without a hitch, you'll need a professional you can trust. Ordinarily, this can take days of tedious research and personally contacting installers while assessing them yourself. Luckily, there's a better way.
Our handy service can help you save time and effort by quickly providing you with up to 4 free, non-binding quotes. Best of all, we've already thoroughly vetted every installer in our network to ensure they can be trusted. All you need to do is click the button below, fill out a 30-second form and we can get started.
Quotes from local engineers
Payment by finance available
Save up to £170 per year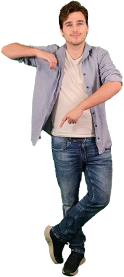 Optimise your home and save the planet
Pros and cons of triple glazing wooden window
Pros
Better noise reduction
Wooden triple glazed windows ensure that sound waves will properly deflect and keep your home a solitary environment. This ability to block out noise is why triple glazed timber windows are an especially good choice for noisy neighbourhoods.
Improved heating and cooling
The temperature coefficient of resistance for triple glazing is higher than that of double glazing or single-paned windows. This means that its structure is far better at keeping in the heat and thus keeping down your heating costs. When compared with double glazing windows, triple glazing increases heat conservation by about 20%. Aside from keeping the home warm during the winter season, triple glazed windows also keep out the heat in summer.
Increased durability
While triple glazing gives windows better durability, wood materials give windows longevity. Wood, when properly maintained, tends to last longer than aluminium and uPVC. Extra-thick glass can also last for years without any damage. It is also capable of withstanding strong winds and harsh weather. Unlike single-paned windows which often give way easily, the triple glazing will stay in place and withstand some harsh treatment.
Cons
Expensive
Adding a window pane to a window installation raises the price by about 30%. This also may not be necessary for all types of homes or locations, so you should consider whether the additional triple glazing costs are something worth investing in. You should also keep in mind that the costs of repairing and maintaining wooden windows are higher than other materials as well.
Region-based effectiveness
Milder regions of the UK may not benefit much from the additional glazing. It may be an unnecessary addition if you're not living somewhere with extreme temperatures. Make sure to closely consider whether you will benefit from triple glazing.
Heavy weight
In some cases, your home may not be properly equipped for the additional weight of triple glazing. This could be due to shoddy construction or inadequate support. This is especially true of wooden windows which are heavier than both aluminium and uPVC.
Triple glazed wooden windows vs double glazing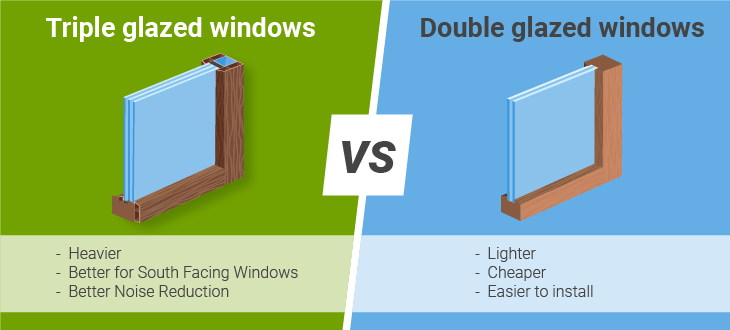 While it's true that triple glazed windows provide better insulation than double glazed windows, that's not the end of the story. As mentioned above, triple glazed windows may not always be necessary. Certain regions simply don't have the type of weather that requires a higher level of insulation.
You may require a higher level of insulation if the window faces south. South-facing windows receive more sunlight and heat which is why they may need something more heavy-duty.
Insulation shouldn't be the only factor one should consider. Triple glazed windows are heavier and bulkier which can often mean they require an installation area with more structural integrity and load-bearing capabilities. Not all window panes may be equipped for the extra heft they demand so you should properly analyse the window area before making your decision.
For wooden windows, triple glazed models can be great for noise reduction. If you live in a noisy area, they might be a better option than their double glazed counterparts.
Find the best triple glazed high quality timber windows
Now that you know the pros, cons, prices, and specifications of triple glazed windows, you might be wondering how to get the best prices for installation. To do this, you should definitely compare prices from the installers in your area. Note: Always remember to check with multiple professionals before proceeding.
Finding a reliable installer, gathering quotes, and comparing prices can sometimes take days and a lot of effort. This is why one of the best ways to speed up the process is to let us take the wheel. You can easily obtain up to 4 free, non-binding quotes from trusted installers by using our handy service.
All you need to do is fill out a 30-second form with some basic information about your needs and we'll put you in contact with the thoroughly vetted installers in our network. Click the button below to get started.
Quotes from local engineers
Payment by finance available
Save up to £170 per year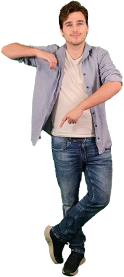 Optimise your home and save the planet
FAQ