Cavity Wall Insulation Cost
If your house was built after the 1920s, chances are that it has cavity walls. This basically means that there is a gap in between the walls of your house and you need to get cavity wall insulation work done in order to save up on the energy bills by reducing heating costs, while also playing an active role in reducing the carbon footprint.
This article will give you a detailed insight into cavity wall insulation cost, how it saves up on your energy bills and how you can estimate the prices for wall insulation including the cost of materials and labour, depending on the size of your home.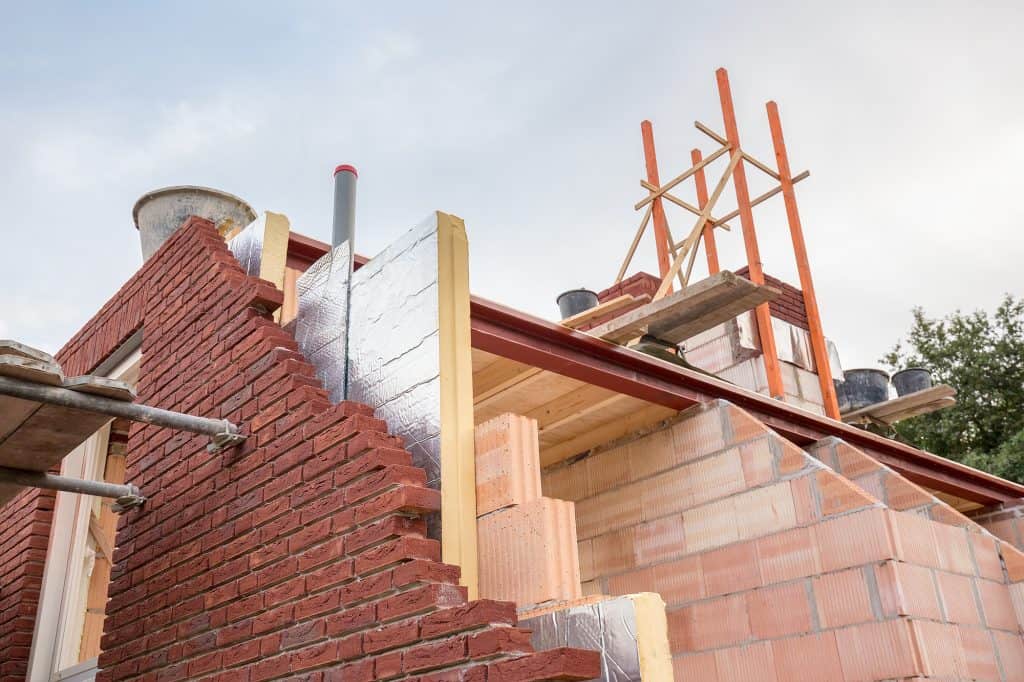 How much does it cost to insulate a cavity wall?
When estimating cavity wall insulation work, it is important to take multiple factors into account. These factors range from the size of properties and house sizes to the materials used as well as the location and how readily the insulation material and labour is available to perform the job.
Additionally, the gap in the walls is inspected before it is filled with the insulating material. This is done to check for any damage or defects that need to be dealt with such as dampness and mould. In case such an issue exists, the cost to insulate the cavity wall increases as it requires additional work.
Similarly, if scaffolding is required while working on the walls, the quotes for the cost rise. The scope of the project plays an active role as well and it depends on the homeowners what they need to get done. This is why the surveyor visits the properties before starting the actual work.
The average cost of insulation depending on the type of house
Generally, detached houses have the highest cavity wall insulation costs which go up to £4,600. Semi-detached houses can have insulation costs around £820-£2,700, according tot he Energy Savings Trust.
Whereas, in mid-terraced houses, insulation costs are usually half the price, ranging from £530-£1,500.
In cases like flats, the wall insulation cost reduces even further as you need to agree with your neighbour to get it done and thus, you split it bringing the costs to about £560-£1,000. However, the entire building needs to be in on this agreement before the work is started.
Additional Costs
In addition to the costs of insulation, there are other expenses that add up in the total costs.
Initial Survey
As stated above, before you decide to have a cavity wall insulated, you need an insulation specialist to survey your house to decide if can get the job done and what kind of material would best fit your particular house. Most installers combine this cost with the rest of the installation package. On average, this initial survey costs around £75.
Additional Repair
Sometimes your house might need additional repair along with the wall cavity insulation.
You might need to repair the wall ties if they're beginning to fail and have cracks in the exterior wall. This needs to be done before the insulation is installed to increase its efficacy. The cost of fixing or replacing wall ties can range from £1,000-£2,000 depending on the size of the wall and the amount of damage.
Sometimes, you might have wall cavities that are difficult to work with. This can be due to pre-existing insulation or debris in the wall that needs to be removed prior to installation. This can increase the costs by £50-£100 or more if the job is more complicated.
Roof Insulation
A lot of experts recommend getting your loft or roof insulated as well when you're getting your wall cavity insulated, to decrease the amount of heat loss through the roof. Depending on the size of your roof, insulation installation usually costs between £930-£1,200.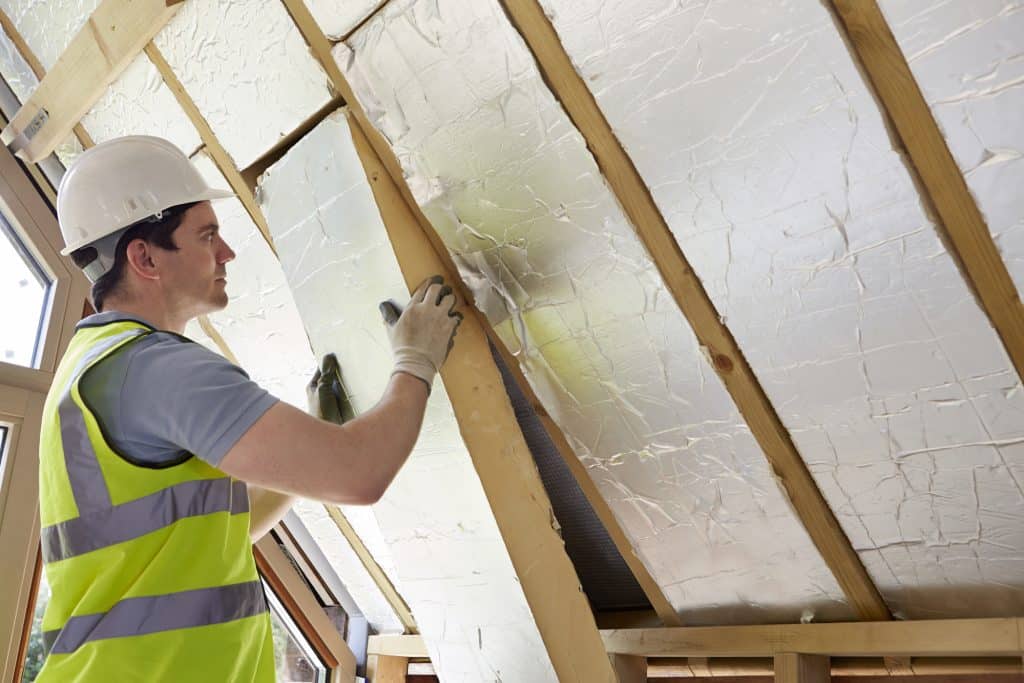 What are the factors that impact house cavity insulation prices?
As mentioned before, there are quite a few factors that impact the prices of cavity wall insulation.
Type of wall
Walls with around 50 mm of cavity all-around usually qualify for wall insulation. The brick walls are what usually need to be treated for cavity wall insulation. The brick walls which are usually thicker than 260 mm usually have a gap or cavity in between them. Otherwise, they're probably solid.
You can check for this especially around the windows and doors of your house.
Insulation material
Insulation material is available in different type which ranges from polystyrene beads to polyurethane foam to glass wool or glass fibre. Each material comes in different quality standards and hence, different prices-which are listed later in the article.
For example, polystyrene beads and glass wool are available in quality standards ranging from HR to HR++ with the latter being the best and the most expensive cavity wall insulation material for your home. Whereas, polyurethane foam is only available in HR++ quality.
Size of the house
The size of your home matters when it comes to determining the wall insulation costs. For example, loft insulation costs will differ from a terraced house.
How does cavity insulation actually work?
As the name suggests, a cavity wall has a cavity between two thin walls which are kept together by the wall ties. This is usually done during construction so the rainwater does not seep into your home.
Cavity wall insulation works by filling the cavity between the walls and helps retain heat inside. This allows you to conserve energy as well.
The material is usually injected from the outside and it works by trapping pockets of air in between the fibres which means, more heat is trapped. Once the walls are filled, the holes are covered up.
The total time in installing cavity wall insulation in your home takes only a few hours. Homeowners need not worry about sparing a day from work or their busy life. The insulation specialists are proficient at their work and get done with it quickly.
Is it worth getting cavity wall insulation?
Where some homeowners have the means to get the cavity walls in their houses insulated easily, others may struggle to make the decision. Is it worth getting cavity wall insulation? Here are some benefits that might sound appealing:
Save up money
While some people find getting cavity wall insulation costly, it is important to note that this cost can easily be recovered and recouped by the long term savings in your heating bill or energy bill.
With energy being actively conserved, the heating bills reduce by a significant amount as your house is now able to retain a lot more warmth and heat.
No more chills
The painstakingly chilly nights that required you to crank your heater up to the fullest will no longer be an issue. With cavity wall insulation work done at your home, it is easier to retain heat within the house as the cavities are filled with insulation material, allowing you to stay warm and toasty all day (and night) long.
The ease of energy efficiency along with heat insulation makes it worth having cavity wall insulation installed.
Reduced carbon footprint
Cavity wall insulation prevents heat from escaping the walls of your house. As environmentally conscious homeowners, this is great news for you! You can play an active role in reducing the carbon footprint just by insulating your cavity walls.
Good for the environment, good for energy efficiency and great for your budget! What more do you need?.
Increases value of the property
A lot of homebuyers tend to look for houses that come with pre-installed wall insulation. By ensuring that your wall cavity is insulated, you make your house more appealing to prospective house owners and can increase your asking price accordingly.
IMAGE
How much is cavity wall insulation cost per m2?
Polystyrene Beads
Polystyrene beads come in white, grey or black granules. They are a popular choice for wall insulation cavities. While they may be good at heat insulation, they do not provide sound insulation and may leak out of any crack or hole. They cost anywhere between £18 to £22 per m2.
Glass Wool
Glass wool is another good option for insulation in wall cavities. Not only is it a good insulator but it is also budget-friendly and fireproof. It comes in a variety of qualities which are available for £13 to £18 per m2.
Polyurethane Foam
Polyurethane foam comes in one variety only and unlike the other materials, it fills up the smallest of gaps. However, the issue with it is that it cannot be recycled and over the years as it starts to decompose, it starts to give off toxic fumes. The price ranges between £22 to £26 per m2.
Mineral Fibre
Mineral fibre is made from molten rocks and is bound together to be made into sheets or loose fibres. It's easy to install since it can be blown into the cavity, it has excellent insulating properties, and is also rot-resistant!. However, it is not an environmentally friendly option. The cost comes down to about £13 – £18 per m2.
Wool Fibre
Another option is Wool fibre, usually made from sheep's wool. It is more environmentally friendly and has excellent insulation properties. However, it's more expensive with the costs coming down to £25 – £30 per m2.
Cavity Wall Boards
These are pre-made boards made of insulating materials that are designed to fit in specified wall space. These kinds of boards are a better fit if the insulation is being installed at the time the house is being built. They're budget-friendly but they can be difficult to retrofit. The boards can cost £15-£17 per m2.
Can I get cavity wall insulation in my home for free?
If you are someone who gets tax credits or has an income of £16,010 or less, chances are that you will qualify for getting free cavity wall insulation installed for your home. The Energy Company Obligation scheme states that energy suppliers are obliged to do so.
The ECO scheme legally requires the suppliers to install energy-efficient solutions to domestic households and are therefore willing to give cavity wall insulation grants.
Whereas, if you do not qualify for getting free cavity wall insulation, the local councils and power companies may often provide you grants. These grants are provided at a percentage of the cavity wall insulation costs. However, not everyone might be eligible for them.
Cavity wall insulation grants
Installing cavity wall insulation at your home? You might want to check if you're eligible for a cavity wall insulation grant or not. Installing cavity wall insulation may often be costly, therefore, some local councils and power companies have promotions that pay a part of these cavity wall insulation costs.
Some energy suppliers also give out grants to cover cavity wall insulation costs regardless of your income or other benefits because they need to meet the criteria of installing energy-efficient solutions in domestic households. It is always beneficial to check with them first.
These energy suppliers include, and are not limited to, British Gas, EDF, Eon, Npower, Scottish Power and SSE. Each of them have their own rules and regulations as well as specified criteria. Reach out to the relevant energy supplier or their advice centre to find out about the cavity wall insulation grants.
Does cavity wall insulation help with soundproofing?
While there are entirely other reasons to get your home soundproofed, it often overlaps with an insulation cavity wall. Thus, when the homeowners get cavity wall insulation installed, it ultimately helps them with sound insulation as well. External noise is significantly reduced by the presence of insulation material in the wall cavities.
How much does cavity wall insulation impact the habitant's health?
Cavity wall insulation does not pose a threat to the inhabitants in general. However, on some older properties, there have been signs of wall insulation that may have been hazardous to health. These included materials such as Urea-Formaldehyde Foam, which can be toxic after a certain period of time.
The newer insulation cavity wall does not have the potential to harm others. It is older insulation types like urea formaldehyde that caused an issue due to their property of decomposition over time which also let out harmful and toxic fumes.
In case you're sceptical about it, it is best to reach out to insulation specialists who will guide you on what will be the most suitable for your house and how you could save up on cavity wall insulation costs. They can also do a borescope inspection which can measure toxic fumes in the air.
What is the cost of removing cavity wall insulation?
If you were unable to hire an insulation specialist and hired someone with insufficient experience to get the job done, chances are you might want to remove it. The reasons could include:
Unsuitable material used to fill cavities in the walls
Surveyor did not check correctly and there is a dampness issue
Your property has timber frames that are unsuitable for cavity wall insulation
Your home has urea formaldehyde insulation which may prove to be harmful
Whatever the problem with your cavity wall may be, there's no need to worry as the insulation material, be it mineral wool or EPS beads, can be sucked out easily.
The average cost of getting it done is almost as high as the insulation cost itself and comes down to £21 – £22 per m2. This, too, may vary according to the location and size of your home or property.
How long does it take to insulate a cavity wall?
The duration of cavity wall installation depends on the size of the house, accessibility of the walls, and the type of insulation material being used.
On average, it takes an experienced person around 2-4 hours to finish the job.
How long does cavity wall insulation last?
The longevity of your cavity wall insulation depends on the material used for insulation and also the expertise of your hired insulation specialist.
In surmise, a properly installed cavity wall insulation might as well last a lifetime. Installers certified by the CIGA (Cavity Wall Insulation Guarantee Agency) should be able to provide you with a 25-year guarantee for the insulation.
The most common reasons for the removal of a cavity wall installation are:
improper installation
a dampness issue in the home
To make sure the cavity wall insulation lasts, it is imperative to do a proper survey prior to installation and ensure that the installation is fool-proof.
Permission prerequisites for cavity wall insulation
If your home isn't listed, there is no need to acquire planning permission for cavity wall insulation. especially since it poses no change to the external appearance of the house.
However, you will need to submit a building notice to your local authority. This is to ensure that the insulation is being carried out according to the specified standards since it is covered by building regulations. Most installers registered with the CIGA (Cavity Insulation Guarantee Agency) will take care of it for you, however, you must make sure that it happens.
Things to keep in mind when hiring an Insulation Installer
Hiring an inexperienced or unqualified insulation installer will not only make the insulation redundant but will also be a waste of your money. Here are some things to keep in mind when hiring an insulation installer:
They should be certified by any of the following national standardizing bodies: the National Insulation Association (NIA), the Cavity Wall Insulation Guarantee Agency (CIGA) or the British Board of Agrément (BBA)
They must have agreed to the professional code of practice
Make sure they offer you the standard 25-year guarantee for the job
Cavity wall insulation FAQs
Q: Is it compulsory to get cavity wall insulation?
A: Cavity wall insulation isn't compulsory per see, however, since the 1900's there have been certain insulation standards that every property must meet. In accordance with this, getting your cavity wall insulated is important.
Q: What is the best cavity wall insulation material?
A: The definition of 'best' can be subjective to every homeowner. If speaking in terms of the best budget-friendly option, you might want to consider Expanding Polystyrene Beads or Granules.
The best material in terms of insulation quality is Polyurethane Foam.
The best in terms of sustainability and eco-friendliness is Sheep Wool Fibre.
Q: What is the average payback time for cavity wall insulation?
A: The exact payback time can vary from home to home. However, you should be able to save an amount equal to the installation costs within 2-4 years of installation.