Best Secondary Glazing: A Buyer's Guide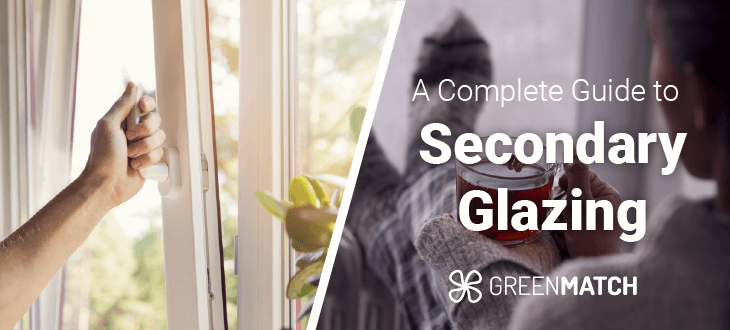 Have you noticed the cold in your home despite cranking up the heat? It may be that you have some single glazed window units letting all the warmth escape.  
What can be done about it? You could replace your windows with some double or triple glazing units, but then the high upfront costs might not be feasible. Or, perhaps you live in a listed building or heritage property, where you wouldn't be permitted to do so. 
The best, most cost effective solution then becomes secondary glazing! What is secondary glazing?Secondary glazing acts as a secondary unit of thermal insulation, which can be fitted onto the inside, or the outside, of an existing single-glazed window. 
Installing a secondary glazing panel to your window can greatly improve the thermal efficiency of your home by reducing the amount of heat lost through your windows. It's also a great and option if you need additional acoustic insulation.
Compared to double, or triple glazing, secondary glazing is a more cost-effective alternative that also saves you money in monthly heating bills. 
In this guide, we'll tell you all there is to know about secondary glazing- from the associated costs, to how it compares to double glazed units, to the best type of secondary glazing in the UK.
The secondary glazing installation process will vary greatly in time and complexity depending on the type of secondary glazing you would like. However, we recommend consulting a professional installer to get an idea of the best secondary glazing for your home, and to ensure the installation is carried out properly.
Use GreenMatch's free quotes service to get free, no-obligation quotes from the best secondary glazing installers, local to your area. We'll match you with up to 4 installers, so you can compare prices and make your choice based on who provides the best offer. 
Click the button, fill in the form, and soon you'll receive free quotes from professional installers.
Quotes from local engineers
Payment by finance available
Save up to £170 per year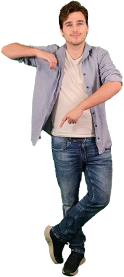 Optimise your home and save the planet
Which is the best secondary glazing in the UK?
The best secondary glazing will depend on your home's requirements. To help you decide, you should consider the following questions:
What's your budget?
How temporary or permanent should it be? 
What type of glazing material works best? 
What type of frame material works best? (Not applicable in some cases). 
How easily would you like to be able to remove it? 
Looking for the best secondary glazing in the UK? Later in the article, we'll break down the main pros and cons of these window types to help you decide. But for now, let's summarise these main types to give you an idea of what's out there: 
Secondary glazing film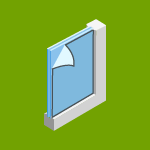 For a quick and relatively cheap secondary glazing effect, secondary glazing film can be stuck to your existing window using applied heat (like a hairdryer). While this thin, clear, plastic film acts in the same way as secondary glazing, it will not offer the same levels of insulation, or energy efficiency. 
Therefore, be aware that other more advanced secondary glazing might be more cost-effective in the long term. However, for those living in rented homes, or listed buildings, this makes a simple, easily removable secondary glazing option. 
Magnetic secondary glazing
This popular type of temporary secondary glazing is held to the window using magnetic strips. The glazing panels are available in various materials and can be easily altered to fit any sized window. 
It can be simply clicked and stuck into place, making for speedy installation and removal. Therefore, rental homes or heritage projects (where the window cannot be altered) are well suited to using magnetic secondary glazing. 
Temporary secondary glazing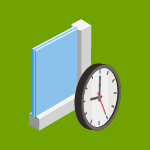 Temporary secondary glazing is a lightweight, glass-or-plastic single pane that attaches to your existing window through various means, such as magnets or adhesive, and can be cut to fit any sized window or window style. 
It can be easily removed which makes it a popular option for temporary glazing measures, although it can usually be kept in place for as long as you need. 
Permanent secondary glazing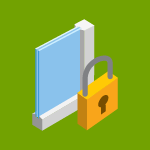 Permanent secondary glazing refers to secondary glazing systems that are permanently installed and cannot be easily removed. Once sealed in place, however, you can expect comparatively high levels of thermal efficiency. 
This type of secondary glazing requires a professional installer to seal it to the window. Permanent secondary glazing comes in a frame that attaches to the inside edges of your primary window typically using a silicone sealant and an additional weatherproof seal.
Permanent secondary glazing not only can improve the the thermal and acoustic insulation, but can also improve the security, and it is the best option in protection against condensation and drafts.
Wooden secondary glazing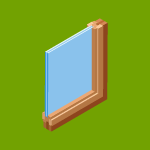 This is used for permanent secondary glazing- although it can also be sealed using removable velcro or magnets. The glazing panel is held in a wooden frame, to match your wooden windows. The frame will likely be thick if it is to hold a large pane of glass, and requires semi-regular maintenance (such as re-painting), as well as professional installation. 
With various window styles and colour options, wooden secondary glazing can match, or even enhance your outside windows' appearance without altering the window itself. 
Aluminium secondary glazing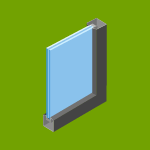 Similarly, permanent aluminium secondary glazing can be fitted to the outside window and comes in an aluminium (or in other metal) frame to match your aluminium windows. 
While installation will typically take more time than other types of secondary glazing, aluminium is a modern, durable material that will not become affected by weather or seasonal changes. 
Which type of double glazed windows is best?
If you're looking for a more permanent solution, or you have free reign to replace your existing single glazing with replacement windows, then installing double glazing might be a better option for you.  
Once installed, double glazing lasts a long time, and is highly durable and effective- improving energy efficiency and thermal insulation across your home. However, double glazing installation can be quite the intrusive process since your existing windows must be removed and replaced. 
There are various types of double glazing you can consider, the most common types include:
uPVC double glazed windows
Unplasticized polyvinyl chloride, or uPVC double-glazed windows are highly durable, low maintenance and are one of the most energy-efficient materials available. Alongside its relatively low costs, uPVC is one of the most popular types of double-glazing windows in the UK. 
Aluminium double glazed windows
Aluminium is a premium material that starts at higher price points than most other window frames. With that being said, aluminium windows give a sleek and modern appearance to your home and are unaffected by outside weather conditions. What's more, it's very long-lasting, more sustainable, and requires low maintenance. 
Wooden double glazed windows
Aesthetically, wooden double-glazed windows offer a natural look that works well in traditional architecture. This natural, renewable material is energy efficient, and an effective insulator. With that being said, wooden windows are sensitive to seasonal moisture changes which can morph the wood, unless they are re-painted or varnished periodically.  
Composite double glazed windows
These double-glazed windows are made from a combination of two or more materials, like the ones listed above. For a higher price point than uPVC and most other materials, they can combine high performance, aesthetic appeal, and sustainability. 
The type of glass, such as Low-E or argon-filled, can also impact the efficiency of the window, as well as the quality of the double glazing installation. That's why it's crucial to find the best double-glazing windows installers possible. 
Is secondary glazing worth it?
Secondary glazing certainly can improve your home in multiple ways- making it more than worth the investment. Some of these improvements include: 
Cost-effective | Despite all the double and triple glazing benefits, you'll be saving more money by attaching secondary glazing as it's more easily installed, and requires cheaper materials.
Thermal efficiency | Secondary glazing helps to reduce heat loss over the winter, and heat gain in the summer. Not only does this lead to more thermal comfort levels in your home, but also reduces your energy bills and makes some savings, especially in the long term.  
Noise reduction | Secondary glazing can limit outside noise pollution travelling through your home. This makes it a good option if you live in an especially busy area with lots of noise and you're finding it difficult to work from home or enjoy some rest.
Easy installation | Secondary glazing is relatively simple to attach and remove as there's no need to remove the whole window. This makes it far less intrusive than double, or triple glazing. Therefore, secondary glazing is more suited to listed buildings, or those living in rented properties. 
Maintenance | Besides periodic cleaning of the panel, secondary glazing requires less maintenance than other types of glazing measures. Cleaning is also made easier in most cases since the panels can be easily removed and reattached, allowing you to access both sides more easily.
So, are new secondary glazing solutions worth it? This depends on how much importance you place on its key features and benefits.
For bespoke advice as to the best type of glazing to install in your own home and to learn the fairest and most accurate double glazing prices, use GreenMatch's free quote service. With the details you provide in our form (linked below), our dedicated team will match you with up to 4 of the best secondary glazing installers in your area. 
With their tailored quotes, you get a real sense for the fairest and most accurate local installation prices. 
Click the button below to begin. All of our quotes come free and with no obligation.
Quotes from local engineers
Payment by finance available
Save up to £170 per year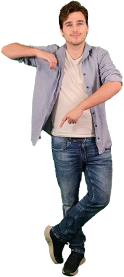 Optimise your home and save the planet
Installing secondary glazing costs
How much does secondary glazing cost? For your entire home (3 bedrooms), secondary glazing will usually start at £1,000 and can cost up to £10,000. The true cost of installation very much depends on the size of your home, how many windows you'd like to glaze, the type of glazing you install, and your location. 
With that being said, the following price ranges can give you a rough idea of what you can expect to pay for secondary glazing across an entire home (excluding installation): 
Small homes (1-2 bedrooms): £500 – £3,000
Medium homes (3-4 bedrooms): £1,000 – £5,000
Large homes (4-5 bedrooms): £2,000 – £10,000
Secondary glazing types also vary massively in price. Below we've provided estimates as to the amount you can expect to pay for the most common types of secondary glazing, per window: 
Secondary glazing installation costs
Type of secondary glazing 
Cost per window
Secondary Glazing Film
£10 – £50 
Magnetic Secondary Glazing
£50 – £150
Temporary Secondary Glazing
£50 – £100
Permanent Secondary Glazing
£100 – £500
Wooden Secondary Glazing
£200 – £1000
Aluminium Secondary Glazing
£150 – £800
Please note: these are only ballpark estimates to help you get a sense of the costs of secondary glazing. These estimates do not include installation costs. For the fairest and most accurate price, based on your home's specifications, you should consult multiple professional secondary glazing installers. 
Who can install secondary glazing?
The scale and complexity of secondary glazing installation will depend on the type of glazing you need. On a smaller scale, glazing film and some temporary glazing will be easier to install yourself. That being said, this might still involve measuring and cutting the panel and adhesives; aligning and applying it; and then sealing it properly. 
While it's easier to apply these types of glazing to your windows, failing to do so properly will result in a less efficient thermal performance which could risk wasting the time and effort it took to buy and install it, and be stuck with ineffective glazing. 
Permanent forms of secondary glazing are usually much more complex to put in place. Therefore, you will likely require a professional to install it for you, as there's far greater room for error with more technical steps involved. 
Permanent glazing is installed on the outside, or the inside, of an existing window. The glazing panel will need to be cut and sized correctly to fit in the frame, the original window trim or moulding will need to be removed and replaced, and then the secondary glazing unit can be fitted and sealed. 
Do you still get condensation with secondary glazing?
It is indeed possible for condensation to build up within installed secondary glazing. Warm air can get trapped between the secondary glazing unit and the existing window. Once this air comes into contact with a cold window surface, which condenses the warm air into water droplets on the inside-facing surface.
While there's not a whole lot that can be done to prevent this, in cases where secondary glazing is not effectively sealed to the window condensation can become a much bigger issue. In some cases, condensation can lead to structural issues, or dampness and mould forming.
This is another reason why we recommend professional secondary glazing installation. When sealed properly, there's less space for the warm air to enter this in-between space, thus helping to prevent the build-up of condensation. 
Compare secondary glazing prices
Keep in mind that the price points referred to in the article are ballpark estimates. The true cost of secondary glazing very much depends on the number of windows you'd like to glaze. 
Prices can also be affected by other factors such as your location. If you decide to book a professional to get your secondary glazing installed, which we do recommend, then you must also account for their parts and labour costs. 
Therefore, we also recommend that you consult multiple installers to get a sense of the fairest and most accurate prices for the installation, based on your home's requirements. You can use GreenMatch's free, no-obligation quotes service to save yourself the time and effort you would spend finding these installers yourself. 
Instead of going through the stress of trying to find multiple reputable installers yourself, our dedicated team can find up to 4 professional secondary glazing installers based in your local area for you. You can then compare their quotes to find the best possible deal. It's as simple as that. 
All you have to do is fill in the form, then wait for the installers to contact you.
Quotes from local engineers
Payment by finance available
Save up to £170 per year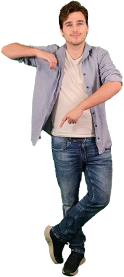 Optimise your home and save the planet
Frequently Asked Questions