What Are Double Glazed Units?
Double glazed units (double glazing), which fit within doors or window frames, consists of two or three glass panes separated by a space filled with air or gas to reduce heat transfer between your home and the outside. The thickness of the glass ranges from 3 to 10 mm, but special applications may require thicker layers.
Over the last few years, the number of double glazed unit companies in the UK grew rapidly and now vary from large chains to small family businesses. Double glazing has expanded to include a wide range of different types of glass and frames. But why have double glazed units grown in popularity so fast?
Double glazing tackles the problem of heat loss and noise pollution, and consequently, helps to save on bills, while at the same time reduces homeowners' carbon footprint.
If you're considering buying double glazed windows or doors but want to avoid a time-consuming process of researching the best suppliers, simply fill in the form at the top of this page. We will provide you with up to 4 quotes from reliable suppliers in your area. The service is free of charge and doesn't require any further obligations.
Quotes from local engineers
Payment by finance available
Save up to £170 per year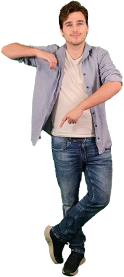 Optimise your home and save the planet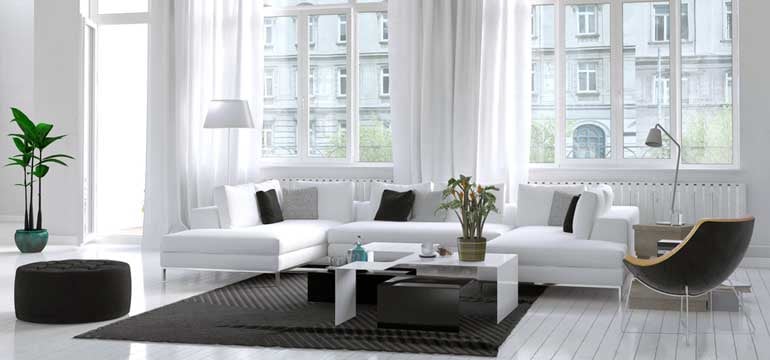 What Is the Cost of Double Glazed Windows?
The price depends on several factors you should take into consideration before making a final decision. These include the amount of double glazed windows and doors you need, glass type, the material of the frames, shape, and style of the products.
The most popular material used for double glazing frames is uPVC because of its low price and efficiency. On the other hand, aluminium and wooden frames are usually more expensive, although the functionality doesn't necessarily exceed uPVC.
Regarding the style of the double glazed windows, casement and sash uPVC windows are the most popular options in the UK. The table below provides an estimated cost assessment of the following two types.
Number of bedrooms
Number of Windows


(900 x 1200mm)

Casement Windows
Sash Windows
2
4 windows
from £1,800
from £2,720
3
9 windows
from £4,950
from £6,660
4
15 windows
from £8,250
from £11,100
How Much Do Double Glazed Doors Cost?
Similarly to double glazed windows, uPVC frames are the cheapest choice, whereas timber and aluminium doors are commonly more pricey. When it comes to the shape and style, sliding double glazed patio doors are the most affordable option. Folding and bi-fold doors are more expensive due to their complexity. However, because these three styles are the most popular in the UK, we included them in the price guide table below.
| Type of Door | Number of White uPVC Doors | Cost of White uPVC Doors |
| --- | --- | --- |
| Sliding Patio | 2 doors | from £895 |
| French | 2 doors | from £750 |
| Bi-fold | 2 doors | from £895 |
Remember that the costs depend on each individual case and numbers do not represent actual offers. They are merely for general reference.
We know that finding the right double glazing installers may seem difficult. GreenMatch can help make this process far easier and quicker for you. It's simple: we connect you with up to 4 professional UK double glazing installers who will provide you with free quotes. There is no obligation and the service is completely free. Simply click the button below, fill out our quick form and we will do the rest.
Quotes from local engineers
Payment by finance available
Save up to £170 per year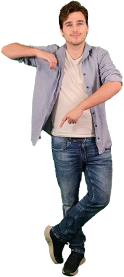 Optimise your home and save the planet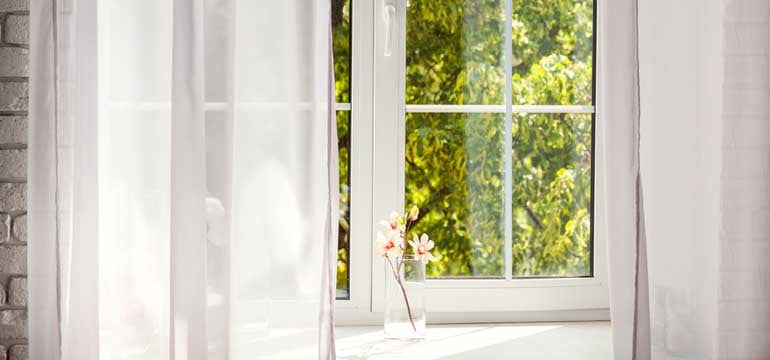 What Are the Advantages of Double Glazed Units? 
Double glazing can help you reduce your energy usage, and consequently, lower your CO2 emission, making your home more environmentally-friendly.
Energy Bill Savings
Up to 70% of household heat is lost due to poor insulation when installing single glazed windows. You can avoid this with the help of double glazed units because they significantly reduce your energy consumption and can help you save around £9,000 over 20 years.
Noise Reduction
They are able to reduce the noise coming from the outdoors by 60%. This is a great advantage for those who live in busy city areas and want to make their homes more peaceful and quiet.
Increased House Value
Installing double glazed units in your house will significantly increase its value, making it a great investment in case you would like to sell or rent your property in the future.
Increased Security
Due to the additional layer of durable glass, double glazing is a good way to protect your home from burglars.
What Are the Downsides of Double Glazing?
Initial Price
Double glazed units are produced with more material than regular doors and windows, thus the initial cost is higher. However, the amount of money you can save in a long run makes it a worthwhile investment.
Trapped Heat
While keeping the heat inside is what makes the units so functional during cold seasons, it can be a downside during summer. Adding reflective or tinted glass can fix the problem, however, it may also add to the overall cost.
Impossible Repair
If the seal of the double glazed unit is broken, condensation appears between the glass panes. In order to fix the problem, most companies recommend investing in a replacement.
Bad Fit with Older Houses
Double glazed doors and windows have a fairly modern look. The aesthetics of older houses don't make the best fit with double glazing. However, there are double glazing companies that specialise in producing double glazed units for older properties.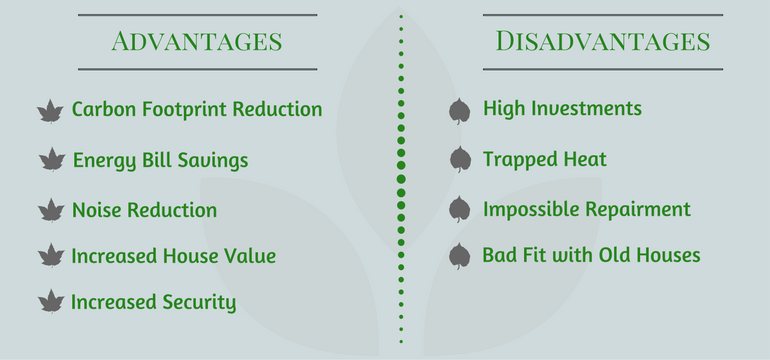 How Does Double Glazing Work?
Double glazed units consist of two layers of glass that create a barrier, which reduces heat loss and noise heard from the outside. The layers are separated by a spacer bar and the gap between them is usually 9 to 12 mm wide. The trapped air between the panes doesn't have enough space to circulate and acts as an insulator, therefore the transmission of heat is slowed down. The process is called a convection and gives double glazing its insulating properties.
Moreover, the units can be either transparent, tinted or covered with reflective film. The two latter options are useful for controlling how much UV light is allowed to enter your home.
1
2
3
4
Components of Double Glazed Units
There are six main components of double glazed products:
Glass
Spacer bar: a frame that separates the two panels of glass
Primary seal: the main barrier to air migration
Secondary seal: the adhesive that holds all the elements together
Cavity: the void between the components
Desiccant: a silicon material between the panes that absorbs moisture
Gas: dehydrated air, argon, krypton or xenon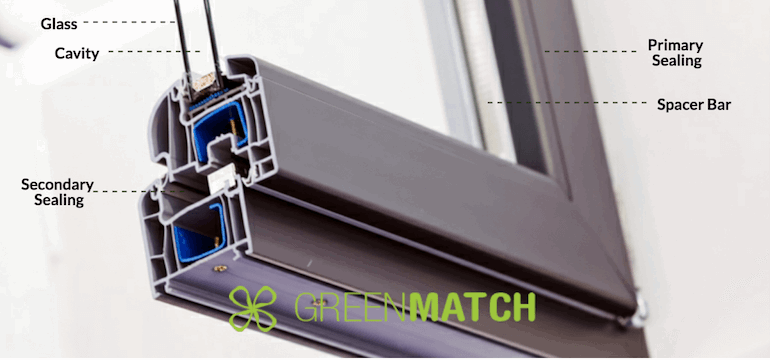 What Are the Different Types of Double Glazed Units?
Nowadays, many companies offer a wide range of materials and glass types so that you can customise the windows and doors in regards to your needs. You can choose from different types of frames, glass, shapes and spacer bars. 
Types of Frames
uPVC: unplasticised polyvinyl chloride frames are the most popular choice among homeowners in the UK. They are the cheapest option and also available in many different colours. The only disadvantage of uPVC frames is that they might expand under strong sunlight, therefore it's recommended to find a supplier who offers at least a 10-year warranty.
Timber: although wooden frames are the most expensive and require more extensive care, they are the most insulating material that can last a lifetime. Besides, timber frames will give your home a more traditional look.
Aluminium: these frames are the least popular choice as they're not as insulating as uPVC and timber double glazed frames. However, some people prefer aluminium framing due to its modern aesthetics, low maintenance, and durability.
Types of Glass
Low-emissivity (low-e) glass: as one of the most popular options, low-e glass makes double glazed units extremely energy-efficient. It's recommended for homes in cold regions that require a lot of heating. Besides, it reduces the amount of harmful UV light passing through the glass.
Safety and security glass: to protect your house from burglary, vandalism and any type of infraction, there are many different kinds of safety and security glass that are less likely to break or pose threat when broken. The most common designs include laminated glass, toughened (tempered) glass, wire mesh glass, and engraved glass.
Tinted glass: thanks to an added film to a double glazed glass, tinted windows and doors can reduce the transmission of UV light, protect your furniture from sunlight and keep the house cooler during warm seasons.
Reflective glass: with its metallic finish, reflective glass gives your home a more modern look. The reflective film reduces the amount of sunlight and heat coming from outside.
Coloured (stained) glass: many companies offer a variety of different coloured glass so that you can customise the double glazed units according to your needs.
Acoustic glass: for people living in the busy and noisy parts of the city, acoustic glass is a great option. The extra noise reduction is obtained by an additional acoustic interlayer that weakens the sound waves coming from the outside.
Decorative glass: many double glazed units manufacturers offer a variety of different patterns, textures and opacity. Decorative glass can be combined with some of the above-mentioned types, giving your house a unique look.
Self-cleaning: nowadays, you can also buy uPVC windows that don't require you to clean them. They're pre-coated with a transparent layer that breaks down dirt and dust. 
Types of Double Glazed Windows