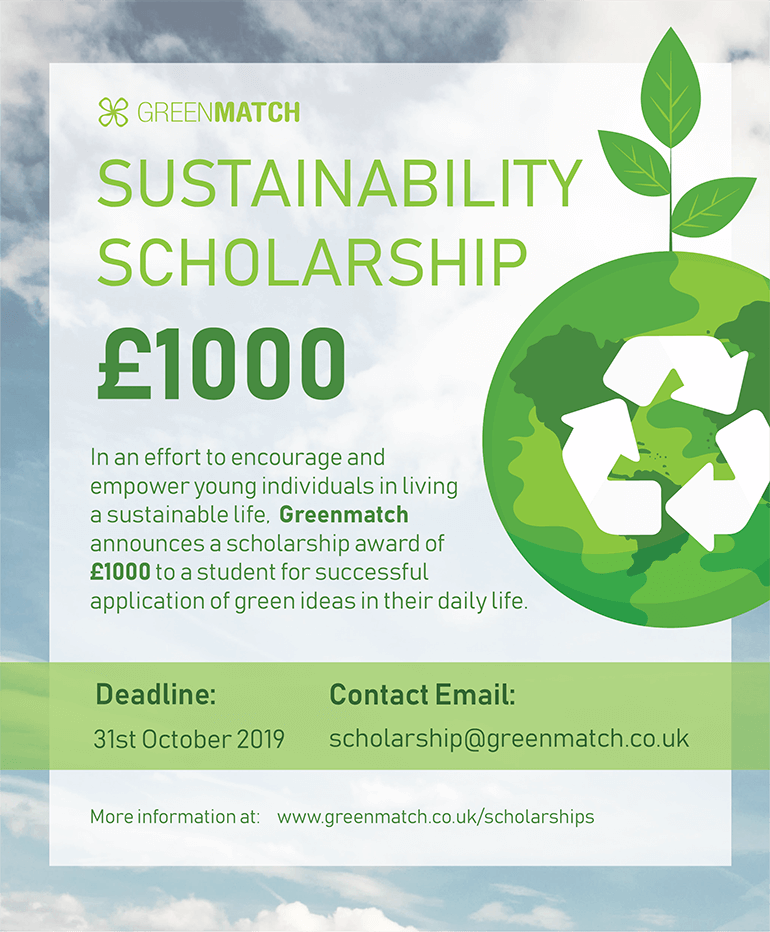 GreenMatch Sustainability Scholarship – Winner for 2019
GreenMatch thanks all the applicants for their participation in the sustainability scholarship. We received plenty of applications with extraordinary stories, which made it quite difficult to choose one winner.
The winner for the GreenMatch Sustainability Scholarship 2019 is Rosie Green. 
Rosie has taken significant actions to make her student life more sustainable, and furthermore, is the 2020 campaign officer of Auckland University Student Association, where she leads and coordinates campaigns initiatives, with a strong focus on politics and sustainability.
In addition, she is also the president of the Sustainable Future Collective, the largest environmental group at her university. This association is collaborating with many eco-friendly clubs to bring together a community of like-minded people. 
"My goal as president this year was to really nurture that sense of community. Being an eco-activist can be depressing at times, so I wanted to ensure there was a group to support each other and make everyone feel less alone or defeated in this fight against climate change." – Rosie Green
GreenMatch congratulates the winner and wishes the best in her future endeavours.
GreenMatch provides renewable energy solutions for homeowners in the UK. Our services aim to facilitate the research process of thousands of customers by connecting them with relevant companies to compare offers and prices on windows, solar panels, heat pumps, doors and boilers. We highlight and promote the use of clean energy with the goal of engaging more homes and families in sustainability.
Being firm believers in green living, we always work on finding new ways to promote this, and to encourage a more eco-friendly lifestyle.
In doing so, and with the purpose of bringing the aspect of sustainability to the life of a student, we would like to award a student with a scholarship of £1000 for a successful application of green ideas in their daily life.
Eligibility Criteria 
Applicants are required to submit the following documents along with their application:
Participants must provide proof that they are either currently enrolled or have been accepted at an accredited university in 2019.
An essay describing the actions they have taken to transform their lifestyle.
Any material (documents, pictures, etc), that can support your essay will add value to your application.
Applicants are required to indicate their acceptance through the consent form and send it along with their application.
How to Apply
To be able to apply for this scholarship, applicants are required to write an essay of 1,000 words.
Topic: In what way can sustainability help for a better student life? Describe specific actions you have taken to transition to a greener lifestyle.
The applicants should send all the documents and essays via email to [email protected].
Applications must be submitted in English.
Write "Scholarship Application + Your Name" in the email subject line.
Deadline
The application deadline is the 31st of October 2019 midnight UTC(+01:00). The scholarship winner will be announced on the 2nd of December 2019. 
Contact Information
GreenMatch: www.greenmatch.co.uk
Phone: +44 020 3608 0130
Attn: Scholarship Committee