Lean-to Porch: Why You Need One
Have you ever wished you had more space at the front of your home? Somewhere to take off muddy boots and wet coats? Somewhere to towel down the dog after a long and muddy walk? Or simply something that will improve your home's aesthetics? A lean-to porch could be just what you're looking for.
With a beautifully-designed and well-built lean-to porch, the front of your property will become a real focal point and will add both value and kerbside appeal.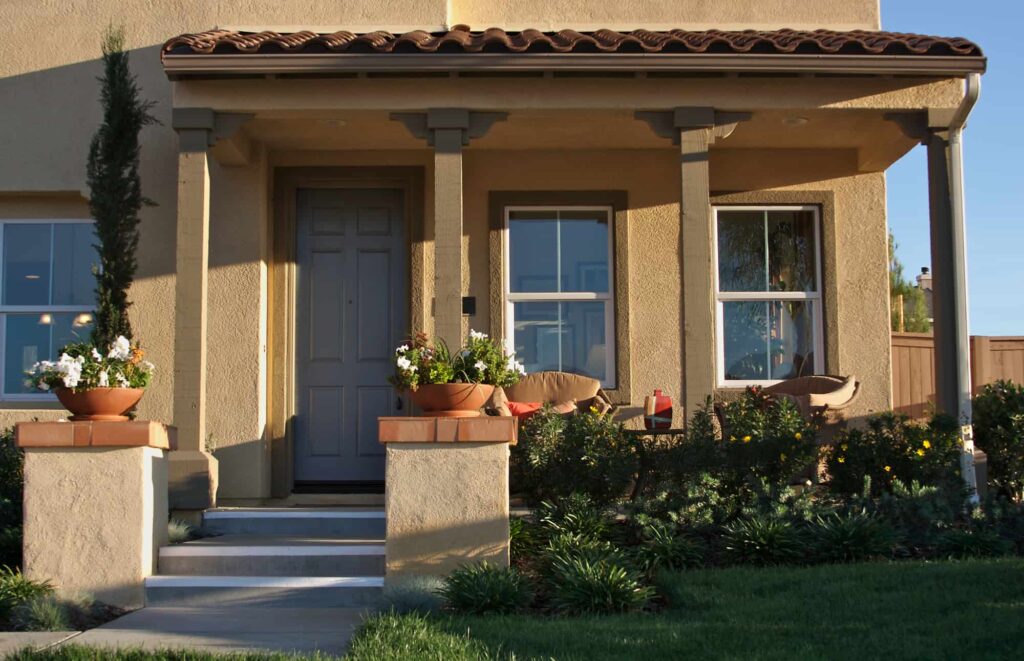 Why add a lean-to porch to your property?
A well-built and beautiful lean-to porch will not only enhance the façade of your house, it will add space and character. What's more, a porch will add another layer of security and insulation, keeping you and your belongings safe and warm, and your home organised. Let's explore these reasons in more detail.
Add extra space and character
Similar to a lean-to conservatory on the rear exterior of your home, a lean-to porch can extend your home's frontage with an additional useful space. A porch can be planned to be welcoming and attractive with a design to make your home unique. It doesn't matter if your main entrance is on the side or on the front, a lean-to porch works anywhere. There are lots of different design options for all tastes and materials.
Enhance security with quality door furniture
Intruders rarely attempt to break into secure homes. Not only will a lean-to porch be an extra layer of security, it will make it less likely for an intruder to attempt a break in. Effectively, they'd have to break through two locked entrances successfully, which is not only difficult, but it's also off-putting.
To make things even more secure, you can customise the door hardware and choose quality door furniture with the most secure locking system and a strong lock key. Choosing at least a one star locking cylinder and an anti-pick lock are great ideas too.
With ply-reinforced lower panels, there's no way an intruder will even attempt to get in.
Keep your entrance organised and clean
It's not all about the outside with a lean-to porch; they serve a purpose for the inside too. This is an ideal space for shoe storage and coat hooks. A porch will encourage guests to remove their shoes before entering the main part of your home. That way, no unnecessary dirt will enter the main areas and your rooms will be easier to keep clean.
Lean-to porch style and design
There are so many styles to choose from when it comes to porches. You have a choice of doors and windows and door furniture colour. You could add a wall plate with your house name or number on, and have an optional letter box.
As for the structure itself, you can choose to have a variable pitch roof for aesthetics or other reasons. Door positioning is also something that you can influence.
Forgot the traditional bricks and mortar porches, these days you have so much more choice in terms of materials. Whether it's a front porch or a back porch, here are a few ideas of features for inspiration that you could incorporate into your porch design:
Dwarf wall with fully-glazed panels and double-glazed units with low e-toughened glass
uPVC porch
a wider cill
top windows
select roof glazing
frame to support polycarbonate or glass
ply-reinforced lower panels
optional letter box
wall plate
Doing it yourself? Choose the right porch kit
If you really want to keep costs down, it is possible to do a DIY porch project. It's worth bearing in mind, though, that DIY porches should only be attempted if you have a basic background knowledge in construction. Otherwise, it's much better to call in the experts!
DIY porches need a lot of thought and planning. You'll need to make sure you know exactly what your exact specifications are as there are lots of porch kits out there. It's unlikely you'll be able to build a uPVC porch yourself but there are kits out there that are suitable for a DIY project.
Here are some things to consider:
the external projection required
the external width required
front frame height
porch length
roof support
canopy size
floor type
type of glazing
If you choose a made-to-measure porch, you should receive an installation guide with information where you can get technical support for easy assembly. Remember, lean-to porches don't need planning permission as they are a permitted development, so that's less to worry about!
Final thoughts
Building a new lean-to porch is an exciting prospect and like all new additions, the price range is wide. Getting lots of different quotes can help you to decide who you want to supply your porch. Complete an online form to get more information about what is available. Rest assured that there will always be a design that suits your requirements!