Traveling is an exciting and eye-opening adventure that many individuals and organisations like to partake in. However, many travelers are unaware of the carbon footprints that they leave behind when they visit, and that can be harmful to these communities and countries.
Fortunately, as environmental awareness and engagement gain popularity, there are a growing number of individuals and organisations that travel sustainably. This means that they are engaging in ecotourism activities, giving back to the environment in community projects, reducing their overall carbon footprint and much more!
Learn why 60% of UK houses have double glazing
After extensive research by the GreenMatch Team, we have nominated and selected the Top Eco-Traveling Enthusiasts of 2017.
GreenMatch has divided the winners into three categories of Eco-Traveling Enthusiasts:
Take a dive into this pool called life and become inspired by our Top Eco Traveling Enthusiasts of 2017! Below, you will find a brief description of our winners with a response to the importance of being an Eco-Traveler and traveling sustainably.
The featured blogs are more than welcome to use the code below to place the badge on their website.
You are welcome to use the badge that is relevant to your category!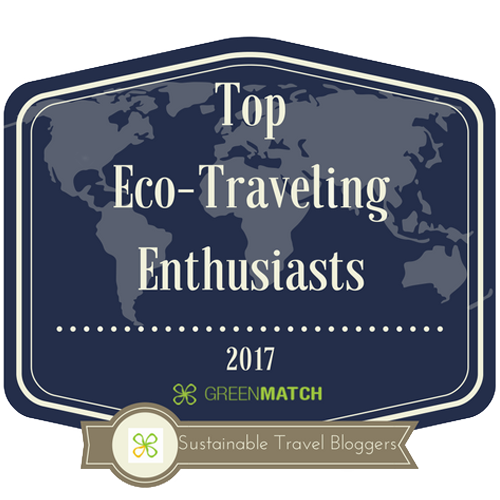 If you would like to use this image on your website, use the embed code below:
---
Sustainable Travel Bloggers
This category is awarded to travel bloggers who have provided advice, suggestions, tips, and more to improve others travel. Traveling sustainably is a great way to help be efficient, environmental-friendly, and reduce your overall carbon footprint while traveling.
Kat is an inspiring woman graduating with honours from Bristol University with degrees in Zoology and Psychology. Later, she pursued her passion for traveling. She has expressed her adventures through blogs, photographs, and several traveling publications. Her insightful knowledge will help prepare any traveler with an interest in sustainable traveling and offering useful ways to plan your next adventure.

 
"Whether I'm watching Grizzly Bears in Canada's Great Bear Rainforest with a responsible local guide or on a road trip in Europe driving an eco-friendly car, travelling sustainably (and blogging about it) enables me to play my part to ensure that future generations can enjoy the same experiences in a world where humans, wildlife and the planet can thrive."
Nora is a full-time traveler covering her adventures on her blog site, The Professional Hobo blog, for over 10 years and has visited over 50 countries on 5 different continents. After selling her financial planning practice in Toronto, Canada, she has been able to utilize her past knowledge in traveling through numerous volunteer projects, writings, and past knowledge to travel in a sustainable way.

 
"I specialize in being a sustainable traveler mostly in the financial sense – in that I travel full-time in a financially sustainable way, and I teach others how to do the same. My favourite thing about it is the ultimate freedom and creativity of lifestyle; financially sustainable travel is about not only making money to pay your way (for me it's through freelance writing), but also how to save it and/or spend it creatively. And I've found some amazing ways to do both!"
Alesha and Jarryd are travelers venturing into one country at a time. They both began as solo-travelers embarking on adventures until they discovered each other at a hostel in Vancouver. After traveling together for five years, they began to document their adventures to inspire travelers on NOMADasaurus. Thus, specialising in adventure travel, sustainable tourism, overland journey, and photography in hopes to make traveling a lifestyle.

 "Our favourite thing about being a sustainable traveler is creating a positive, long-term impact on the places and people we visit."
The Travel Word is a great site promoting responsible, sustainable and local travel. They are committed to inspire and motivate curious, ongoing, travelers to shed some light on the unknown parts of the world and their off-road adventures. The Travel World enables traveling writers to document their visit to another country, culture, and enrich us with their newfound knowledge.

 
"Sustainable travel is, at its heart, about respect. Respect for the environment, cultural practices, economics, history, development and, of course, the future, among many other things. It's about honoring the unique qualities of people in a place, both those qualities critical to what makes something special today and those that will continue to preserve or influence its noble character tomorrow. I am very proud to embrace this kind of respect whenever and wherever I journey. The value I personally derive from the insights gained and shared with others (through The Travel Word and other outlets) is surpassed only by the gratified dignity it brings out in the people who host, guide, teach and inspire me."
| | |
| --- | --- |
| | Linda is the author of Eco Traveller and has been active within the travel community since 2011. At an early age, she became fond of traveling and haven't stopped since. The Eco Traveller can offer you copious ideas to help plan your ideal trip. |
The Greenloons Blog is an inspirational blog site committed to providing authentic, sustainable, and certified ecotourism travel vacations available around the world. Receive quality recommendations to enact on ecotourism information, search and reservation capabilities which are completely free.

 
"Traveling sustainable means the ability to fully immerse oneself in a destination – meeting its artists, tasting its local delicacies, learning its untold history – so that you can see a glimpse of its soul. It's a much more meaningful travel experience when you can support local communities socially, economically and environmentally."
My Slow Journey is Katarina's travelling blog site where she covers her geographical, physical and spiritual journeys around the world. Originally from Sweden, she resides in South Africa where she partakes in various local journeys with her husband.


"The best thing about being a sustainable traveller is that you experience a destination, not just observe it. Meeting people, tasting food and getting into nature!"
 

Catherine is a travel blogger writing articles about sustainable and responsible traveling. She is an advocate for eco-tourism and responsible tourism and highlights individuals who have created these exciting tourism products. She has been featured on The Daily Telegraph, The Independent, The Guardian and various other UK news publications.

"My favourite thing about being a sustainable traveller is the people I meet. There are too many to mention, but it is always the individuals working at the grassroots who are creating real change. Whether they are leading a campaign to stop a national park being developed in Montenegro, a small community restoring a derelict quarry into a stunning eco camp in France, a farmer who convinces all the others on an Irish peninsula to allow a walking trail to go through their land, or a Maasai community taking on the multinationals to insist on fair trade in Kenya. And let's not forget the tourist board executives who flag up the green side of their destinations because they really believes in it, not just because it makes money (New York State, I thank you). The list is endless. The world is not our oyster. It is people's homes. And being invited in with open arms is always an honour." 
Matt is an exciting individual who is an adventurer, writer and photographer. He documents his daring travels through XPATMatt in order to encourage others to reach out of their comfort zone and indulge into an adventurous life journey.


"I love human-powered travel, not just because it's sustainable, but because it changes the way you see a destination.When you walk, cycle, or paddle through a place you have a completely different experience than if you drive. You go slower. You look around more. You stop more often and end up in places you would have passed by otherwise. Of these transportation modes, walking provides by far the most immersive travel experience. Generally speaking, in travel, the closer your feet are to the ground the more immersive your experience will be."
Aileen is a digital woman involved in online entrepreneurialism, travel writing, and vlogging about her sustainable travels each post at a time. At the age of 21, Aileen quit her corporate job in the Philippines to pursue her dream of traveling around the world. Through her numerous blogs, vlogs, and posts she brings over 200,000 monthly visitors eager to follow her advice to travel around the world.


"To become a conscious traveler, the best tip that I can give you is to maintain your awareness at all times. This basically means that you should do your homework beforehand, and that at the same time, you should remain to be respectful of the places and the people that you're visiting in order to lessen the impact that you might inadvertently execute."
Charlie is a travel blogger promoting slow travel, house sitting, vegetarianism, and sustainable traveling. After meeting her traveling companion, she moved to Taiwan to live and teach as an ESL teacher. This experience influenced them to seek out an adventure and begin their slow travels absorbing a new culture, history, and lifestyle with the locals in each country. She provides unique ways on how to travel sustainably and to fully indulge the culture around you.

 
"My favourite thing about being a sustainable traveller is knowing that I'm able to support local people and communities through travelling. I always want to use my travel time to join in community-based tourism projects, eat in locally owned cafes and restaurants, and join activities with organisations that support locals."

| | |
| --- | --- |
| | Julia Hudson is a travel writer and marketing pro based out of London. She is an independent, sustainable, and culturally sensitive traveler and expresses it through her blog site, The Epic Adventurer. She has been seen in various publications such as the Virgin, The Daily Mail, HostelGeeks and much more. |
| | |
| --- | --- |
| | Stef is a 25 years old traveller from Bologna in Northern Italy. Her love for travelling began at the age of 11, and she hasn't given up her quest to visit every edge of the corner of the world. She continues her adventure around the world with a Bachelor's degree in International Relations and two Masters in Communications and Web Marketing. |
James is an adventurer, freelance journalist, and independent media producers who ventures across the world seeking to share his tales. The Joy Trip Project specializes on outdoor recreation, environmental conservations, acts of charitable giving and practices of sustainable living. 


"Sustainable travel is the best way to see the world we hope to save. I believe that by spending time in nature, contributing to local economies and making ourselves aware of the challenges of remote cultures we can create a global community of citizens who share the common goal of natural resource preservation."
The Green Traveler UK site features hundreds of eco-friendly destinations that benefit biodiversity conservation, research and contributes to the resilience and economies of local communities. They also provide resourceful methods to practice sustainable transportation by providing close by destinations to encourage bike, public transport, train or ferry.

"Our aim is to connect sustainable transport with these inspiring experiences offered by local tourism businesses to support local economies. Less Carbon, More Fun!"
---
Sustainable Voluntourism
This category is awarded to individuals and organisations that are building global leaders through volunteer projects in hopes of creating a sustainable world one day. Through these volunteer opportunities on global initiatives and projects around the world, individuals can improve the environment of communities and enrich their perspective.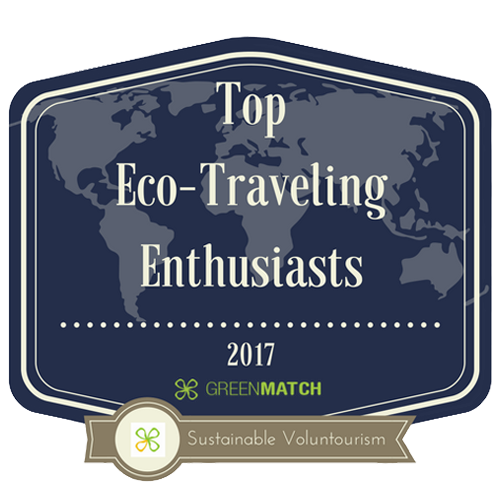 If you would like to use this image on your website, use the embed code below:
 

The GoEco volunteer organisation is an experienced organisation that provides great resources to participate in multiple types of volunteer opportunities around the world. GoEco strongly encourages volunteering overseas because it is a great way to travel and contribute to our planet's environment.

"The mass tourism industry is one of the leading causes of environmental degradation today. Sustainable voluntourism and eco-travel provide ways to expand your world view in an eco-friendly way. You will reduce your carbon footprint by living like a local. Volunteers stay in local accommodations, use local transportation, eat what the locals eat and dedicate their time to community improvement initiatives. Voluntourists learn how to travel responsibly!"
 

Kaya Responsible Travels provides opportunities to engage in volunteer and internship placements in over 150 sustainable community development and environmental initiatives in Asia, Africa, and Latin America. 

"As global travel becomes ever more popular and our societies continue to diversify, now, more than ever, we believe in the importance of cross-cultural connection. Sustainable Volunteer Travel programs, such as those offered by us at Kaya, provide an opportunity for everyone and anyone to work alongside communities from other nations and cultures to improve the lives and the environments around them – sharing in the challenges, better understanding the realities, celebrating the successes and experiencing the culture from the inside. As a volunteer learning and expanding your mind is as important and precious as what you contribute in your time, and how we make the world our neighbours. It is the ultimate travel adventure."  
 

One World 365 helps people find conservation, environmental and marine conservation programs around the world. Volunteers will engage and contribute towards world conservations due to deforestation, overpopulation, abuse of natural resource, illegal wildlife poaching and more.

"Love to travel? Looking for a unique experience where you can give back? By doing something as rewarding as volunteering you can get the chance to do both of these and be far more than your average tourist. Participating in a sustainable volunteering program is a lot more meaningful than making a donation to charity and means you can play an active role in helping and creating a long-term benefit to the local environment or wildlife. Programs are open to all ages including teenagers, adults and families and there are so many inspiring opportunities available in destinations all around the world. These include helping conserve the Amazon rainforest, monitoring dolphins in Greece to helping elephants in Thailand. Once you have completed a program you will get to learn more about amazing charity and NGO work and hopefully also tell your friends and family to inspire them to do something similar."  
 

GeoVisions is a volunteer resource organisation that assists individuals to participate in sustainable volunteer abroad projects, teach abroad, au pair abroad paid jobs and internships. 

"Volunteering and working abroad can help with language skills and cultural knowledge.  More importantly, they can aid poor communities and bring a measure of cultural diffusion and international cooperation to many parts of the world."
Grassroots Volunteering is a resourceful website empowering travelers to volunteer in different communities during their travels. The site consists of a dual database of organisations all over the world: Volunteer Opportunities and Social Enterprises.

"Supporting local business and increasing your positive impact on the places you visit is among the most important acts a traveler can take. Travel and tourism employs an enormous percentage of the world's population. The act of travel — either through volunteering long-term or supporting local businesses — shifts wealth directly into the hands of local economies. Travel becomes a tool, a great equalizer allowing tourists to purposefully keep money out of massive multinational corporations and instead infuse it into the communities, places, and people most in need of the support."
 

GreenHeart Travel provides cultural immersion programs that help change lives, advance careers, and create leaders. They are able to empower local communities through the partnerships of organisations and governments by practicing experiential learning and practical development. Through this exchange, individuals will be able to reach their full potential, and create a tolerable, peaceful and environmentally sustainable world.

"Volunteer travel can be a very positive experience, for both a volunteer and host community, as long as the correct expectations are set. A traveller going for a week to help at a project isn't going to be able to complete large-scale efforts, but they will be able to get an insight into a new culture, the issues that affect the area and possibly even share a bit of their own culture with the community. These interactions are critical in creating a world that is tolerant and peaceful. Unfortunately, there are projects out there that don't have the good of the community in mind and it is the responsibility of each organisation and volunteer to do their research, ask the hard-hitting questions about sustainability and where the funds go, and also reflect on personal goals for wanting to volunteer abroad. The more educated a traveller can be on the impact they will be making, and the footprint their travel will leave, the more projects and people will be held accountable in providing meaningful support in global communities." – Megan Arzbaecher, Greenheart Travel Volunteer Programs Manager

 
GoAbroad is a resourceful website changing lives on finding dream destinations to attain a broader perspective of the world. GoAbroad resources will help to find international travel opportunities that are in your best interest in volunteering, traveling, internships and more.

"Sustainable voluntourism means one thing: collaboration. Without incorporating the local community into solving problems, solutions rarely have long-term impact, eradication, or benefits. Traveling and participating in Sustainable Voluntourism means not promoting organizations that exploit need for their own gain. It is a responsible way to share your resources — time, money, effort — while also learning a thing or two (or ten) along the way." 
 

Globe Aware is a non-profit organisation that provides a unique way to do tourism and at the same time giving back.

"As Mark Twain said, "Travel is fatal to prejudice, bigotry, and narrow-mindedness, and many of our people need it sorely on these accounts. Broad, wholesome, charitable views of men and things cannot be acquired by vegetating in one little corner of the earth all one's lifetime." Sustainable travel can mean different things to different people. For some, it means accommodations, for example, with low carbon footprint, having geothermal or solar powered hotels or that is constructed with easily replaced, local materials like bamboo. It can also mean that the tourism provides fair paying jobs to local communities, and is respectful of the local communities. And of course sustainability also means that the entity is set up in such a way that ongoing efforts for the tourist enterprise will be able to sustain itself without depleting natural resources, and therefore ensure maintenance of an ecological balance. Globe Aware works with local grassroots communities who pick projects their community feels will most help them stand on their own two feet. One of our two main missions is to promote sustainability (the other is cultural awareness.) Then we proceed with the project using local materials and under the direct guidance and supervision of locals to ensure that projects are done in a way that the community wants them. That said, having our volunteers work side by side as equals on the project has an equally important outcome: allowing people to learn about one another away from a "consumer mindset." Traditional travel often involves looking at the world as an object to be photographed, admired or purchased, rather than to appreciate and work in cooperation. An example of one of our projects is building adobe lorena stoves in Peru, which reduces the amount of firewood needed by 1/18th and all but eliminates dangerous smoke inhalation in the home. For us, the definition of sustainability means to work with locals on projects that help them stand on their own two feet."
| | |
| --- | --- |
|   | SEEtheWILD is an organisation aim to help interested volunteers with responsible wildlife conservation experiences and projects. Through a selective process, they promote tour operators and non-profit organisations that commit to sustainable operations and cultural conservations. |
 

Village Monde, a non-profit international orgnisation, promotes wealth generating initiatives and securing future in remote communities. By implementing micro economic development projects, the organisation can help foster local entrepreneurship.

"Village Monde defines its new mission to develop equitable, solidarity, and village tourism and now concentrates all its energy on the development of local initiatives and micro-projects in the tourism sector. The goal is to create new sources of economic development that are sustainable and economically viable, to support communities find the means to sustainably get out of poverty and to improve their living conditions."
 

United Planet is a non-profit organization with a mission – to create a global community, one relationship at a time. We connect volunteers who want to make a difference with communities in 35 countries, where they learn, teach, work, engage and immerse themselves in a culture outside their comfort zone.

"We believe that human beings can create a global community, one relationship at a time. We help make that happen for people who are committed to a vision of the world that emphasizes community over conflict… collaboration and cooperation over disagreement and strife… the unity of humankind."
 

Sustainable Travel International believes that travel and tourism can protect the world's natural and cultural riches and create economic opportunity.

"Through our work, governments, companies, NGOs and local communities can unite and use tourism to achieve the right balance between economic development, green growth, and protection of their natural and cultural assets. Sustainable Travel International is creating the next generation tools required to build knowledge and inspire action at the private, public and civil sector levels."
 

WWOOF is a worldwide movement connecting volunteers to organic farmers and growers to promote environmental and education experiences; thus, building a sustainable, global community.

"WWOOF specialises in linking people who are passionate about healthy food, healthy living and a healthy planet. Join us, show your support for the organic movement and start learning (or sharing) ways of living a more sustainable life. As a member you will be plugged into an international network of like-minded people, with staff on the ground in 60+ countries ready to offer local advice and support."

 
 

A Rocha is a Christian nature conservation organization whose projects focus on attaining cultural understanding, with a special focus on science, research, practical conservation and environmental education.

"Our worldwide educational activities allow people of all ages to develop their knowledge, understanding and appreciation of the environment, as well as their impact on it. We aim to increase public awareness of the impact of climate change and other environmental issues and the need for sustainable lifestyles everywhere to help achieve the Sustainable Development Goals."

 
 

International Volunteer HQ is a volunteer travel company helping people gain global awareness and cultural understanding through host communities. Through the experience and lessons, individuals can take back this new knowledge and use in their own countries and cultures.

"Sustainable voluntourism provides immersive, impactful and transformational experiences that are not offered by other forms of travel. Participants have the opportunity to gain a unique perspective of a community abroad while also making a meaningful contribution to projects working to improve that community and the environment. To be sustainable, a voluntourism program needs to be locally led and must focus on building the long-term capacity of the community to support itself. Global travel is a rapidly growing sector and it's vital that sustainable models of international exploration are developed and promoted. Voluntourism not only offers a way that communities all over the world can benefit from the skills and perspectives of foreign visitors in a much deeper way than is the case with more typical travel options, but it also provides an opportunity for the volunteers themselves to learn and to expand their worldviews. Sustainable volunteering facilitates greater cross-cultural understanding, challenges the mindsets of travellers, and fosters more engaged and aware global citizens."

 
---
Eco-Hostels
This category is awarded to hostels and other housing accommodations that provide an eco-friendly accommodation and support sustainable ways of traveling. Promoting eco-friendly lifestyles through hostels amenities and features is a great method to raise environmental awareness.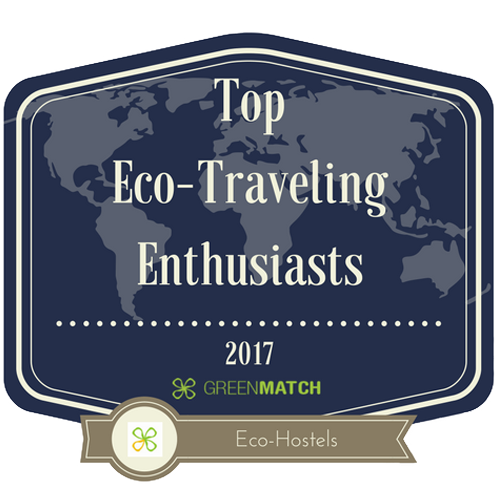 If you would like to use this image on your website, use the embed code below:
Czech Republic. Hostel Krumlov House is an award winning ecological hostel in the Czech Republic. Through its sustainable efforts, this eco-friendly destination sustains energy and promotes healthy living by using: solar panels, radiator reflectors, efficient appliances, and much more. They also encourage guests to drink tap water, reuse plastic bags, participate in outdoor activities and much more.


"At Krumlov House, being eco-friendly is an ecological and economical imperative. We encourage our guests to get out and walk everywhere, and to take buses and shared shuttle services to their next destinations. Hostels are social places, so we can directly influence people from all over the world as we show them how to compost, or recycle their plastic, paper and glass, or are urged to limit their showering to five minutes. There's nothing more high-impact than low-impact travel."
Portugal. Aveiro Rossio Hostel in Portugal is an eco-friendly hostel utilising different forms of sustainability for their housing and amenities for their guest. 9 months out of the year, their hot water is heated through renewable energy from solar panels. They also incorporate sustainability through their appliances such as energy-saving light bulbs, recycling glass, paper and plastic, water saving systems for taps and toilets and much more.

"Since it opened in 2009, the Aveiro Rossio Hostel is committed to promote sustainability and to behave as much responsible as possible to meet the present requirements without compromising the ability of future generations to meet their own needs. We feel it is important not only to protect the environment ourselves but also to raise awareness among our guests, from younger backpackers to older folks and families travelling the world. Our water heating system coupled to solar panels, energy-efficient appliances, waste separation and recycling, water savings in the flushing cisterns and also a conscious consumption with focus on local products are examples of our environmentally friendly mindset and why many guests choose our accommodation offer. Aveiro Rossio Hostel wants to share all magnificent wonders the world has for mankind to discover, but also the responsibility to protect this common home we share." 
 

UK. DeepDale Backpackers Hostel is located in Norfolk in the UK. This facility is equipped in order to provide a memorable experience for its guests with underfloor heating, free wifi, tourist information and much more to make sure you enjoy your stay.


"Where possible we have used green technologies to reduce our environmental impact. 100% of our electricity is generated from renewable sources; the hostel is accessible via public transport using train services to and from King's Lynn and the Coasthopper bus service, and we are currently investing in electric car-charging points."
Italy. The Bamboo Eco Hostel is a new type of environmental hostel in Turin, Italy. This hostel's sustainable business practice is made apparent from offering multiple tips and suggestions to be environmentally friendly, down to the design of their common and shared guest rooms.

"Bamboo Eco Hostel is the new Turin hostel and the first Italian hostel run environmentally friendly. Everybody can find a home here, just like the big bamboo forests host different animal species."
Germany. JetPak Ecolodge is a berlin based. eco-friendly hostel living up to its name. One thing they do is acquire heat through CO2 neutral heating system and solar panels. In addition, this hostel aims to divide its waste in order to recycle materials, food composted, and other ways to stay sustainable.

"The hostel's power comes from 100% renewable sources; it is heated by a modern, wood-burning, CO2-neutral heating system; and the hostel's hot water is heated by solar panels. We use 100% green power. Waste is divided, with bottles returned to the manufacturer for re-use, food composted on-site (at a safe distance from the hostel!), and many other items are recycled."

 
Spain. Ecozentric Urban Hostel in Barcelona lives up to their name by utilising eco-sustainable technology such as LED lighting, air saving, ecological thermostat, low consumption devices and more. They also allocate a portion of their proceeds to tree planting and reforestation of forests to better the environment.

"Ecozentric puts at your disposal all-sustainable ecological measures available and only we will ask you during your stay you are responsible for water (a very scarce and very expensive in Barcelona), paper consumption, the sheets and towels, air conditioning ask… well you water the plants in your terrace."
Sweden. Kolarbyn Eco-Lodge is Sweden's best ecological, eco-friendly and eco-tourist destination. This site aims to provide a thrilling and natural experience by providing lodging in charcoal huts in the middle of the Spruce Forest. Equipped with sleeping bags, guided tours, and much more for a memorable experience.

"Through a sustainable work, it strengthens our company and works from the ground up and we get an even more genuine brand. We are constantly working to influence the environment we do business with leaving as little footprint as possible, in order to deliver natural world-class experiences for our visitors. Sustainability can work at different levels but for our part, the local is a very important part, to strengthen and area we operate in live!"
Russia. Baikaler Eco-Hostel is a cosy wooden hostel in the village of Listvyanka in Russia. This hostel is well insulated, energy efficient, water efficient and sets new standards for comfort, security and design.

"Baikaler Eco-Hostel welcomes you to stay in a cosy wooden house, located in the village Listvyanka. Built from wood, well insulated and energy efficient, the place is carefully embedded into the environment."
 

Czech Republic. Mosaic House, located in Prague, represents a great example of hospitality devoted to sustainability. On the homepage of the hostel it is even possible to check the amount of water and energy saved in the last years.

"We, in Mosaic House, believe that everyone should try to minimise their impact on the environment as much as possible. In order to achieve it, every one of us must start with ourselves first. We have access to as much as 50.000 travelers a year coming from various backgrounds and nationalities which provides us with a good position to raise the awareness of sustainability." 
 

Ireland. Described as a "wooden UFO that landed on the rural hillside", the twelve years old eco-lodge uses geothermal and sunlight heating systems, besides recycled rainwater shower facilities. Gyreum Eco Lodge also offers a fresh choice of vegetables and produce grown by local farmers.

"Since its inception Gyreum has grown organically, both in concept and operation, with more and more use of green synergies from geothermal and sunlight heating systems, to recycled rainwater shower facilities. If you choose a catered stay at Gyreum, you'll be treated to the freshest, most fabulous local produce, including greens and other veg picked straight from our own allotment."
 

Australia. YHA Australia is one the world's largest backpacker accommodation nature in Hostelling International providing more than 4000 YHA hostels in over 90 countries. This ecological and sustainable hostel offers a great stay, and are dedicated to their missions of providing education by personal development, fostering friendship and bringing a better understanding of the world.

"Every night you spend in a hostel creates an average of 9 kilograms of carbon emissions (certified by the Carbon Reduction Institute). YHA's Sustainable Hostels Fund assists with eco-projects in hostels, particularly solar hot water systems. Research shows this to be the area where we can reduce emissions most significantly. It will also reduce energy costs so any extra savings will go back into the scheme to purchase or generate other renewable energy sources."
 

Argentina. Eco Pampa Hostel is an eco-alternative hostel based in Argentina. It meets the international standards in "green" hospitality by encouraging the sustainable reduction of carbon emission and a decrease of the footprint emissions of each gust through reduction, conditioning, and green roofs.

"The Hospitality industry is one that has a big impact on the environment. Given its characteristics, has the reach to influence every factor in the system: ecology, economy, social and cultural issues and politics. The general problem is that such influence is not, most of the time, a positive one. At Eco Pampa Hostel we feel that, since our business has those given characteristics, we have a big responsibility regarding our environment. For us is important to have a viable business plan and structure but taking into account actions and company policies that help us reduce our environmental footprint. For example solar panels in order to reduce our electric consumption; solar water filters to help pre-heat the water and reduce gas and water waste; plans to reduce the times the lining is laundered: this involves the help of our guests since the lining will not be changed every day; we have reduced the paper use to almost zero and if we have to use we make sure is recycled; garbage division and proper disposal; alliance with street recyclers so we have contact and participate with the community; recycled furniture; school groups Hostel Tours and sustainability talks. Is important for us to be able to combine a business successful development with the responsibility of, not only minimizing our footprint but also come up with new ways to communicate the importance that our interaction with the environment has for the future."
| | |
| --- | --- |
|   | Iceland. The Bus Hostel in Reykjavik, Iceland is a housing accommodation encouraging its users to bring sleeping bags. Along with providing a great stay, they offer a lot of useful tips in order to venture around Iceland safely, getting to the hostel, and much more. |
 

UK. Rob and Val are the owners of this accommodating hostel named Rattray Head in Northeast Scotland. The stunning and incredible views of the ocean are breathtaking and, its users can enjoy the peacefulness of the environment around them.

"A place to rest and relax among huge dunes and 11 mile beach. You are very welcome to join us, Rob and Val, at our isolated former lighthouse shore station in this gorgeous most easterly part of mainland Scotland opposite the northern tip of Denmark."
 

Singapore. Hostel One66 is a great way to get a cosy welcome from this family hostel. Located in Singapore, it is a great place for warm and friendly service with a touch of local flavour.

"We have decorated our hostel with uniquely recycled materials except the beds, linens and mattresses which are brand new! The local newspapers call us "The Karung guni hostel". Karung guni refers to rag and bone men who pay you a small fee for your unwanted stuff."
---
See You Next Year!
Thanks to all the nominees and finalists that gave us great tips and information to inspire others to travel sustainably! 
If you have any questions regarding the awards, please do not hesitate to contact us.