Floor-to-Ceiling Windows in the UK: Ideas, Costs + Pros & Cons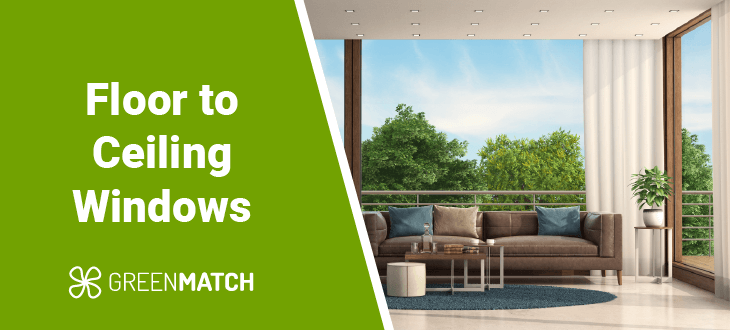 Modern, grand and transformative, floor-to-ceiling windows span from top to bottom of your wall. With some slim frames and insulated glass, you can enjoy vast, wide open views while maintaining optimal comfort levels. 
Whether they are openable, or remain fixed, these full length windows come in many shapes, styles and materials. Each of these come with its own bearing on the total cost. In this guide, we'll take you through these options to give you an idea of the best options for your needs and budget. 
While these windows can transform a space in a number of ways, they may not be suitable for every kind of home, given their sheer scale. That's why, we'll also explore some of their main pros and cons. 
Expansive floor-to-ceiling windows in the UK will require an equally expansive installation job. It's crucial that you find an installer who's qualified to carry out such an important installation, given the potential to drastically transform your home. This could take you many days of searching, requesting window quotes, and waiting for responses. 
Or, you can fill our simple 30-second form and you'll be well on your way to securing the perfect installer for the job. It's simple: fill in some details, then we'll match you with up to 4 installers from within our extensive network of vetted professionals. 
You'll then receive their tailored quotes which you are free to compare and choose between- all of them are free and come with no obligations. Save money by choosing the most competitive quote, only with GreenMatch. To get started, click the button below. 
Quotes from local engineers
Payment by finance available
Save up to £170 per year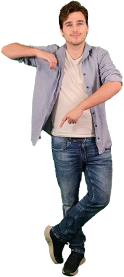 Optimise your home and save the planet
Floor-to-ceiling windows prices in the UK
So, how much do floor-to-ceiling windows cost? Typically, floor-to-ceiling windows cost £810 – £1,735 per m2. While floor-to-ceiling windows are generally priced higher than standard windows, they can come in a wide price range suitable for a wide range of budgets. 
Below, we've outlined these costs, according to the material you choose.
Floor-to-ceiling windows price UK
Material
Average price per m2
uPVC
£810 – £1,155
Aluminium
£1,055 – £1,500
Timber
£1,210- £1,735
As shown in the table, floor-to-ceiling uPVC windows are the most affordable option you could go for. Aluminium and timber are significantly more expensive materials.
If you envision sleek, black aluminium floor-to-ceiling windows, or perhaps a rich, timeless wooden window, but your budget won't stretch that far, then do remember that uPVC can come in a woodgrain or aluminium-like finish. 
While these effects run a little higher in cost than standard white, they will still cost considerably less than real aluminium or wood. Regardless of material, static floor-to-ceiling designs, much like picture windows price, are cheaper due to the lack of extra elements.
The costs provided above are supply-cost estimates, based on our extensive market research. The total cost will account for any finishing touches to your windows (speciality glass, extra security features) and on-the-day installation costs including all the required parts and labour. 
These installation costs vary depending on the installer you work with. For an accurate idea of the true costs you can expect  to pay for floor-to-ceiling window installation, you can get some tailored quotes from GreenMatch. 
Our service is free and fast. Saving you all the wasted hours of time and effort from going it alone. With GreenMatch, you can receive up to 4 quotes within 48 hours. All of them come at no cost and with no obligations. Just free, professional quotes from the best installers in your area. 
Quotes from local engineers
Payment by finance available
Save up to £170 per year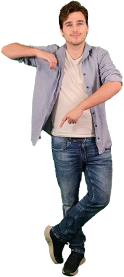 Optimise your home and save the planet
Floor-to-ceiling window ideas for your UK home
Despite being so distinct, floor-to-ceiling windows are highly versatile with options that can have a range of different uses.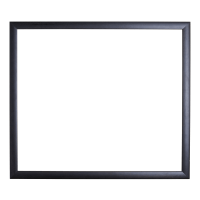 1. Modern window wall 
Floor-to-ceiling windows are predominantly associated with modern and contemporary home designs.
These styles often favour black aluminium or dark wooden window frames to accentuate mid-century modern or contemporary aesthetics. They commonly feature expansive glazing panels and slimline aluminium frames.
Beyond their visual appeal, these generously sized floor-to-ceiling windows serve to maximise full outdoor views. Given their sheer size, such windows are usually fixed.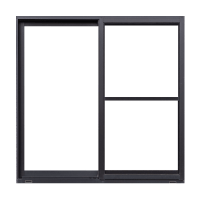 2. Combination of windows 
Rather than have one large floor-to-ceiling window, you can also opt for a combination of two or more windows. A combination of smaller windows gives you the opportunity to incorporate some openable units that will allow plenty of ventilation. Top-hung windows are typically utilised in these arrangements. 
3. Narrow windows for smaller spaces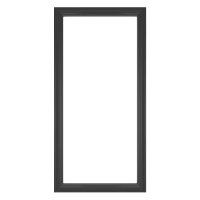 Floor-to-ceiling windows may be associated with grand, wide open indoor spaces, but in fact, they make great additions to the smallest of rooms too. 
If you're struggling to find the wall space, then consider a narrow floor-to-ceiling window. Whether it's a small study, utility room, or a hallway, narrow floor-to-ceiling windows can bring the smallest of rooms to life. 
Fitting just one narrow floor-to-ceiling window can really open up a smaller room, allowing in plenty of light and giving the illusion of more space.
There are also various window types you could choose from, each offering something different in terms of functionality and style. Take a look below. 
Floor-to-ceiling bay window ideas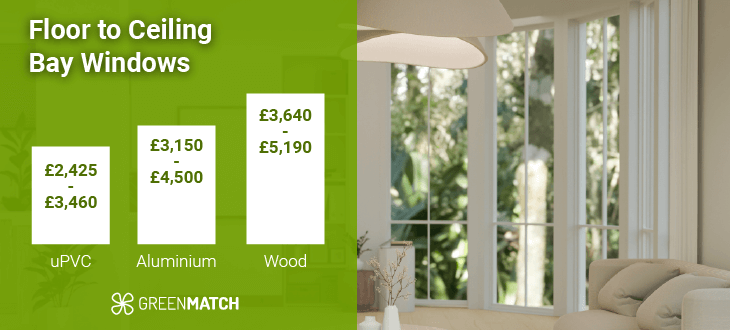 Floor-to-ceiling bay windows exude luxury and grandeur. Consisting of three panels, a central window is flanked on both sides by two additional windows, forming a structure that extends outward from the side of your home. This elevates your home's grand appearance from the outside, and you have more indoor space. 
When combined with floor-to-ceiling windows, the impact of a bay window structure is further heightened, offering an unobstructed, nearly panoramic view of the outdoors. It undeniably becomes the focal point of any room, thanks to the abundance of natural light and the expansive views that it allows.
Floor-to-ceiling sash window ideas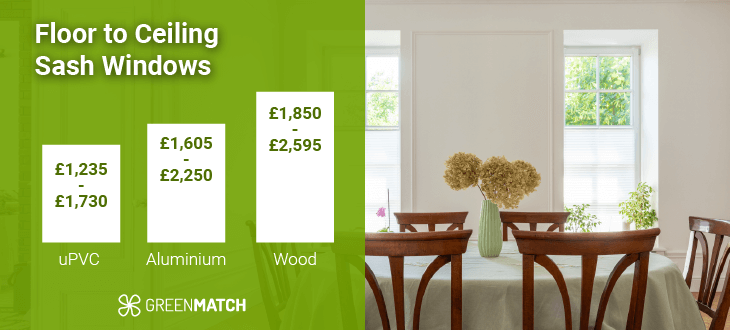 Sash windows are traditional, charming, and intricately designed. Some large floor-to-ceiling sash windows would enhance these qualities tenfold. Sash windows operate by sliding one openable window over another fixed window. 
Floor-to-ceiling sash windows with traditional Georgian or astragal glazing bars is the perfect addition to those seeking to build on a traditional, old English city house aesthetic. You will also have optimal control over the flow of ventilation through your windows since the position of the operable sash can be easily adjusted. 
Floor-to-ceiling casement window ideas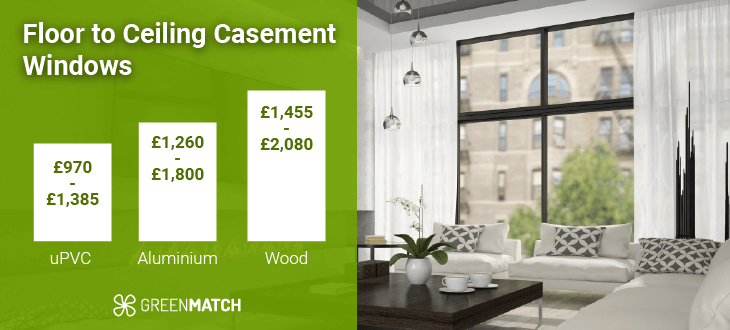 Some casement windows are a great addition to a floor-to-ceiling window arrangement, especially top hung windows. This is popular among homeowners since it allows for some ventilation, and creates nice depth and dimension to break up the windows. 
Casement windows typically open from a side-mounted or top hinge. If they open inwards, then they are more easily cleaned and maintained since you'll have easy access to both sides of the glass from the inside. However, inward-opening casements will require sufficient space to open, especially if they are large units. 
Save yourself days of research and the wait for quotes. Instead of going through the hassle, why not streamline the process with GreenMatch?
In just 48 hours after completing our form, you'll receive responses from up to 4 reputable local installers, all pre-vetted for your peace of mind.
Click the button below to get your 4 free quotes with no obligations.
Quotes from local engineers
Payment by finance available
Save up to £170 per year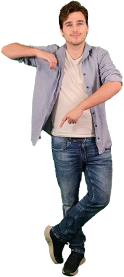 Optimise your home and save the planet
Floor-to-ceiling windows pros and cons
While it's clear that there is a lot to love about these windows, they may not be the perfect choice for every home. There are some drawbacks that could sway your decision to fit some in your home. 
Before committing to getting some new floor-to-ceiling windows, it's important to be aware of the advantages and the disadvantages. Take a look below. 
Advantages of full length windows
Aesthetic appeal that creates a stunning focal point to any room
Plenty of natural light to fill your living space
Wide open views that create a stunning connection to the outdoors
Gives the illusion of more space, especially practical in smaller rooms
Available in a range of customisable styles and budgets
Openable floor to ceiling windows improve ventilation
Disadvantages of full length windows
Street-side windows could lead to an invasion of privacy
Potentially complex installation to create an opening in your wall
More maintenance and cleaning compared to standard windows
Increase the chance of heat loss through your windows
Are floor-to-ceiling windows something for your household?
It is possible to work around some of these drawbacks mentioned above. So, if you're still unsure about whether floor-to-ceiling windows are worth the investment then you should consider the following. 
Thermal efficient glazing 
Specially treated glass– which can include double glazing, triple glazing, or low-emissivity glass– will improve the energy efficiency of your windows and help prevent excess amounts of heat loss from escaping through your windows. This lets you enioy all that your floor-to-ceiling windows have to offer, while maintaining optimal levels of energy efficiency and comfort. 
Security glass 
You can also opt for toughened, or laminated glass. These panels have been thermally treated to withstand incredible pressure without breaking. If it does break, then it will smash into smaller pieces rather than large, more dangerous, shards. 
This enhances security, reducing the risk of break-ins and damage, thereby ensuring the safety of both you and others in your home.
Self-cleaning glass 
If the extra cleaning is putting you off, then you can also consider some self-cleaning glass. This glass has a coating which is able to treat dirt and debris by lifting it from the surface of the glass, preventing it from sticking. The debris is then washed away in the rain. 
Patio doors 
If you want to add some functionality to your floor-to-ceiling windows, then perhaps you'd prefer some patio doors, such as sliding doors or bi-fold doors. These have much the same to offer as a floor-to-ceiling window but they also act as a doorway to your garden or patio.
This also helps negate the chance of your privacy being invaded by onlookers since the large panels will face the back of your home. 
Get the best deal on installation
If you're concerned about the potentially unfeasible upfront cost and you'd like to find the best possible deal, then be sure to collect multiple quotes from at least 3 local installers. Choosing between fixed quotes before making a decision lets you find the best deal and save money on the cost of installing floor-to-ceiling windows. 
Finding multiple, reputable options can take days of research. Even once you've narrowed down some quality options, you still have to make contact with them and wait for a quote. For those who'd rather avoid this unnecessary hassle, why not get your quotes from GreenMatch? 
48 hours after filling in our form, you'll hear back from up to 4 professional, pre-vetted installers based in your area. We'll only connect you with local installers so you can benefit from local deals and avoid costly processes from the largest nationwide companies. 
To get up to 4 free quotes with no obligations, click the button below.
Quotes from local engineers
Payment by finance available
Save up to £170 per year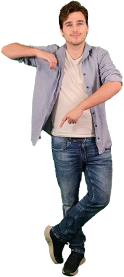 Optimise your home and save the planet
Frequently asked questions