Heat pumps produce noise while working due to their components. The noise level might be quite high, and this factor usually affects the decision when buying such devices. It is important to have an overview of how the system works, what usual noises are and what the government provides for in terms of noise regulation. We will further discuss all of these points in this article.
If you already know that you want a heat pump for your home, but just aren't sure where to start looking for one, GreenMatch can help you. Trying to find heat pump installers by yourself and contacting them one by one can be a boring chore, stealing hours of your free time away from you. Thankfully, GreenMatch's network of vetted installers means we can easily connect you with up to 3 installers near you in no time at all.
You'll receive a free quote from each installer, which you can then compare, so you can choose the best one and rest assured that you're not being overcharged for your new heating system. What's more, our service is completely free and non-binding. Click the button below to get your free heat pump quotes now.
Quotes from local engineers
Payment by finance available
Save up to £1100 per year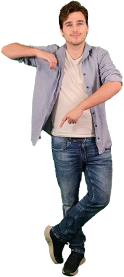 Optimise your home and save the planet
Where Does the Noise Come From?
Air source heat pumps (ASHP) have four main elements when working: a compressor, a condenser, an expansion valve, and an evaporator. Of these elements, the ones making more noise when running are the compressor and the fan. Fan noises depend on different factors: the fan model and its speed, the airflow, and the pressure flow.
The airflow depends on the heat exchanger since air produces an aerodynamic noise when it passes through it. The noise intensity varies according to design and air velocity. Pressure flow, instead, is related indirectly to the noise since an increase in pressure makes the noise decrease and vice versa.
However, noises can derive also from the impact that the gap between the temperature of the air outside the refrigerator with the one where the refrigerating cycle occurs, creates. This causes the water in the air to become denser and freeze in the heat exchanger. In order to guarantee the correct working of the heat pump, it is necessary to run the compressor in reverse for some time in order to eliminate the frost accumulated. This can produce a disturbing noise that may combine with the fan noises.
Ground source heat pumps are not noisy at all, as they do not take the heat from the air, and they do not need a fan. Therefore, they can be placed inside and they are virtually silent. The picture below shows a scale of noises and their level in decibels.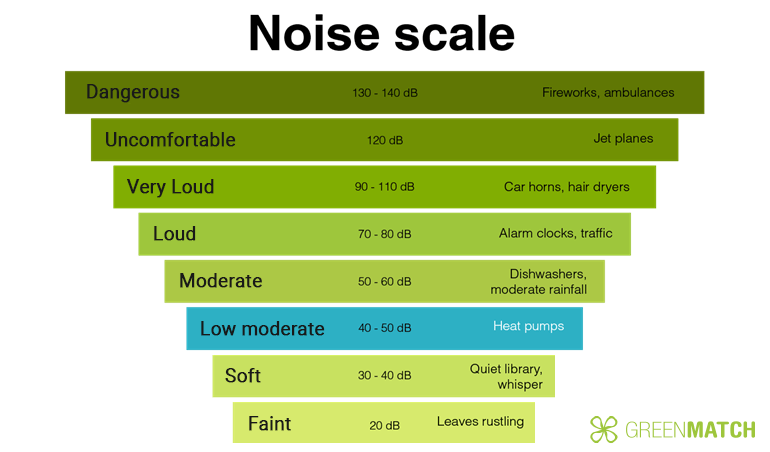 Regulations and Government Provisions
In England, the government, in order to promote the use of micro generations and efficient systems, provided for Permitted Development Rights that do not require the installers to provide a planning application and noise impacts assessments. Some limits and regulations in order to control the noise level were also established. Heat components can produce noise levels of 40 to 50db. As reported by the UK Government, the noise should not be higher than 45 dB when being 1 meter away from the window of a neighbouring residential property.
The Microgeneration Installer Standard for ASHPs mandates that external fans should be set in a place that would reduce neighbour's disturbance as much as possible, while the noise of internal ones should be damped by using appropriate tools. Other regulations concern vibration and the need to place the heat pumps close to bedrooms or in places that produce vibrations, but appropriate materials should be used to reduce such effects.
Microgeneration Certification System (MCS) is a way to establish a certification of noise and energy efficiency. The micro wind turbine is the most developed part, and all the new units produced undergo an auditive test in order to be recognized. For these products, some labels are produced, and three colours are used to highlight the potential excess in noise emission (marked in red).
If you're looking for a professional heat pump installer who can help advise you on the quietest heat pump models, then look no further. At GreenMatch, we have a wide network of qualified heat pump installers across the UK. By clicking the button below, we can connect you with up to 3 installers available in your area.
Our service is completely free of charge and will save you the stress of researching and contacting installers by yourself (only to find out they're not available near you!). Click the button below and get up to 3 free, non-binding quotes and choose the best heat pump deal.
Quotes from local engineers
Payment by finance available
Save up to £1100 per year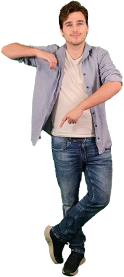 Optimise your home and save the planet